Travelling with children of any age requires planning, thinking and packing. Travelling with an infant under 6 months is no different. Despite their size they require literally everything you normally have at home, where ever you go.
If you are travelling with a baby under 6 months, your main travel question before picking a destination is whether the city is stroller friendly. At that age, they don't move much, and if they haven't start eating solids your biggest concern is getting all the baby essentials packed.
At Booking With Kids, we like to say we a site that is 'By Parents for Parents'. To make your life somewhat easier, we've put together what we think is an exhaustive travel packing list for a baby. We aimed to put in as many items as you need to take when travelling with an infant under 6 months old.
Print this travel packing list for a baby and use it for every trip or overnight stay.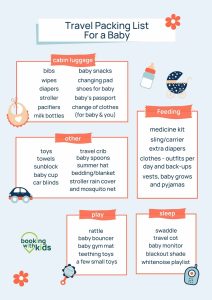 Book Your Trip
If you'd like to plan your next trip to use this packing list on, check out all our family friendly destinations and check out our most loved travel gear, from brands we trust.
You can keep up to date with us on Instagram or Facebook
Disclaimer: 
The content of this page is purely for informational purposes. The information presented is not intended as a substitute for professional advice. Should you decide to act on the information presented on this page, you do so at your own risk.
We've carried out meticulos research to ensure the accuracy of the information available, however bookingwithkids.om is not responsible for any errors or omissions contained on our website and websites used as sources, and bookingwithkids.com accepts no responsibility or liability whatsoever