Kakadu National Park
Kakadu National Park
Kakadu National Park
Kakadu National Park
Kakadu National Park
City Guide
City Guide
City Guide
City Guide
City Guide
Kakadu National Park
Kakadu National Park
Kakadu National Park
Kakadu National Park
Kakadu National Park
City Guide
City Guide
City Guide
City Guide
City Guide
IN A NUTSHELL
Visit Kakadu National Park with Kids
A visit to Kakadu National Park in Australia, provides an inspirational opportunity to connect with the oldest living culture on earth! The rugged and remote beauty of Kakadu has stories to share that will take your breath away and touch your heart. Kakadu National Park is surely an amazing and adventurous trip. So, book your trip to Kakadu National Park with kids. We do recommend that you visit Kakadu with kids aged 5+ years, as most activities are also suited for this age group.
Kakadu as a Family Destination
Kakadu is still very much in its natural state and best illustrates Australia's rich Indigenous culture and heritage. It is good for children who like to experience the great outdoors and are inquisitive.
Swimming in cool rockpools under waterfalls, viewing Aboriginal rock art that dates back thousands of years, learning Aboriginal art and craft skills, tasting 'bush foods' and seeing Australia's most remarkable wildlife up close are just some of the attractions which make a visit to Kakadu enriching for all the family.

Get ready to take your breath away! In Australia's biggest national park, you'll find ancient landscapes with thundering waterfalls, lush rain forests, wandering wetlands, exotic wildlife and ancient rock art. Covering nearly 20,000 square kilometres, Kakadu National Park is a World Heritage listing renowned for both its cultural and natural values.

See breathtaking horizons from the top of a Kakadu escarpment. Cruise on the stunning Yellow Water Billabong to spot crocodiles and wildlife in their natural habitat, including millions of migratory birds who in part call the park's wetlands home.

Not only is Kakadu spectacular, but you can feel yourself come alive among the lush rain forests, rocky gorges, serene swimming pools and the oldest Aboriginal rock art in the world. With more than 5,000 Aboriginal rock art sites in the park, the Bininj/Mungguy people have called Kakadu home for some 65,000 years. Here they'll showcase their ancient culture and the region's dramatic seasons.

Kakadu National Park will surely be an unforgettable experience.

Full information, including itineraries, can be found at Kakadu Tourism.
The Best Time to Visit Kakadu National Park
Throughout the year, Kakadu's landscapes undergo spectacular changes. Bininj/Mungguy recognise six different seasons, as well as subtle variations that signpost the transition from one season to another. This knowledge of nature is fundamental to the culture of Kakadu and its people. Bininj/Mungguy have lived with the changing landscape for tens of thousands of years, adapting and using the land for food, shelter and general well-being.
No matter what time of year you visit Kakadu, there is always something to see and do.
The 'Dry' season runs from May to October and this is the most popular time to visit, with most visitor sites open at this time. It's wise to book your accommodation in advance, as the hotels get busy at this time of year. This is a great time to visit our majestic waterfall sites, such as Jim Jim and Twin Falls.
'Tropical summer' runs from November to April and brings vivid green landscapes, electrifying afternoon storms and the chance to explore with fewer visitors. Most of the attractions remain accessible, especially areas such as Burrungkuy (Nourlangie), Yellow Water and the Maguk rock pools. Scenic flights are ideal for seeing thundering waterfalls in full flow, and special wet-season-only tours are available.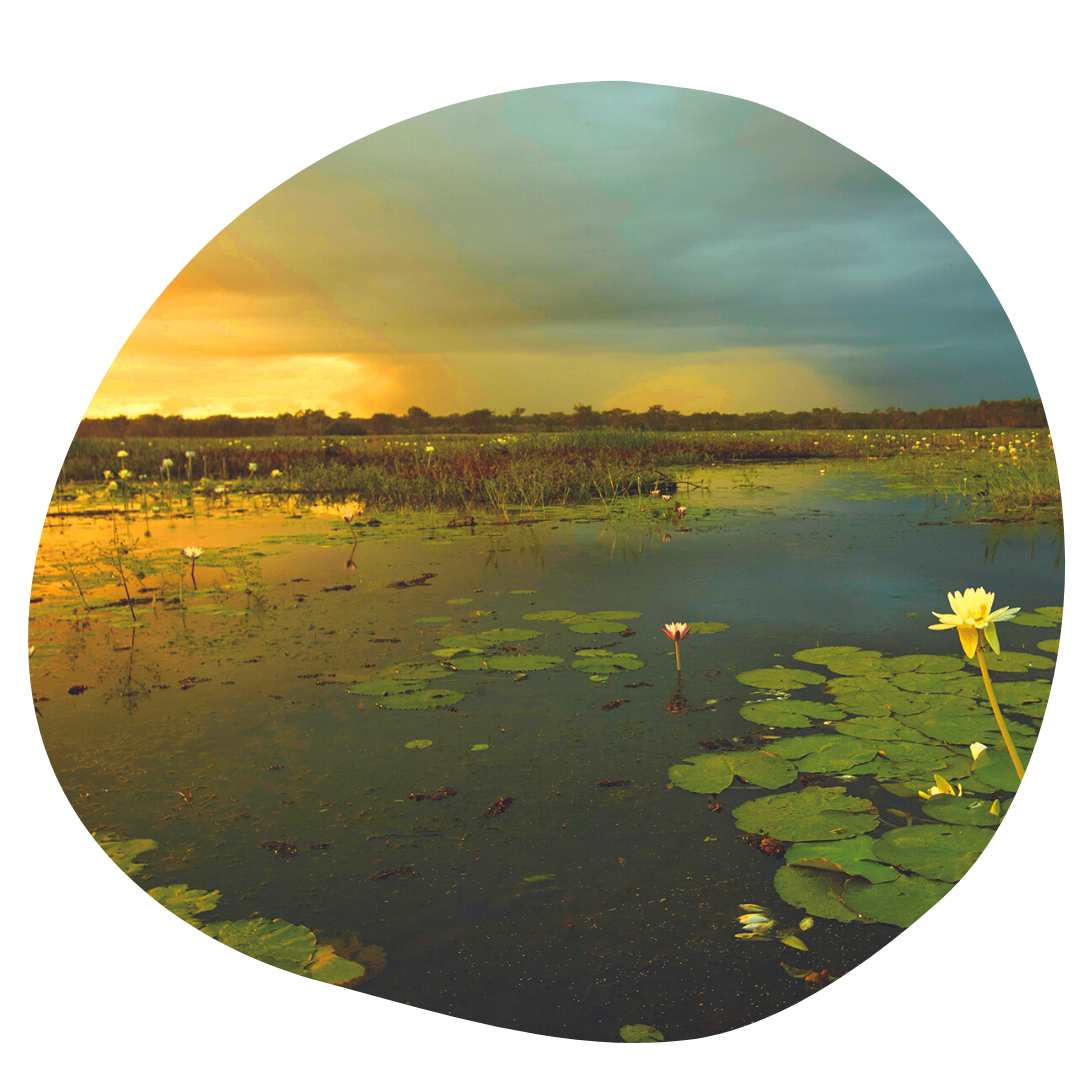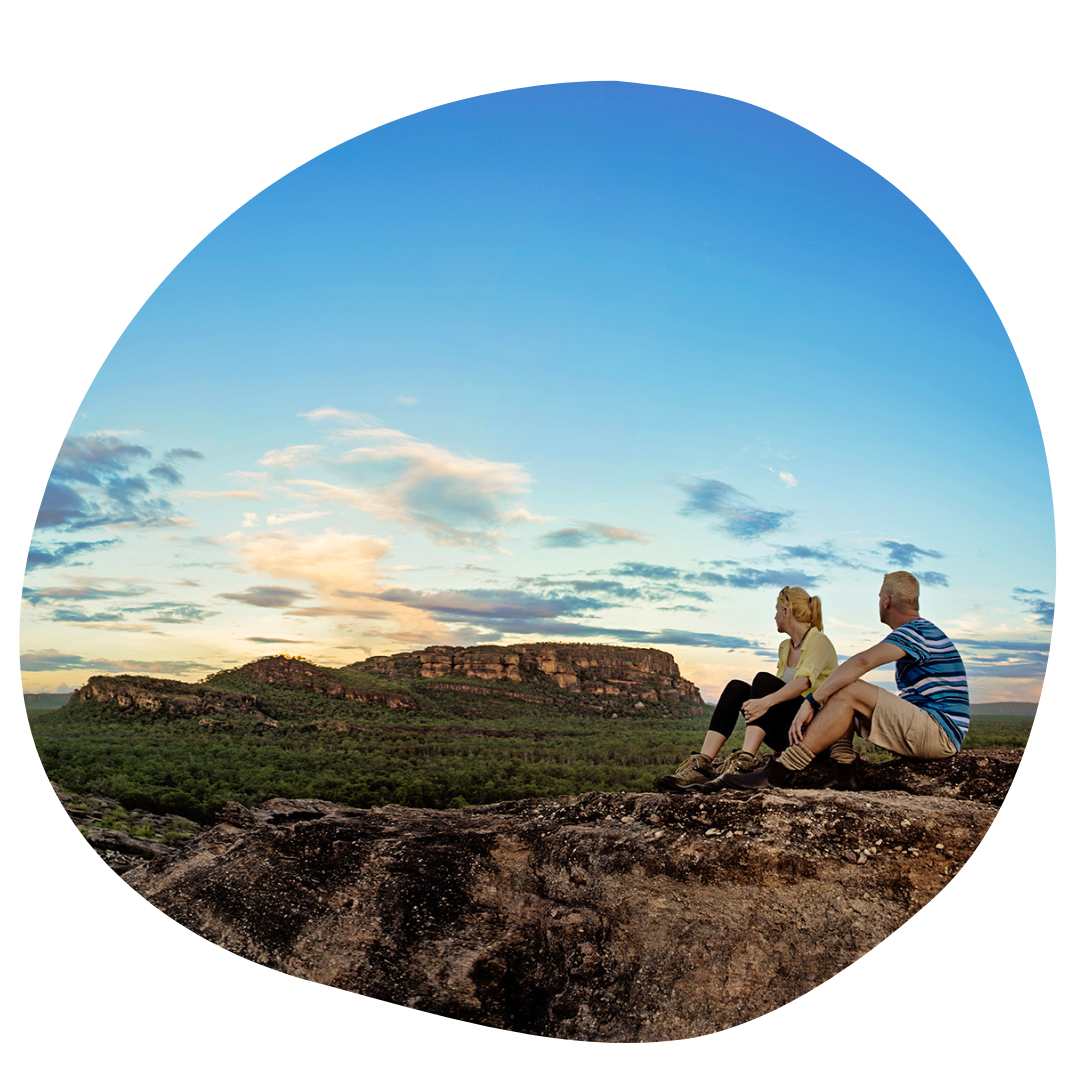 ARRIVING AT KAKADU NATIONAL PARK
How to Get to Kakadu National Park with Kids
The main town in Kakadu is located 250 km south east from Darwin in the Northern territory of Australia.
Kakadu extends nearly 200 km from north to south and over 100 km from east to west. It is a place of enormous ecological and biological diversity. It runs from the coast and estuaries in the north through floodplains, billabongs and lowlands to rocky ridges and stone country in the south. These landscapes are home to a range of rare and endemic plants and animals, including more than one-third of Australia's bird species and one-quarter of its freshwater and estuarine fish species.
Most visitors fly into Darwin and then hire a 4WD vehicle to drive to Kakadu. Some visitors will drive from Alice Springs and Uluru  (Ayers Rock), but this is a very long road journey, so perhaps it would be more ideal when travelling with older kids.
Must Dos When in Kakadu National Park with Kids
Kakadu National Park has many memorable must do kid-friendly activities. If children are old enough, a helicopter or fixed wing flight over Kakadu is truly memorable, while on the ground visiting one of the waterfalls and swimming holes is perfect for most children. Seeing crocodiles in the wild on a Yellow Water Cruise will be memorable for kids.
Animal Tracks provides an incredible opportunity to spend time with one of Kakadu's most respected traditional elders, Patsy Raglan, learning about life and survival in the bush. The safari has exclusive access to wildlife-rich wetlands and tropical savannah woodland within Kakadu National Park. The highlight is a sunset dinner where tour members prepare the cooking and then taste Kakadu dishes including crocodile, buffalo, kangaroo and other delicacies.
Children love the experience and will get to see buffalo, wallaby, crocodile, goanna, snakes, turtle, dingo, wild pigs, various nocturnal animals and many bird species in their natural habitat, with interpretation provided from a local Aboriginal perspective. The tours run seasonally from June to September. If you're keen to learn more about this activity, here's all the animal track details.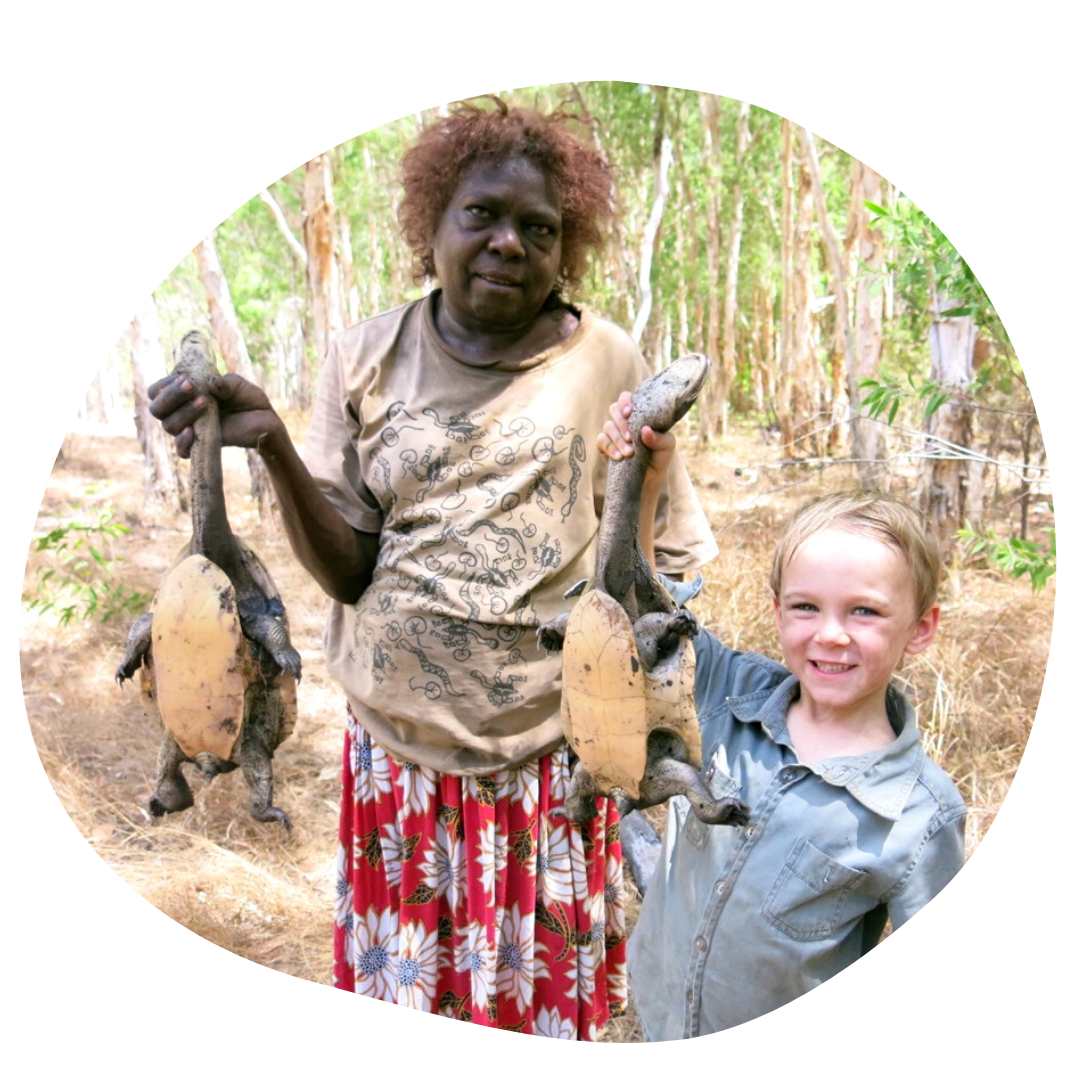 Hotels in Kakadu National Park
Our top family-friendly hotels when visiting Kakadu with kids:
Mercure Kakadu Crocodile Hotel – The region's largest hotel, better known as The Croc locally, is ideal for families. Located in Jabiru, the hotel is built as a 250-metre long, 30-metre wide giant crocodile. The circular parking areas represent crocodile eggs; the hotel entrance is its gaping jaws with menacing teeth. Ventilation units are housed within the crocodile's slatted yellow eyes, which glow red at night. The head section of the hotel incorporates reception, an expansive marble foyer – a cool green oasis – the Escarpment Restaurant and Bar, gift shop, internet kiosk and the renowned Ochre Aboriginal art gallery.
Following the natural curve of the crocodile's body, all 110 guest rooms are located in the belly section overlooking the internal courtyard. The pool area is set in bush gardens covered by shade cloth symbolising the heart, the walkway through the courtyard represents the spine and the flowing billabong is the crocodile's alimentary canal.
This hotel also offers family rooms with a queen size bed and two single beds. Rooms boast distinctive Kakadu design features and are individually air-conditioned, have WiFi and internet connectivity, flat-screen TVs, work desk, fridges, iron and ironing board, tea/coffee making provisions and high-quality bedding. Daily housekeeping is provided along with room service.
The aim of the hotel is to embody the Kakadu adventure experience. In the lobby, an exhibit features two of the major symbols of Kakadu – the crocodile and barramundi – along with a sculpture of a giant termite mound, accompanied by a continuous video stream providing guests with an introduction and insight into the region, highlighting the history, culture and primary attractions.
Art is central to the Kakadu experience, with the in-hotel art gallery, Ochre, and the hotel hallways showcasing Indigenous art and craft that supports local community artists. Special exhibitions, workshops and activities for children are staged in the gallery, with the hotel developing an 'Artist in Residence' program to provide greater opportunities for visitors to interact with Kakadu's Indigenous artists.
Check out the full details for your stay at the Mercure Crocodile Hotel.
Cooinda Lodge – This is the other major hotel in Kakadu and it provides the ultimate base to explore Kakadu.
The village-style property is located beneath a canopy of trees beside Yellow Water Billabong, home to world-renowned Yellow Water Cruises, where crocodiles and birds can be seen on guided Yellow Water Cruises.
With its oasis style atmosphere, Cooinda Lodge offers two inviting shaded swimming pools, bistro-style dining, bars, petrol station and a store that offers locally-made crafts as well a wide range of essentials for touring.
Accommodation is available in 4-star Lodge rooms, air-conditioned glamping tents (including family tents with adjoining double bunks), and camping and caravan facilities.
The Warradjan Aboriginal Cultural Centre is just five minutes from Cooinda and many local attractions are within easy travelling distance.Guided tours of Kakadu operate from Cooinda on a daily basis.
Check out the full details for your stay at Cooinda Lodge with kids.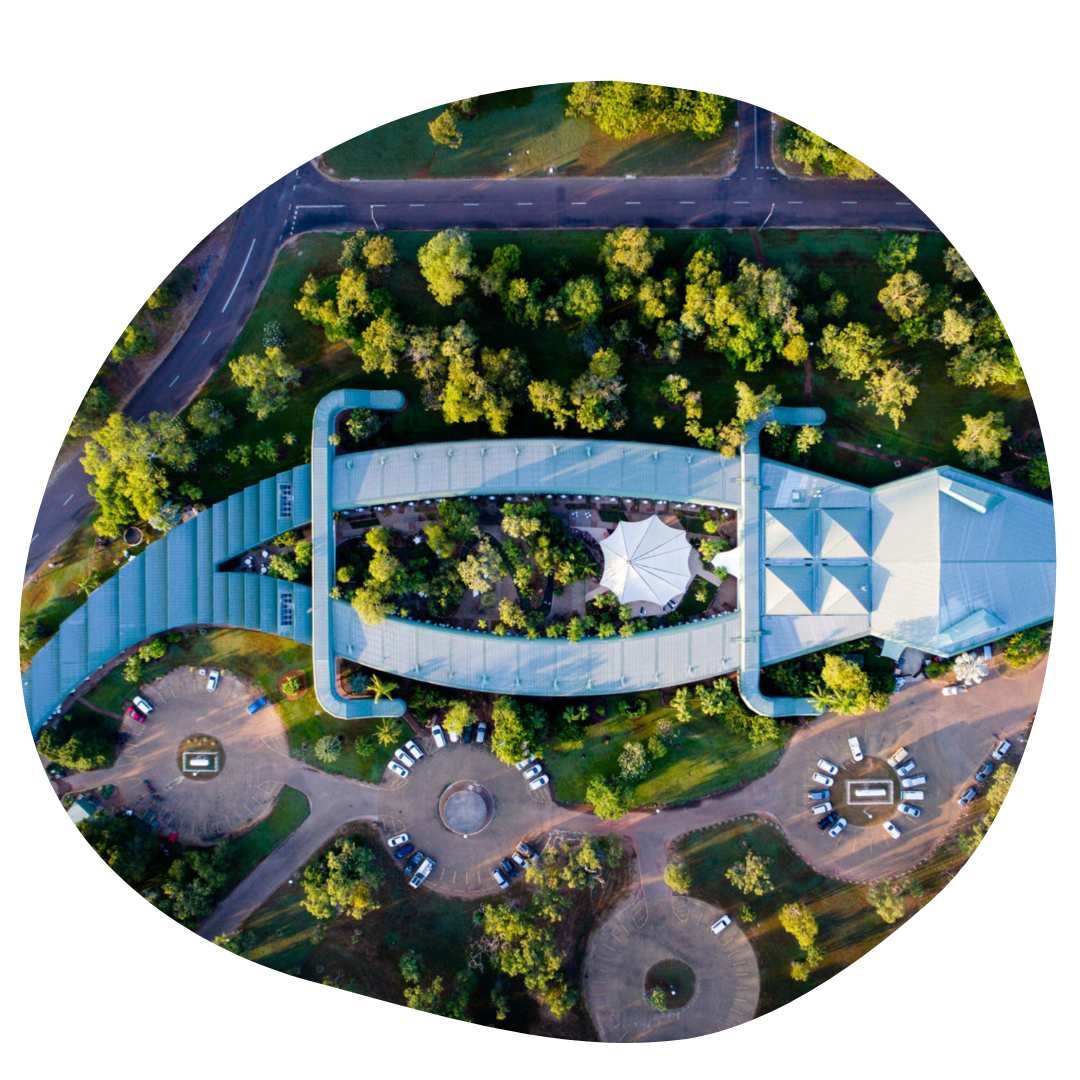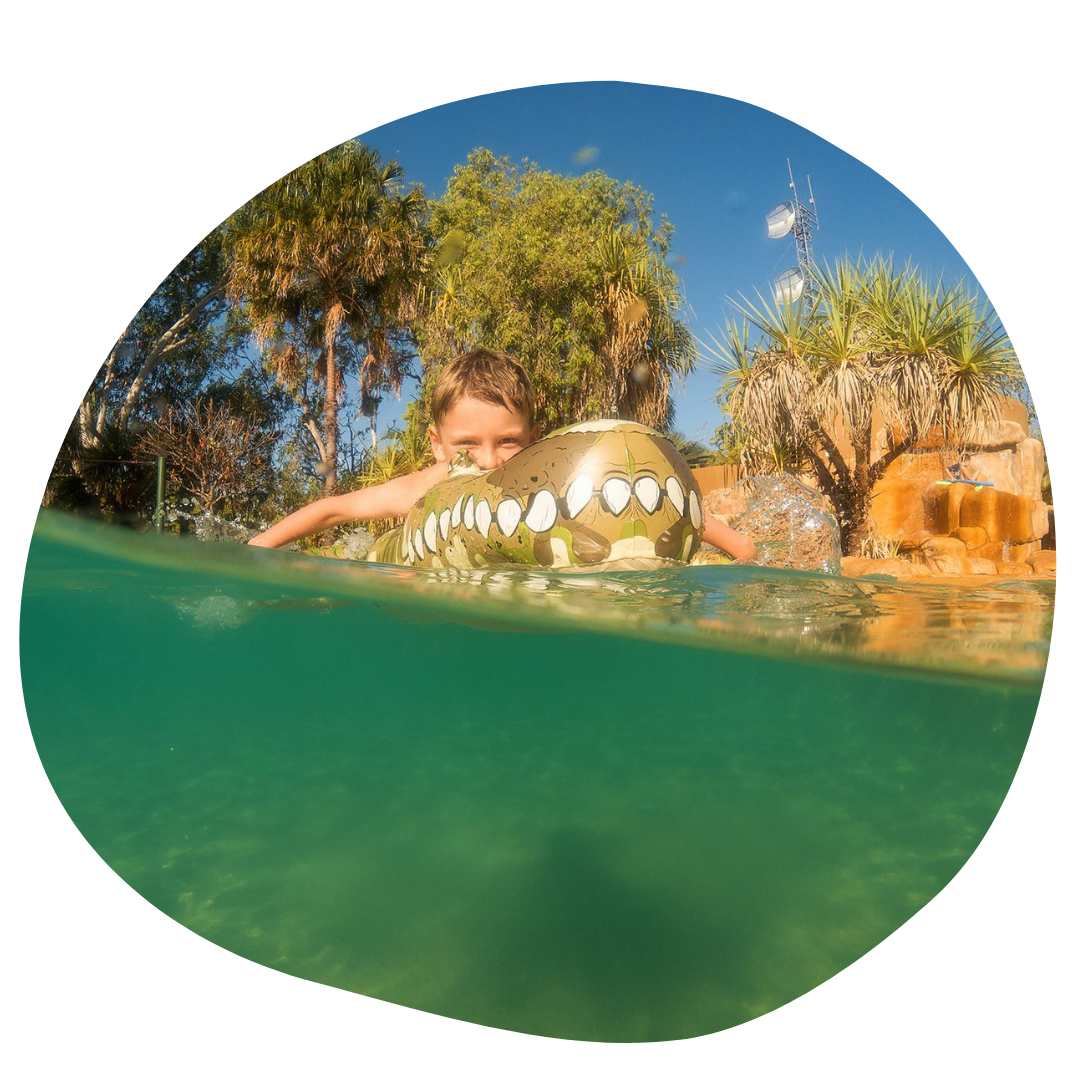 Activities for children ages 5+
Keeping the older kids happy, entertained, and reducing the amount of times they ask for a screen or complain about being bored.
If you're visiting Kakadu National Park with kids, there are several activities to take up. However, we recommend these activities for kids aged 5+ years.
Swimming in Rock Pools – Swimming in crystal-clear rock pools is a huge attraction. Waterfall pools such as Maguk are easily accessible and provide safe and fun swimming conditions.
Guided tours to Aboriginal Rock-art Sites – Kids will learn more about the cultural importance of rock art site. They will listen to family stories that exist within the shelters of Kakadu's escarpment.
Viewing crocodiles and wildlife on Yellow Water Cruises – Crocodiles are a big attraction for kids in Kakadu National Park. They are best seen on a Yellow Water Cruise. These are the world famous wetlands and it's worth a cruise around on the water to get up close to those notorious crocodiles. Though the crocodiles are the headliners and it's exciting to see them in their natural habitat, the Yellow Water Cruise is also great for spotting the large variety of Kakadu's birdlife as well as buffalo, wild horses and kangaroos. Yellow Water Cruises depart from Cooinda and the two hour cruises are staged throughout the day, but the best (and coolest) times are the sunrise and sunset tours.
Learning about Aboriginal Culture – Learning about Aboriginal culture is a massive attraction. Children can visit Warradjan Cultural Centre and Bowali Visitor Centre for fascinating displays about the origins of Kakadu and its people. Genomic studies have revealed that Aboriginal Australians are the oldest known civilization on Earth, with ancestries stretching back roughly 65,000 years. The free Warradjan Aboriginal Cultural Centre is beautifully laid out with informative exhibits to educate kids on local Aboriginal culture. There are wonderful exhibits about the complex structures of local Aboriginal society, Aboriginal arts and artefacts, exhibits on how Aboriginals lived off the land and stories on how they hunt and gathered. These stories are all retold by the indigenous people in their own words.
Engaging with Aboriginals in Art, Craft and Food – Learn and participate in Aboriginal art and craft sessions with local artists. There are art galleries at The Crocodile Hotel and next door in Jabiru at Marrawuddi Arts & Culture. Art sessions also take place regularly at Warradjan Cultural Centre and Bowali Visitors Centre.
Visit Nourlangie and Ubirr – Kakadu was featured extensively in the film Crocodile Dundee, which features many of Kakadu's most dramatic locations. Visiting Nourlangie and Ubirr are highly recommended. These rock platforms provide stunning views of the Arnhem landscape, and on the way to the top there are remarkable collections of Aboriginal rock art, which can be viewed fairly close up, and have explanatory boards. You can also visit Nourlangie and Ubirr in Kakadu National Park with kids through guided tours.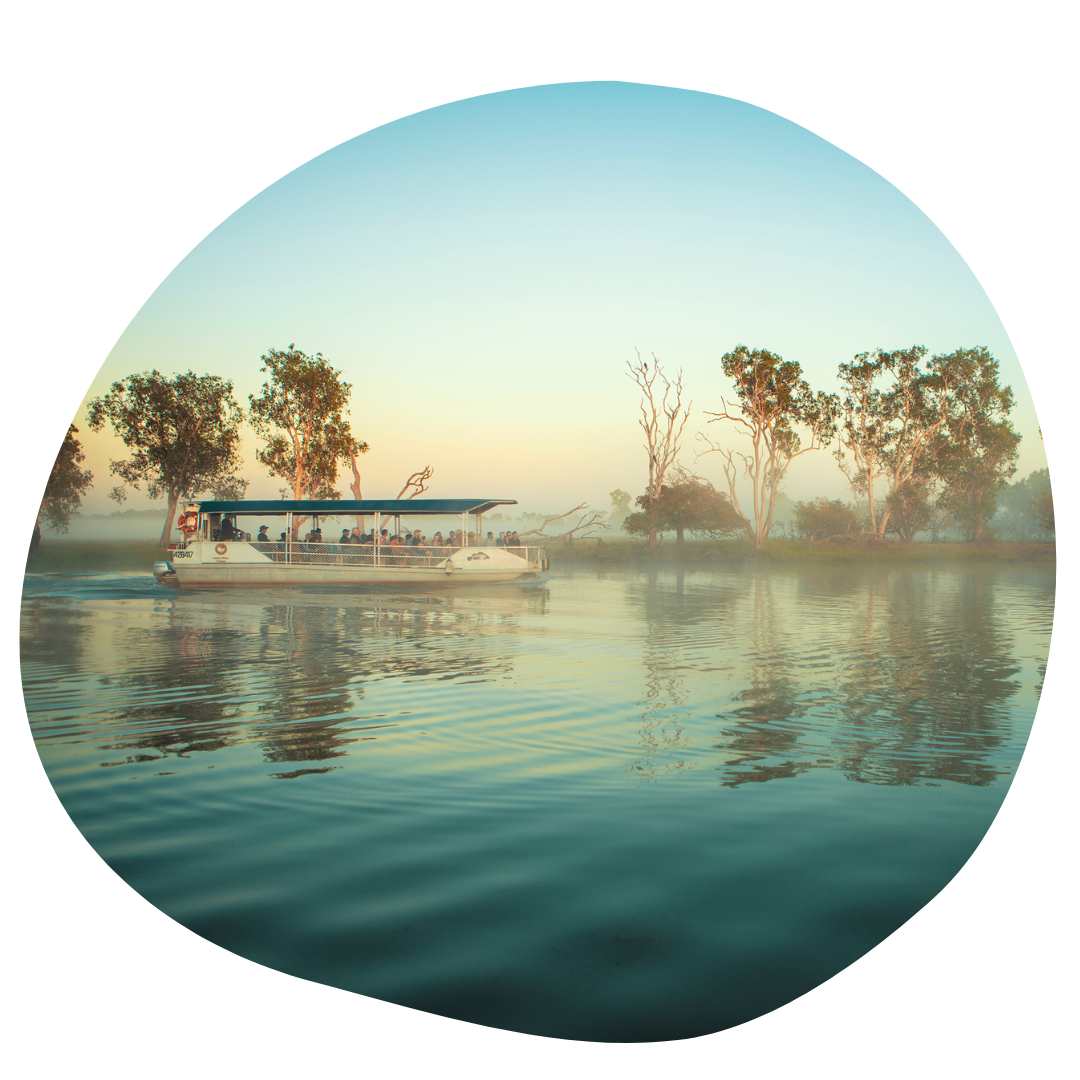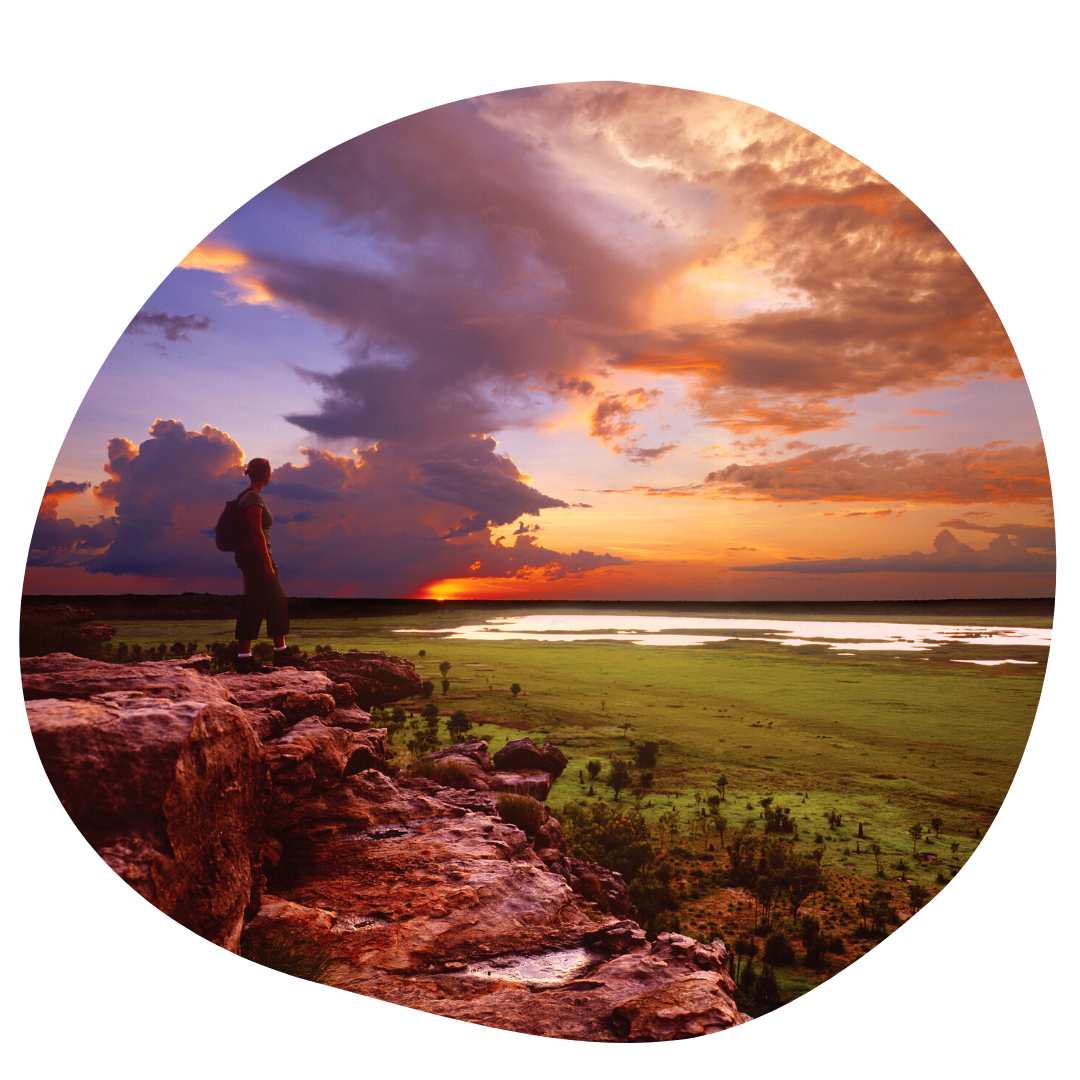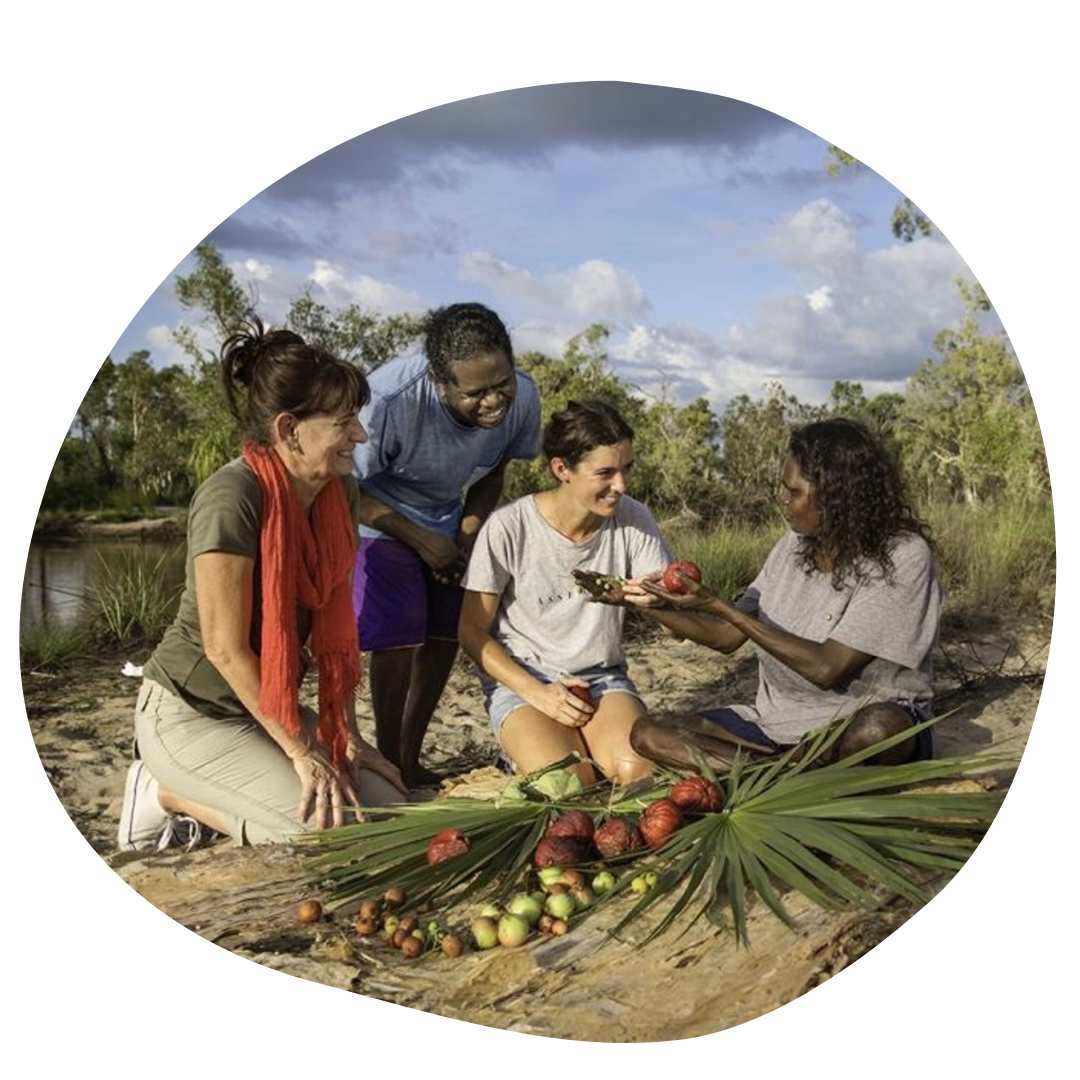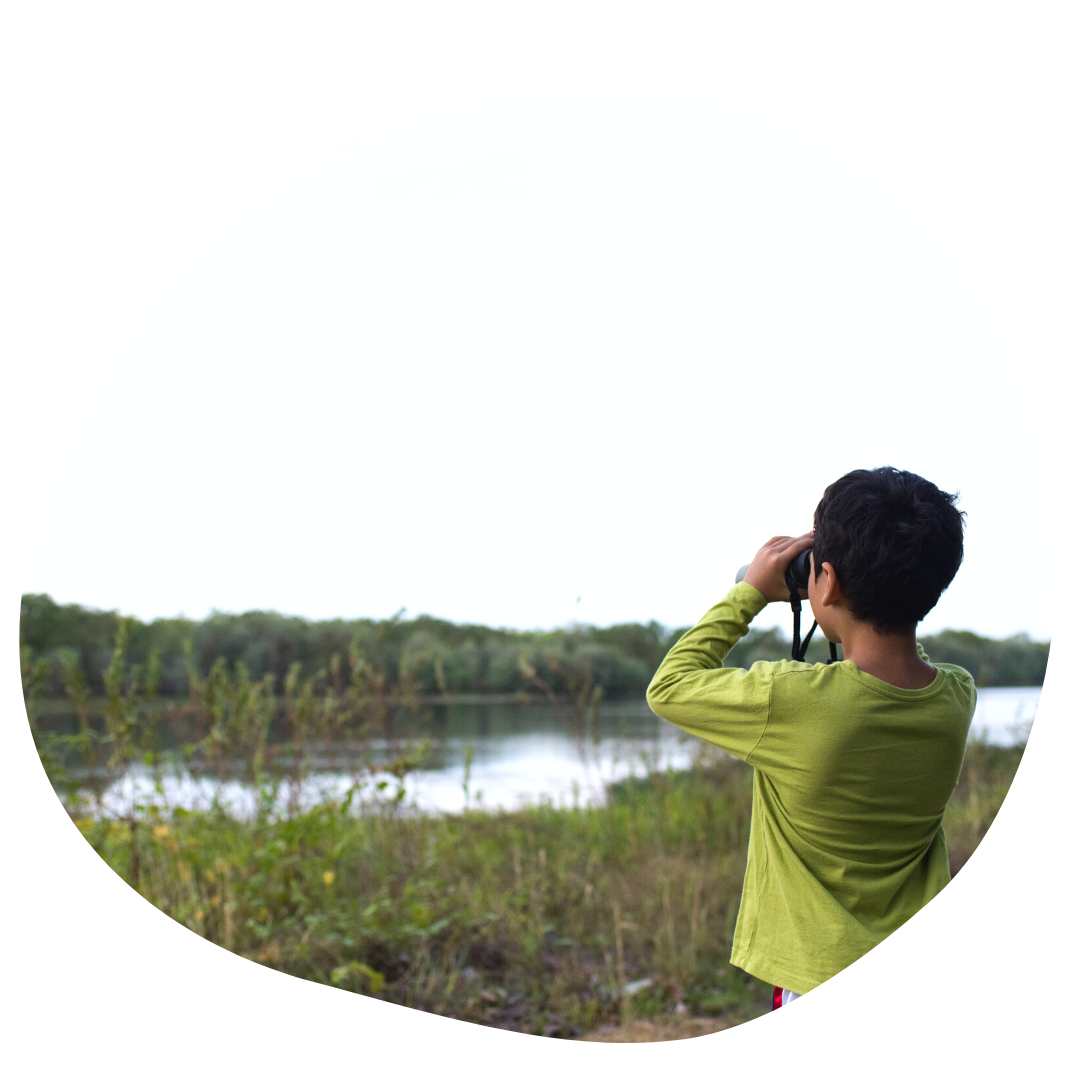 Seasonal Activities to Check out in Kakadu National Park
Seasons
Plan your visit to Kakadu National Park with kids along these Special festivals to experience Kakadu's unique character.
13–21 May 2023 — Kakadu National Park
The Best Of Indigenous Cuisine To Be Showcased In A Taste Of Kakadu
Australia's premier Indigenous food and culture festival, A Taste of Kakadu, will be staged across Kakadu National Park from 13 to 21 May 2023, serving up a menu of ancient cuisine with modern twists.
The festival include a range of new food and cultural experiences that showcase the rich Indigenous culture and breathtaking scenery of Kakadu National Park.
Over eight days, visitors can embark on guided foraging walks tasting 'super foods' and delicacies such as Kakadu plums, enjoy slow-cooked Kakadu staples such as crocodile, barramundi and buffalo cooked in ground ovens, and glide along the famed barramundi-filled Yellow Water Billabong while enjoying bush tucker-inspired canapes.
'Pop-up' dinners feature culinary masters such as Kakadu Kitchen's Ben Tyler, who combines locally sourced bush tucker and sumptuous contemporary elements, all against the backdrop of Kakadu's stunning landscape.
Last week of September/early October 2023
Kakadu National Park is a bird lover's paradise–home to more than a third of Australia's bird species, Kakadu is the perfect place to discover and learn all about the unique species of birds living in this magical part of the world, which is dual World Heritage–listed for both its natural and cultural values.
Bird Week is held to coincide with the mass migration of magpie geese, which flock to billabongs, such as Yellow Water (Ngurrungurrudjba), to feed. With the waters having receded toward the end of the dry season, there is no better time to witness not just the birdlife, but Kakadu's full array of exotic animals, including crocodiles, buffalo, brumbies, and wallabies.
A highlight of this year's festival will be sunset Yellow Water Cruises, led by NT Bird Specialists' renowned 'twitcher' Luke 'Hawk Eye' Paterson, who will provide expert commentary on the cruises.
A wide range of child-friendly activities are incorporated into each year's program.
Parks & Playgrounds
Playgrounds in Kakadu for Kids
There are playgrounds in Jabiru, the main service town in Kakadu, and there are children's playground facilities at Cooinda Lodge.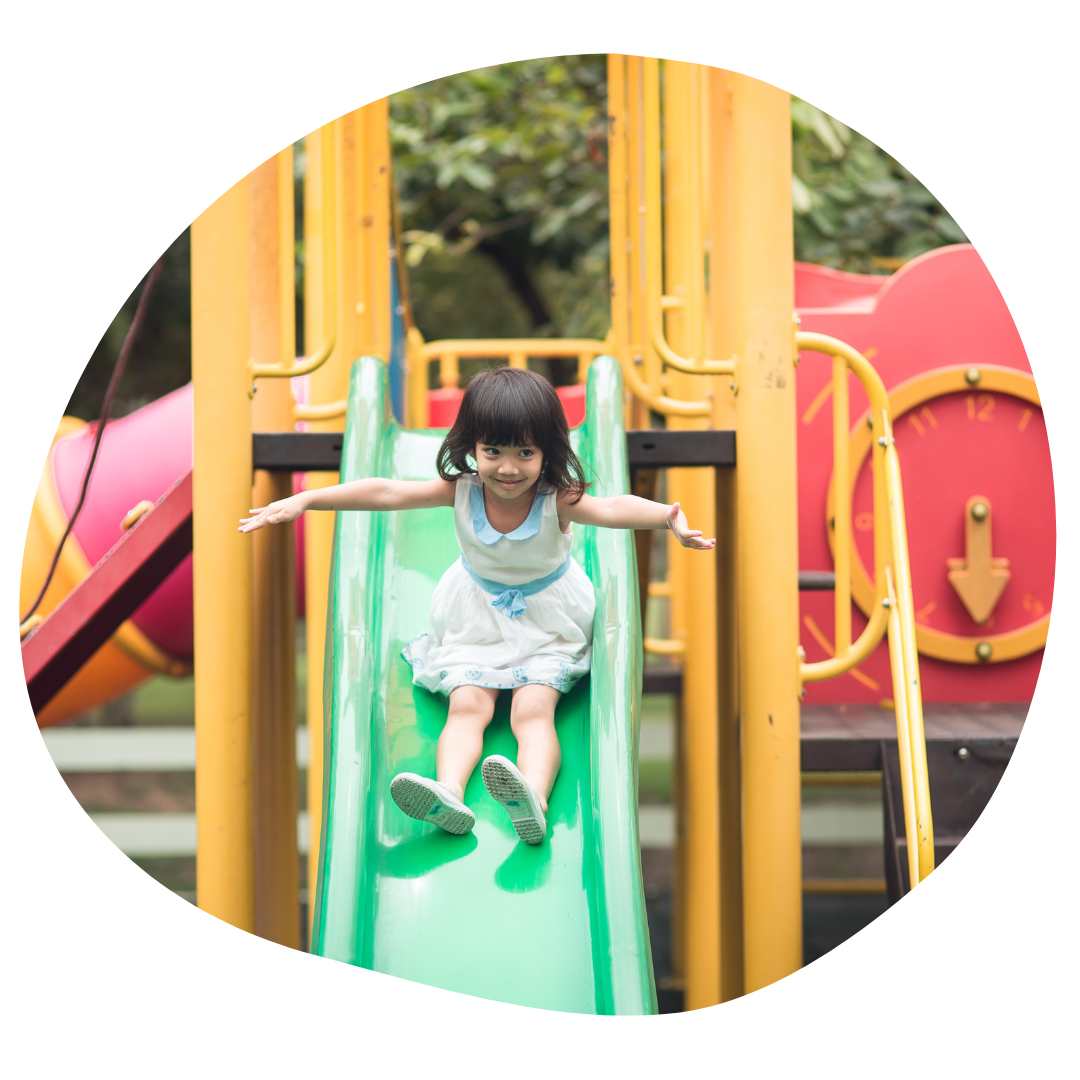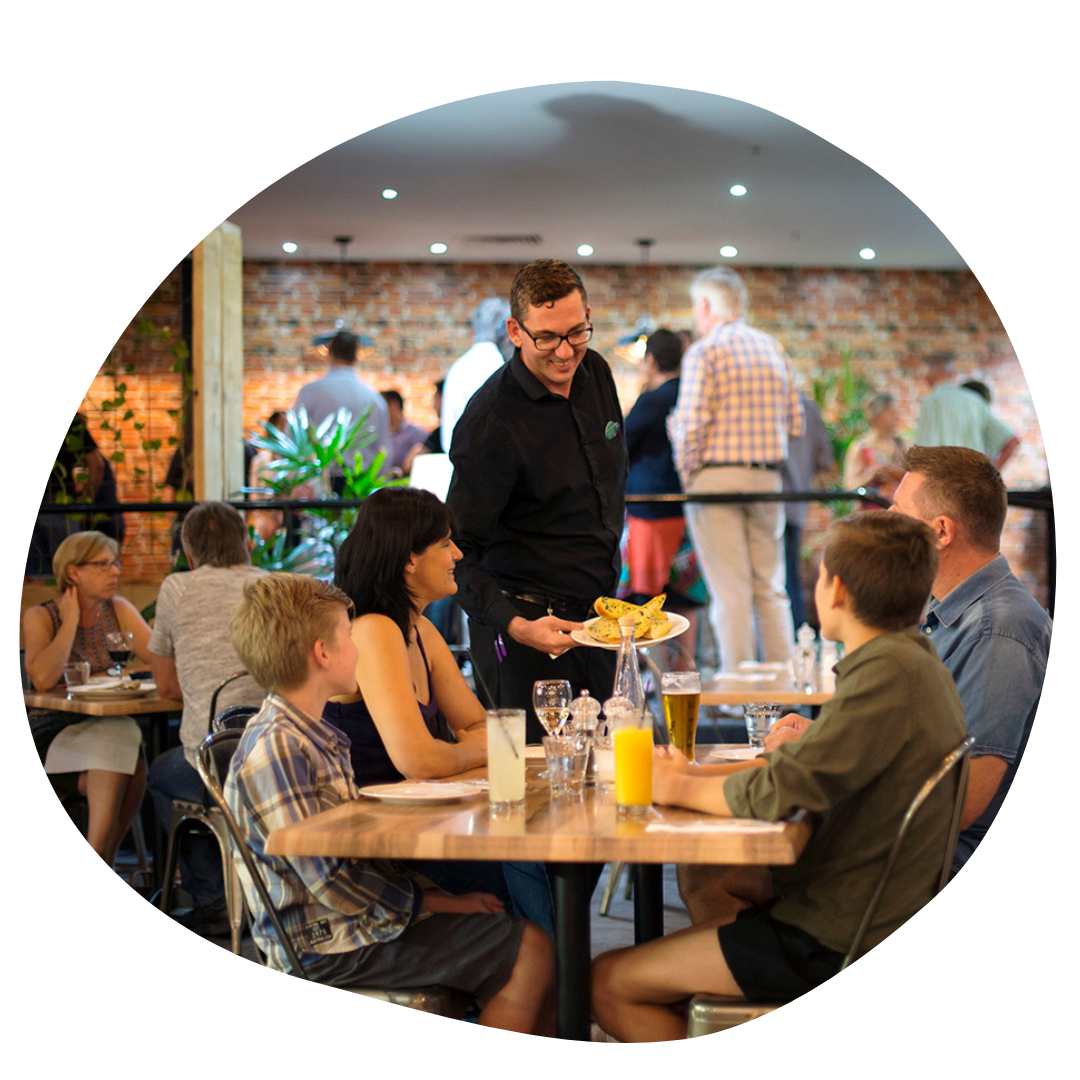 Family-friendly cafés & restaurants in Kakadu National Park
Top family-friendly cafés and restaurants in Kakadu:
Escarpment Restaurant – Located at the Mercure Kakadu Crocodile Hotel  offers special menus for children.
Barra Bistro – A great place for outdoor dining, with a family-friendly atmosphere. The Barra Bistro also offers a kid's menu.
Mimi's – Located at Cooinda Lodge, this place also has a special menu for children. Mimi's also offer a takeout option for those families who would like to have dinner at their campsite.
If you're visiting Kakadu National Park with kids in the peak periods, make sure to look out for the special fish & chip truck which operates at Cooinda Lodge.
How to Get Around Kakadu National Park with Kids
It's good to note that moving from one site to another in Kakadu, takes time.
There are no taxis, buses or trains, so you will need to bring your own vehicle to get around, or join a bus or 4WD tour.
Some parts of Kakadu National Park can only be accessed by 4WD. These sites include:
West Alligator Head in the north of the park,
Twin Falls,
Jim Jim Falls,
Maguk,
Jarrangbarnmi in the south.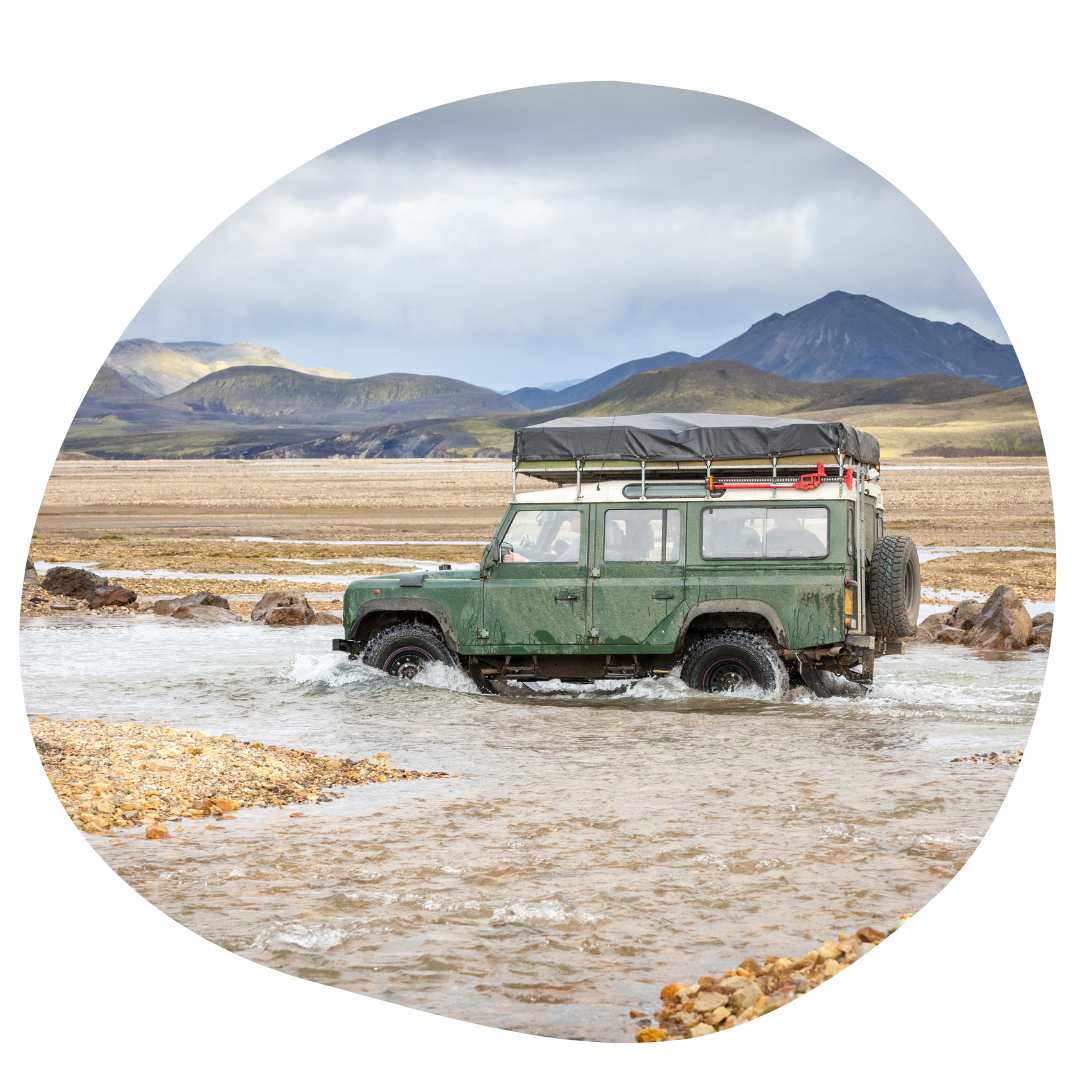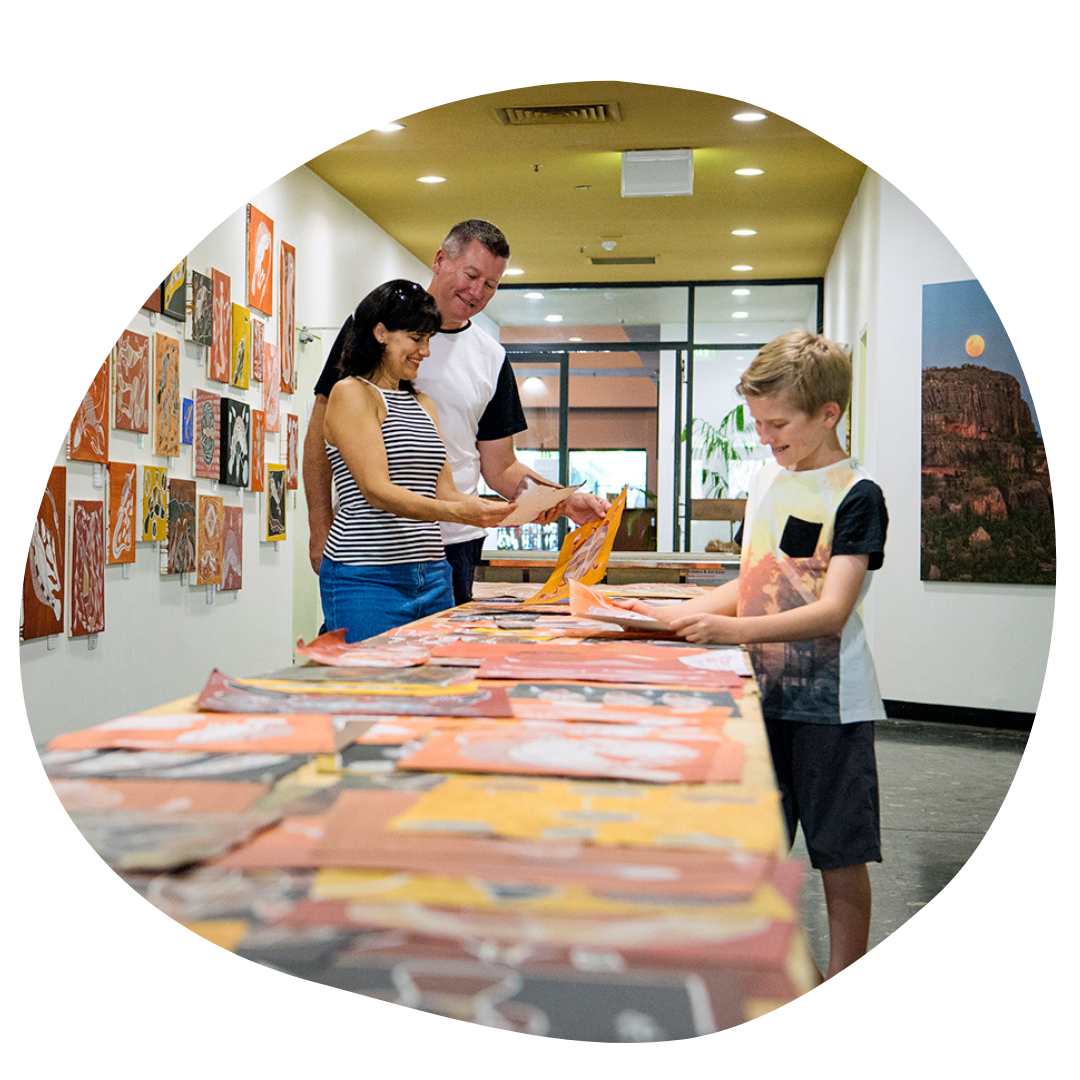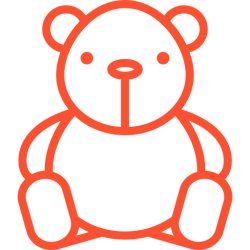 Gifts for Kids in Kakadu National Park
Buying local Indigenous art is the best way of remembering what Kakadu National Park has to offer. Sitting down with the artist, learning the techniques, hearing the stories and then taking home a final work created in front of you is very special. This would be a great gift for kids to keep as a memory of their visit in Kakadu National Park.
Top Art Galleries to Visit in Kakadu National Park
Check out more art galleries in Kakadu to visit with your kids.
Kakadu is not a "theme park" – it is authentic. It is one of the world's most remarkable cultures, steeped in Indigenous heritage. It is a large area and that means considerable travelling between locations, so planning is important.
Being usually hot during the day, activities are best organised in the morning and late afternoon. The best idea is not to plan too much in a day. Both major hotels have large pools, ideal for cooling off in the middle of the day.
Sunsets should be spent on the incredible rock platforms at Ubirr and Nawurlandja, while sunrises are best spent cruising on Yellow Water Billabong.
TRAVEL TO KAKADU NATIONAL PARK
Book Now
[discussion_topics][discussion_board_form]