Courchevel
Courchevel
Courchevel
Courchevel
Courchevel
City Guide
City Guide
City Guide
City Guide
City Guide
Courchevel
Courchevel
Courchevel
Courchevel
Courchevel
City Guide
City Guide
City Guide
City Guide
City Guide
IN A NUTSHELL
Visit Courchevel with Kids
Family holidays are the best way for parents and children to share amazing experiences. A chance to be together and enjoy new adventures, creating unforgettable memories. That's why Courchevel is your go to destination. Courchevel will give you both a warm welcome and a fantastic holiday.
Courchevel has been awarded the Famille Plus label since April 2010. Courchevel follows these 6 commitments when welcoming both children and adults:
A personalised welcome for families;
Activities adapted for all ages;
From the youngest to the oldest: a price for everyone;
Activities for young and old, to be enjoyed together or separately;
All shops and services at hand;
Children pampered by Courchevel professionals.
This label is granted for a period of three years to municipalities that have a real policy of welcoming families and children. It is awarded on the basis of an application and a control audit ensures that the criteria is respected. Accommodation, activity and catering professionals are committed to working alongside the certified municipalities to provide a special welcome for families.
You can get there by car, train or by bus. Access to the Courchevel resort is quick and easy.
A 2 hour journey from Lyon or Geneva airport, 1h 30 minutes journey from Chambéry and 30 minutes journey from Moûtiers train station.
The road is always clear which makes access to the resort really easy and pleasant.
Visit Courchevel with kids and book your trip now. 
Must sees when in Courchevel with Kids
In winter:
Art exhibition of large monumental sculptures in the resort centre and on the ski area.
Ski shows: Magic night, snow sports demonstrations, ski instructors, torchlit descents and fireworks.
December: Christmas and New Year
January: Courchevel celebrates the Orthodox Christmas.
February & March: The International Festival of Pyrotechnic Art, Magic moments with fireworks in all the villages of Courchevel.
April: 3 Vallées Enduro, Derby, slalom XXL, skiercross, Big air bag, family schuss. The best way to discover Les 3 Vallées is by having fun in teams of 3, under a "family" category.
In summer:
More than 200 cultural and sport activities.
Where to Stay in Courchevel with Kids
All the Courchevel villages are suitable for families. Each one offers shops, ski rentals and ski schools.
Courchevel Villages to stay in:
Courchevel le Praz
Altitude: 1300 m
POI: Praz lake, mediatheque
Direct cable car to Courchevel 1850
During summertime: bathing and many summer activities
Courchevel la Tania
Altitude: 1400 m
POI: the Teppes clearing and its walk in the forest
A pedestrian resort
A new children's area on the snow front
Courchevel Village
Altitude: 1550 m
POI: Aquamotion, the aquatic centre and its activities
Easy access to Courchevel 1850 and Courchevel Moriond
Free floodlit toboggan runs (if using the gondola, a lift pass is mandatory)
Courchevel Moriond
Altitude: 1650 m
POI: Rosière lake
Easy slopes for beginners
Moriond racing: the 3km toboggan run F1 style
Courchevel 1850
Altitude: 1850 m
POI: The Forum and its ice rink, bowling, games room and climbing wall
Largest children's garden in France with a medieval setting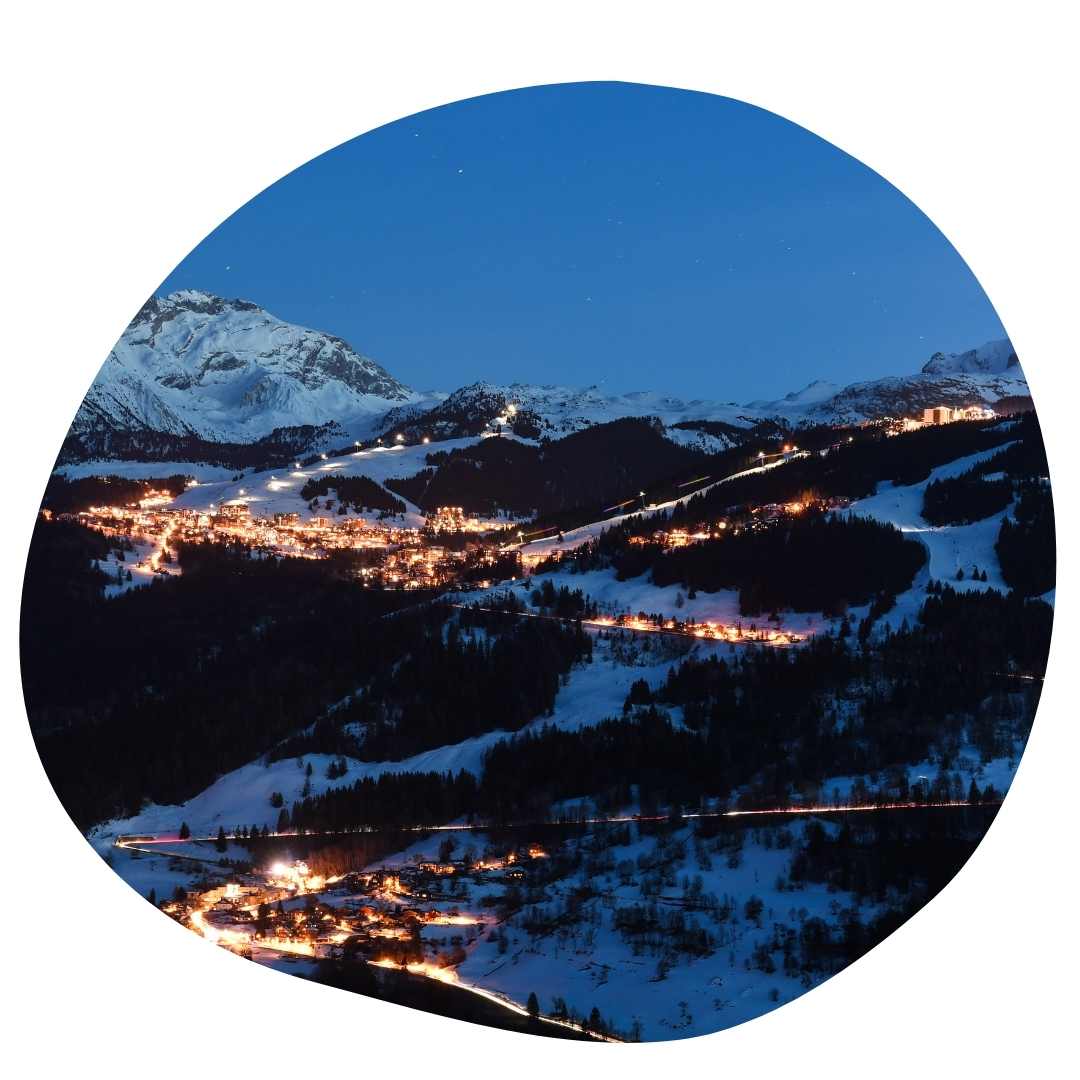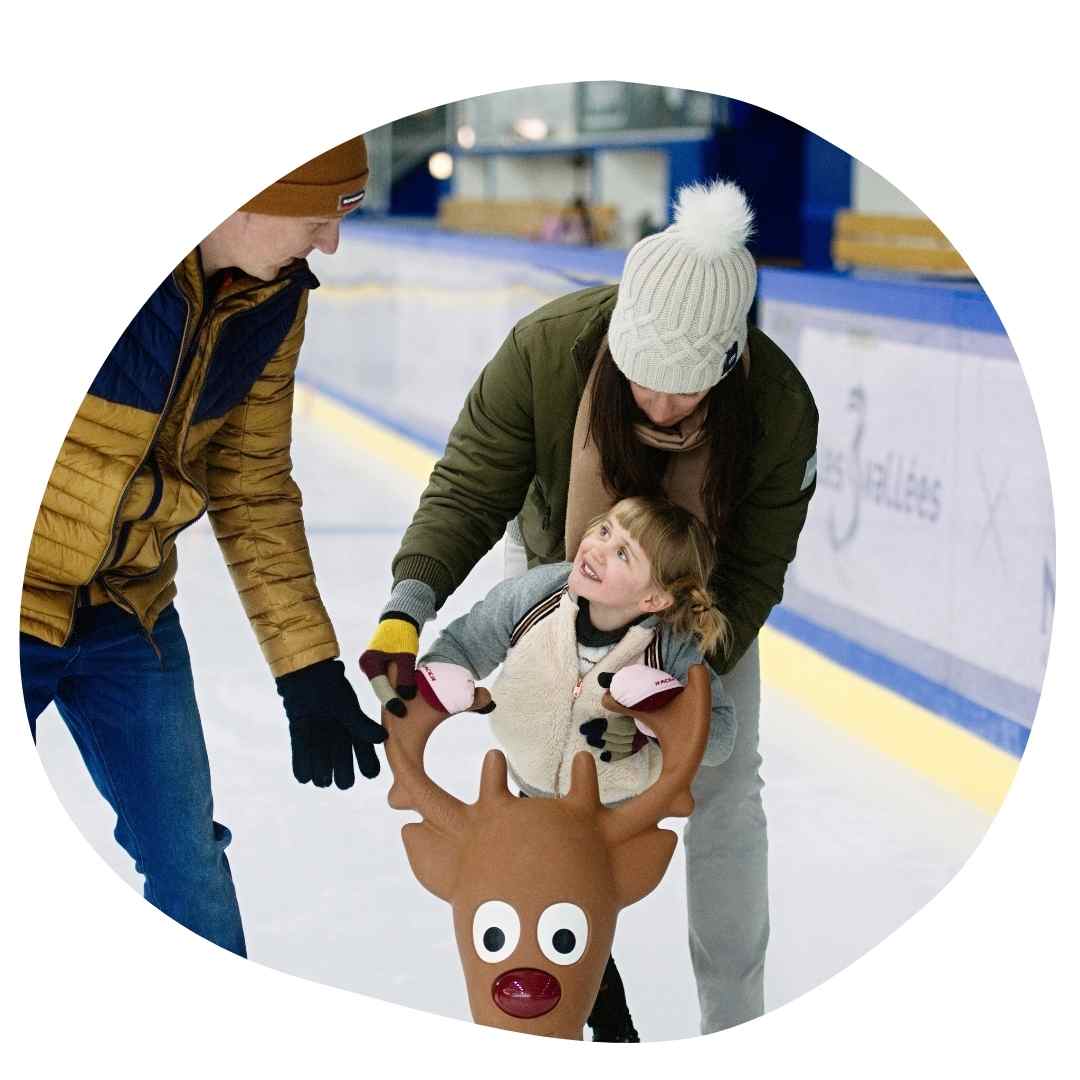 Activities for children ages 0-5
Tiring our babies and toddlers whilst they absorb all that is around them.
Supervised Activities in Courchevel:
Paragliding – from 4 years
Mountain Biking – from 3 years
Pony excursion – from 3 years
Baby ski – from 2 years
Dog sled ride – from 2 years
Piste Basher – from 4 years
Available Equipment:
Aquamotion aquatic center
Bowling Courchevel Village 1850
Swimming pool of Courchevel la Tania
Olympic Ice rink Courchevel 1850
Mediatheque – Courchevel le Praz
Activities for older kids
Keeping the older kids happy, entertained, and reducing the amount of times they ask for a screen or complain about being bored.
Supervised Activities in Courchevel:
Canyoning – from 8 years
Orienteering – from 6 years
Tubing (on the Olympic Ski Jumps) – from 12 years
Accrobranche and zip lines – from 5 years
Rosiere Via ferrata – from 8 years
Ski lessons– from 2 years
Snowmobile – from 8 years (as a passenger)
Escape Game – from 8  years (if accompanied)
Snakegliss – from 6 years
Walking or snowshoeing
Several summer camps : 
Cinema Stunt – from 10 to 17 years
Adventure & survival – from 14 years
Badminton – from 11 to 17 years
Golf – from 6 years
Hip Hop & Urban Art – from 10 to 15 years
Chamber music – from 18 years
Rugby – from 11 to 18 years
Soccer – from 13 to 16 years
Swimming lessons – from 7 to 11 years
Available Equipment:
Aquamotion aquatic center
Swimming pool of Courchevel la Tania
Tennis court of Courchevel le Praz
Golf – from 6 years
Climbing wall in Aquamotion – from 6 years if accompanied and from 12 years if not
Climbing wall in Le Forum
2 Floodlit toboggan runs (from 8 years if accompanied) + all other items from the above category (under 5 years)
Free access to 12 ski lifts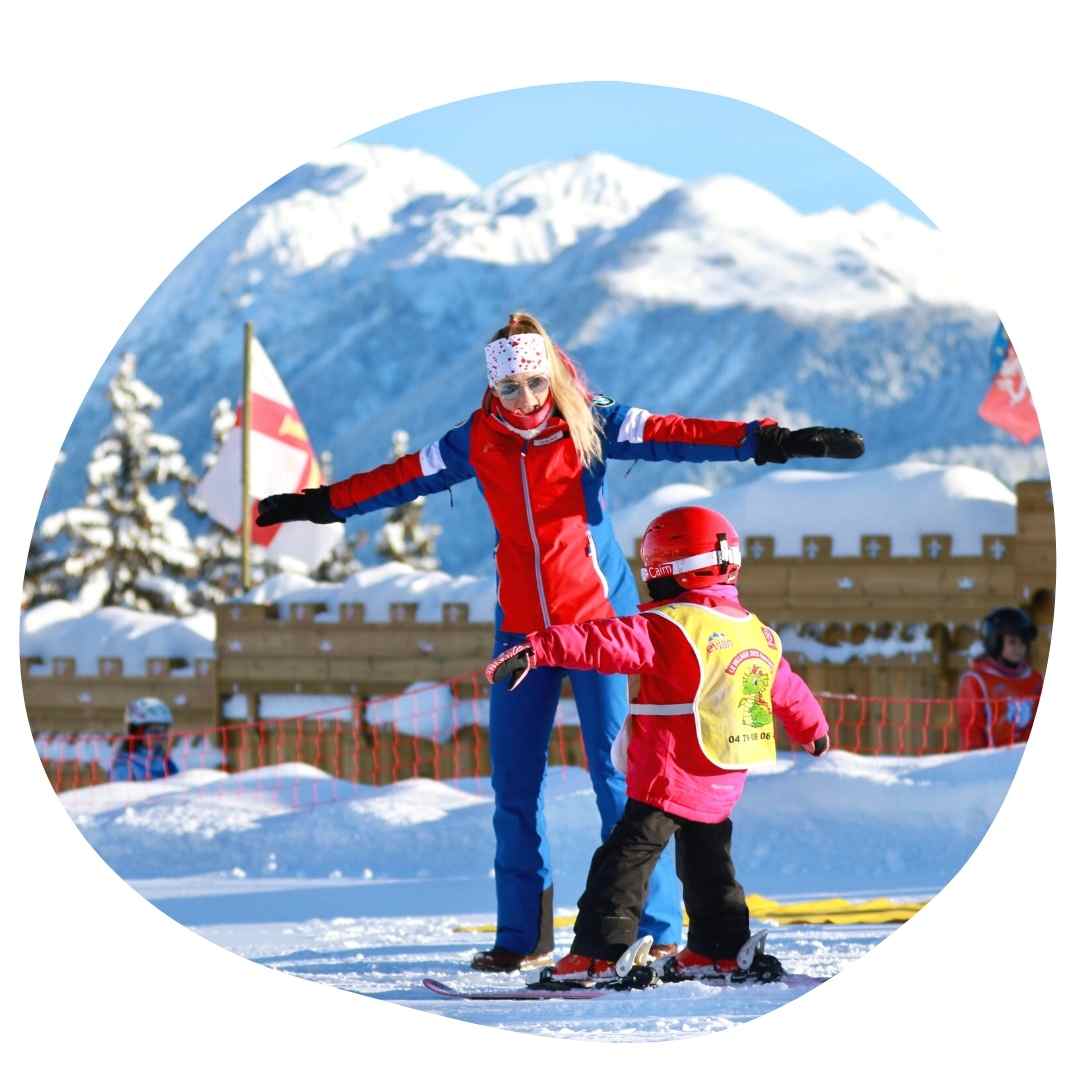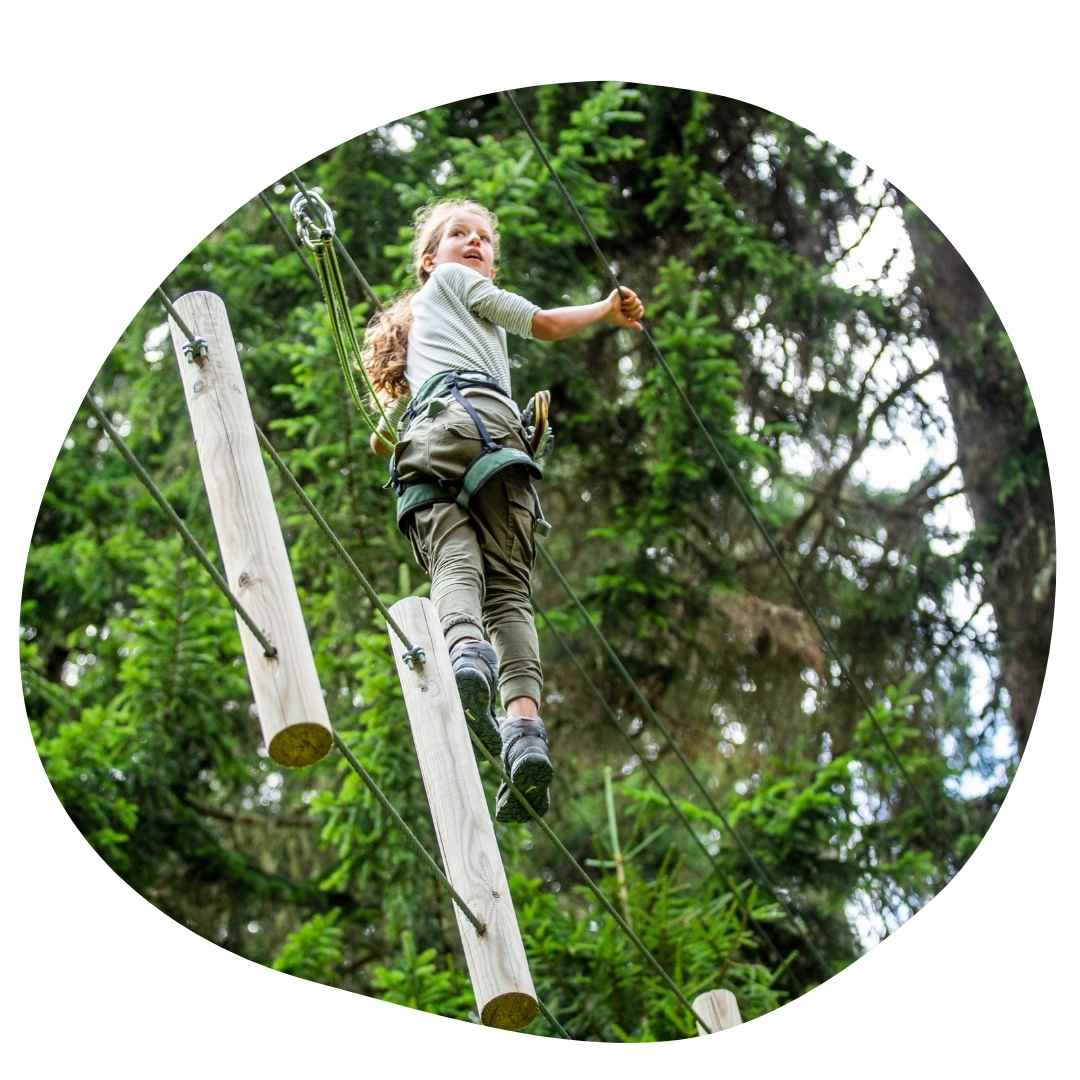 © La RosièrePetitBivouac.com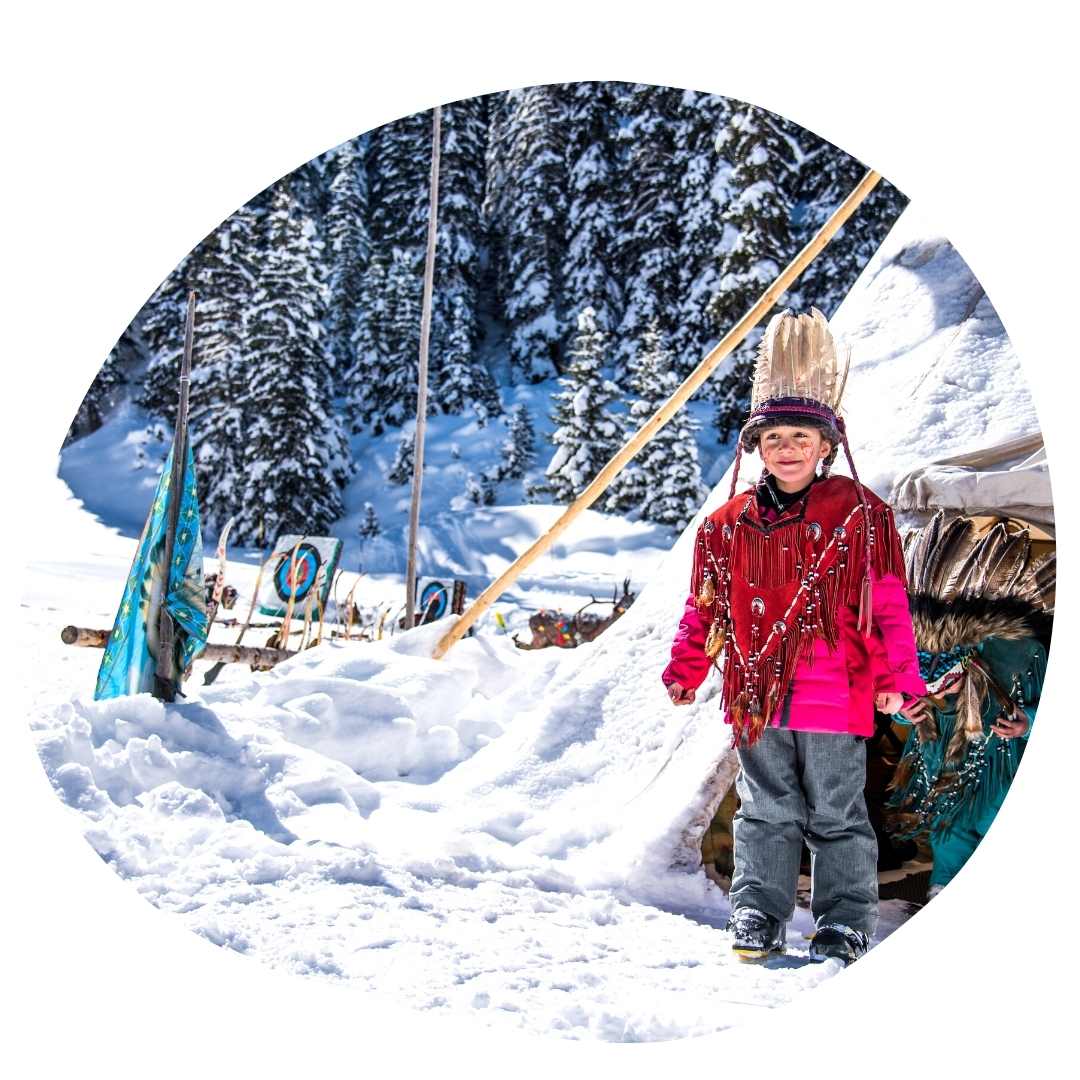 Parks & Playgrounds
Parks:
Praz lake
La Rosière lake
Parks to visit in winter:
Family Park: Explore the world of the Incas and feel the mystery of the Sacred Mountain… as you defy the Snow Gods on the border cross.
Western Ski Park: Have a blast down the wide, gentle slopes in this closed zone and then say 'hi' to Perle de Lune at the Indian camp, see the animal prints and make an Amerindian headdress.
Fun Park: Head to this pretty natural canyon for great fun – and perhaps even try a few jumps!
Playgrounds to visit in summer:
Courchevel Saint Bon 
Courchevel la Tania
Inflatable structures welcome children in summer on the Courchevel 1850 snow front and in Courchevel le Praz.
Indoor playground Courchevel 1850 (see covid-19 restrictions), FREE ACCESS: 2 circuits according to the age, games, sanitation for children and baby changing area. Adult supervision is compulsory.
Farms: 
Ariondaz Farm (summertime)
Where to eat in Courchevel
The majority of Courchevel's restaurants are family friendly and over 40 restaurants offer services and equipment for children including children menus, high chair, warmer, cot, booster seats, changing tables, and games.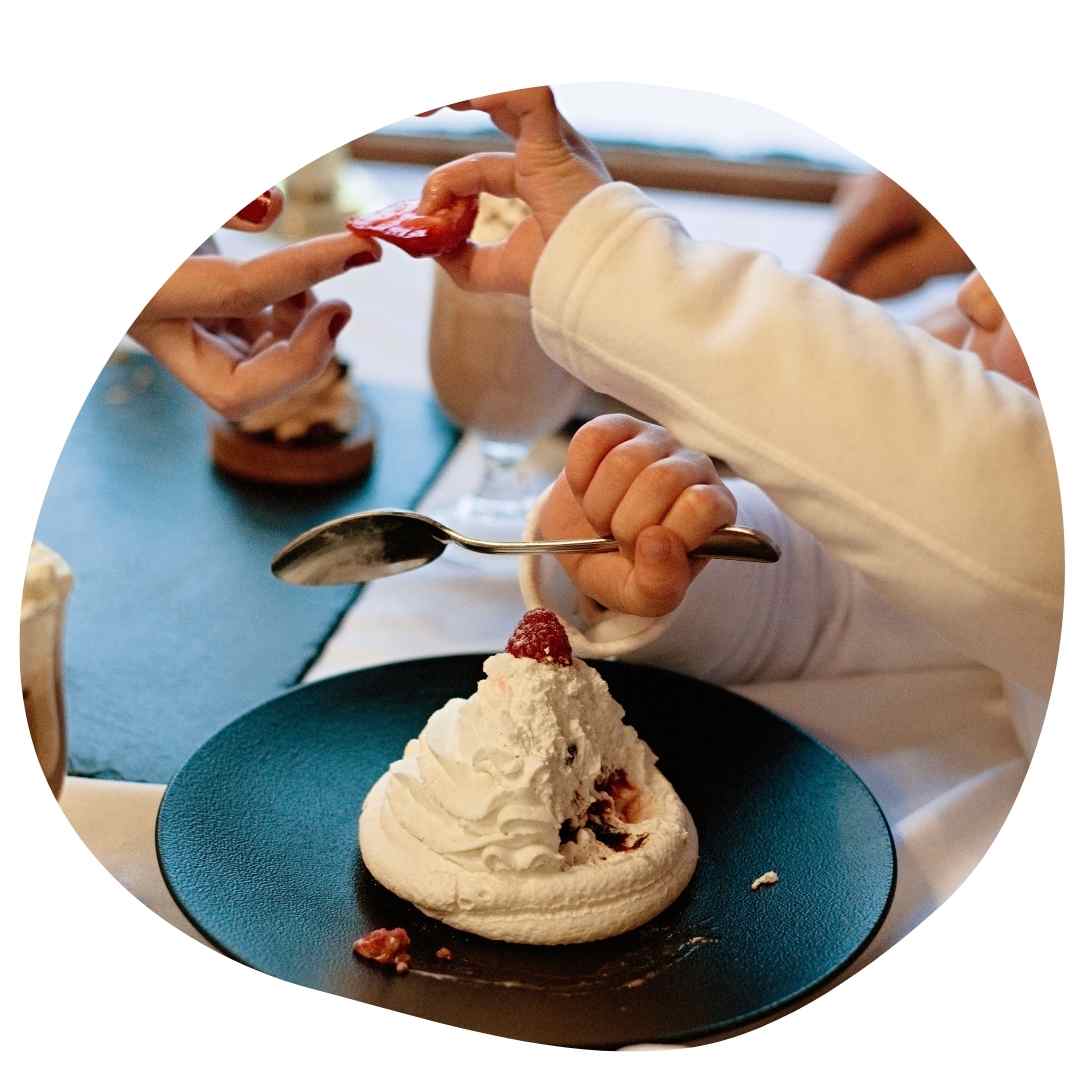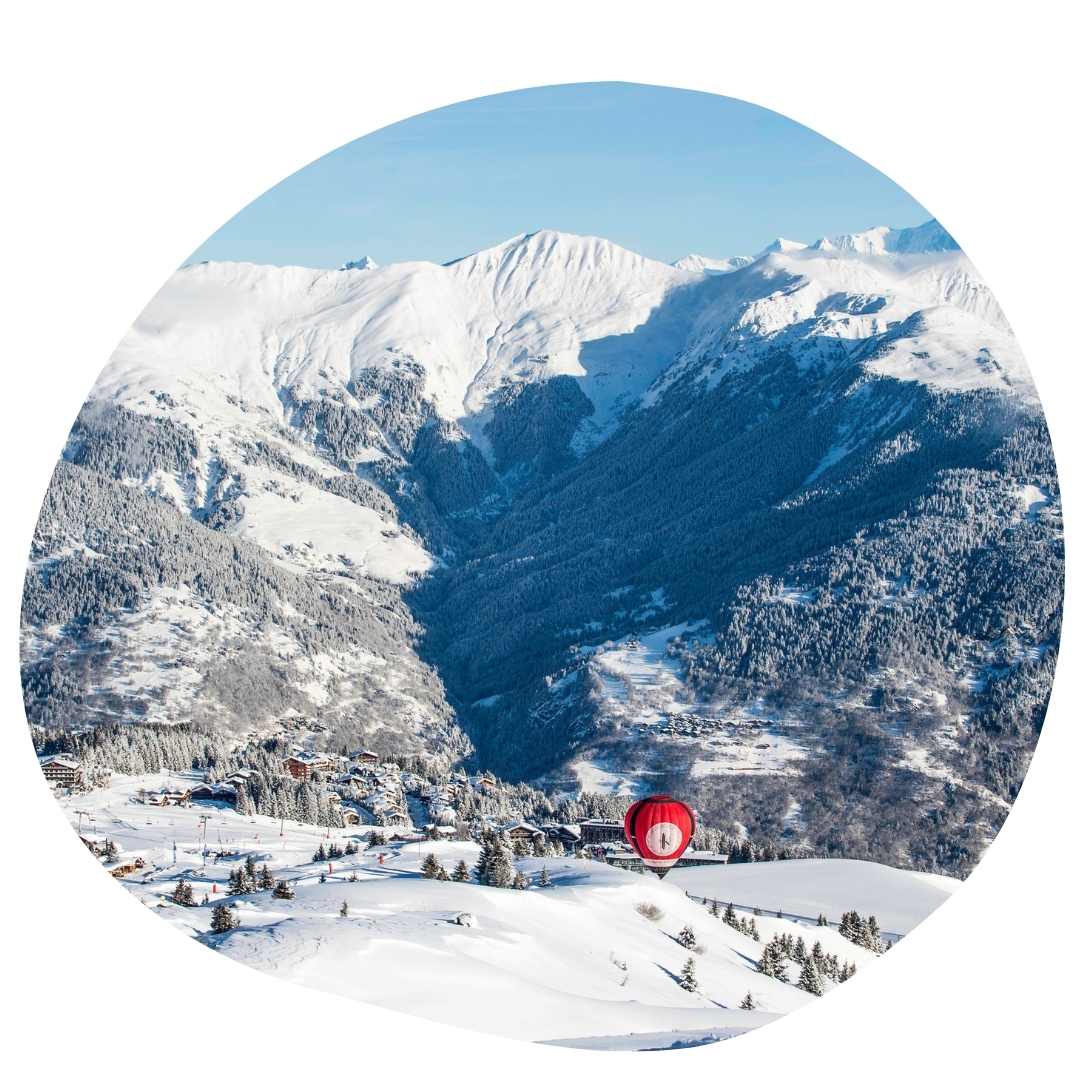 How to get around in Courchevel
You can get around Courchevel with kids through different options.
Buses
Free shuttle buses are available for visitors to move around the resort from morning to evening. They are accessible with prams.
Taxis
Taxis are also generally accessible with prams.
Toy Shops in Courchevel
There are many shops selling games and toys, two of which specialise in La Droguerie, Les Petits Papiers.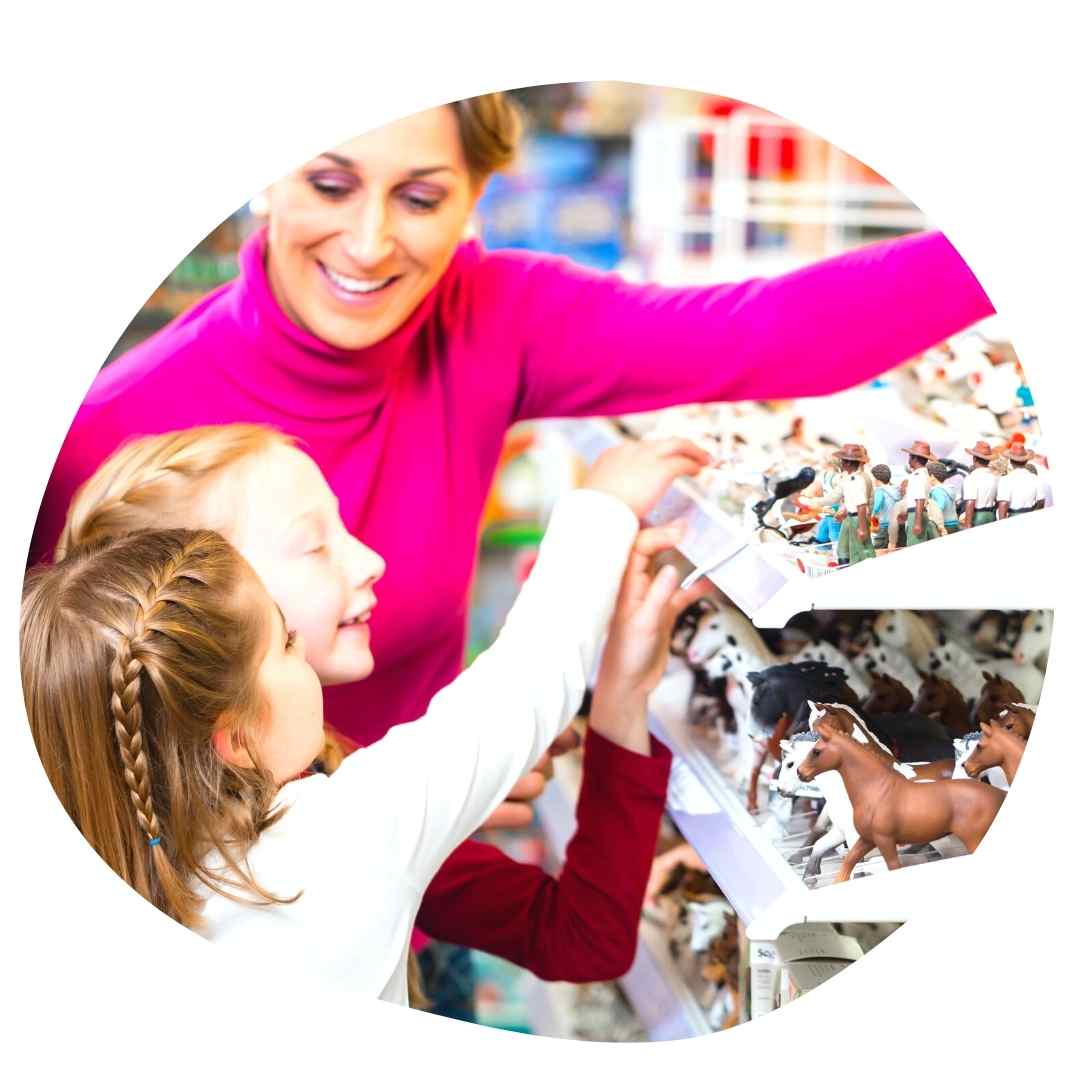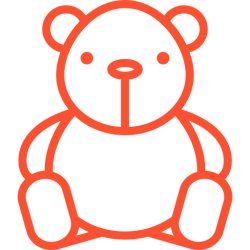 A snowshoe walk at the Rosière lake for a Canadian atmosphere (recommended from 8 years+).The ski school kindergartens are particularly well known in Courchevel.
Courchevel is beautiful all year round but the best time to visit is during summer or winter time.
During winter, ski passes are free for kids under 5 years. Remember, in order to obtain a free pass or one of the special rates, children must show proof of identity.
TRAVEL TO COURCHEVEL
Book Now
[discussion_topics][discussion_board_form]