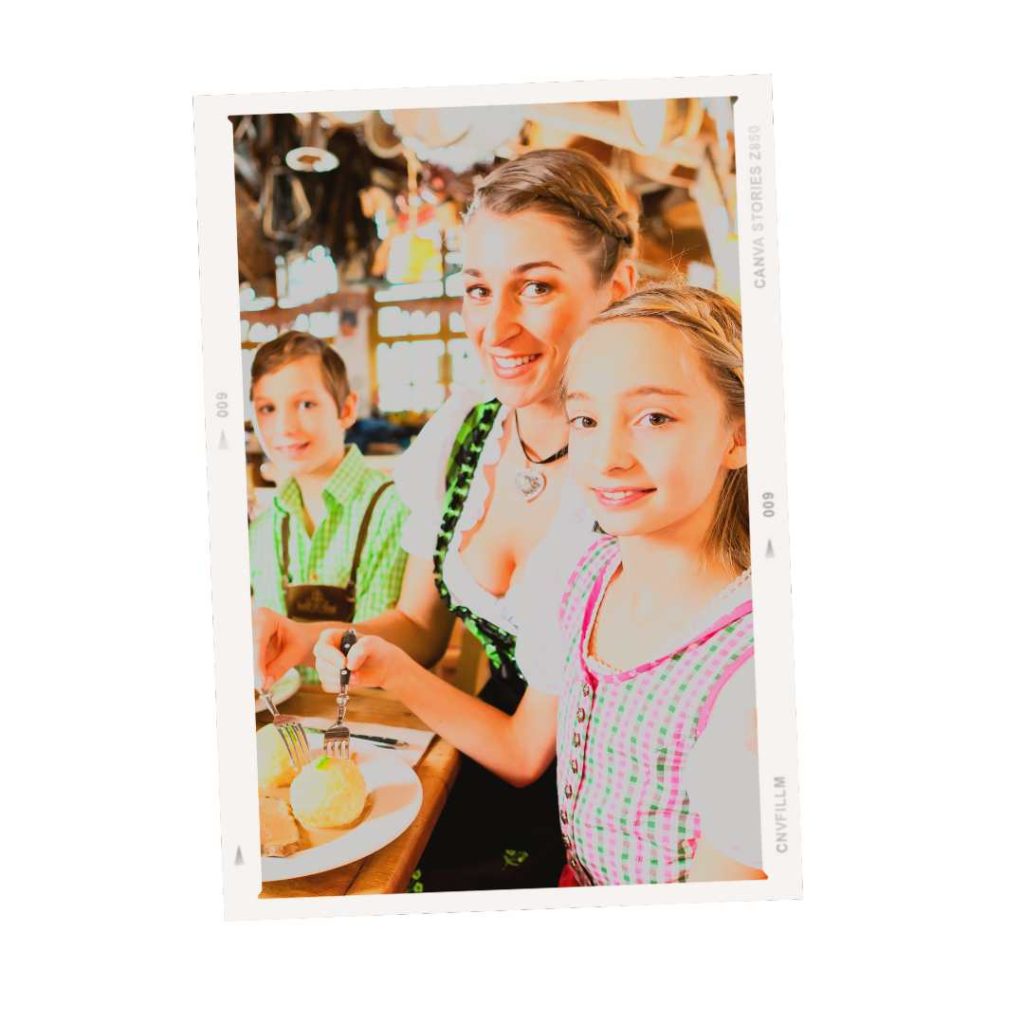 Are you planning a family trip to Munich and wondering where to dine with your little ones? You're in the right place. We've compiled a list of the best kid-friendly eateries in the city, where you can enjoy delicious meals while keeping your children happy. From traditional Bavarian cuisine to international delights, there's something that will appeal to everyone. So, let's dive in and discover the best places to eat in Munich with children.
Jump to:
Restaurants . Cafes . Beer Gardens . Other Eateries
Child-Friendly Restaurants in Munich
For scenic views and delightful Italian cuisine
Situated at the corner of Odeonsplatz, Tambosi boasts a beautiful view of one of Munich's prettiest squares. The outdoor dining area provides a charming ambiance for families. Their menu features delectable dishes like truffle linguini and bronzini with sautéed vegetables, which are sure to tantalize your taste buds. Although high chairs might not be available, don't let that deter you from indulging in their scrumptious food.
A vegetarian haven
For families seeking vegetarian options, Prinz Myshkin is the go-to restaurant in Munich. This eatery was one of the first to introduce vegetarian cuisine to the city, and it continues to impress with its wide variety of dishes. From Italian vegetarian meatballs to Caribbean salads, the menu offers something for every palate. Don't miss the delicious Rasam soup and apple strudel, which are sure to please both kids and adults.
For a brunch bonanza
The Louis Hotel's Grill Room is the place to be for a delightful brunch experience. Kids will love the small tapas-style dishes filled with beet hummus falafel, while classics like pancakes and waffles are sure to be a hit as well.
Pure burger bliss
Searching for a burger joint that caters to every taste? Hamburgerei Schwabing is the answer. This fantastic eatery offers a wide range of burgers, including vegetarian and vegan options. Bring your family here and let everyone satisfy their burger cravings.
Child-Friendly Cafés in Munich
A pancake paradise
Craving pancakes? Look no further than Cafe Reitschule! This delightful café serves some of the best pancakes you'll ever taste. Make a reservation and treat your family to a lively morning scene, complete with mouthwatering food. As an interesting bonus, if you visit during the week, you can even catch a glimpse of the horse paddock from your table or terrace.
Hip and tasty
Nestled in the residential section of Schwabing, Occam Deli is a hip café that caters to families. Their sandwiches and noodle bowls are a hit among toddlers, ensuring a satisfying meal for your little ones.
French bakery delights
If you're in need of some great food right after landing in Munich, head straight to Cafe Dukatz. This charming French bakery offers freshly squeezed orange juice, delectable baked goods, and scrumptious scrambled eggs. While high chairs may not be available, you can bring a stroller to accommodate your young ones.
A child-friendly haven
Discover the family-friendly Café Glückskind in the picturesque neighborhood of Haidhausen. This delightful café not only offers great food but also caters to kids' needs. Inside, you'll find a dedicated play and cuddle corner filled with books and a variety of toys. Even when the children are engrossed in play, parents can keep a watchful eye from their tables. Highchairs, a changing station, and a microwave are available, ensuring a hassle-free dining experience for families with young children.
Cosy and kid-friendly
Located in Munich, Café Clara stands out as a truly kid-friendly and cosy café. It's offers plenty of toys and books for children to keep them entertained. While the little ones immerse themselves in play, adults can indulge in delicious cakes and coffee. The café provides a changing table and children's chairs to accommodate families. Moreover, the fantastic Josephsplatz playground is just around the corner, making Café Clara a must-visit spot.
A cool and inviting café for the whole family
If you're in search of a cool and relaxed atmosphere, look no further than Café Benko. This café exudes a modern yet charmingly rustic vibe that instantly puts you at ease. As you enter, your attention will be drawn to the well-stocked children's play area. From books to interactive toys, there's plenty to keep the kids entertained, ensuring they never experience a dull moment. The inviting interior, combined with the aromatic aroma of coffee and freshly baked croissants, creates a truly delightful atmosphere.
Child-Friendly Beer Gardens in Munich
Fun in the English Garden
Located in the beautiful English Garden, Chinesischer Turm is a popular beer garden that caters to families. You can indulge in typical German dishes such as Weisswurst sausage, spaetzle, pretzels, and small salads, alongside French fries. The picnic tables are conveniently located near a playground and carousel, ensuring that your children have a great time while you enjoy your meal. Don't forget to admire the stunning Chinese-style pagoda towering over the garden.
For a taste of history and Bavarian delights
When it comes to Munich's culinary scene, Hofbräuhaus takes the crown. This famous restaurant has been serving up mouthwatering Bavarian food for nearly 500 years, making it a must-visit for any family. Apart from the brew, fear not, because the menu offers plenty of kid-friendly options. From Bavarian pretzels to spaetzle (similar to mac and cheese) and potatoe salad, there's something to satisfy every little palate. After placing your order, head over to the private courtyard beer garden and find a cosy seat. There's also a playground at Hofbräuhaus Beer Garden.
Other Child-friendly Eateries in Munich
Frozen yogurt delight
After spending some time playing in the nearby English Garden, treat your little ones to a refreshing dessert at I Love Leo. Their frozen yogurt is packed with flavour, striking the perfect balance between sweetness and tartness. Children will have a blast choosing their own toppings to create the ultimate frozen yogurt masterpiece.
A feast for the senses
For a true culinary adventure, head to Viktualienmarkt, Munich's famous farmers market. Located in the historic city center, this vibrant market offers a wide array of fresh fruits, veggies, homemade breads, meats, cheeses, and, of course, plenty of pretzels. You can stop by for a quick snack or grab a small sandwich while exploring the market. Don't forget to check out the craft vendors and admire the beautiful flower arrangements.
Munich is a fantastic city for food-loving families, with an array of dining options that cater to both kids and adults. Whether you're looking for traditional Bavarian fare, international cuisine, or sweet treats, the city has something to satisfy every palate. From historic taverns to hip cafes and charming bakeries, Munich's culinary scene offers a diverse range of experiences for families traveling with kids. Make sure to get the full family-friendly travel guide to Munich.
Head to Booking with Kids for more tips, support and family friendly travel guides.
Check out our most loved travel gear from brands we trust.