Visiting France with Kids
France is an ideal location for a family holiday. The nation will meet all of your vacation needs because it is stunning, has delicious food, is safe, and offers a wide range of places to go and things to do.
Looking for a family beach vacation? There are beautiful beaches and luxurious beach hotels in France. Are you looking for a trip filled with sightseeing at castles, wineries, and small towns? France provides fantastic driving roads with many places to stop for children. Considering taking the kids on a city trip? Then Paris, one of Europe's most lovely destinations to visit with family, is a sure bet.
Here at Booking with Kids, France has been a preferred holiday spot for many years for us due to its endless family-friendly locations. It's also a relatively easy-to-reach destination since it has multiple airports and its destinations are nicely connected by train.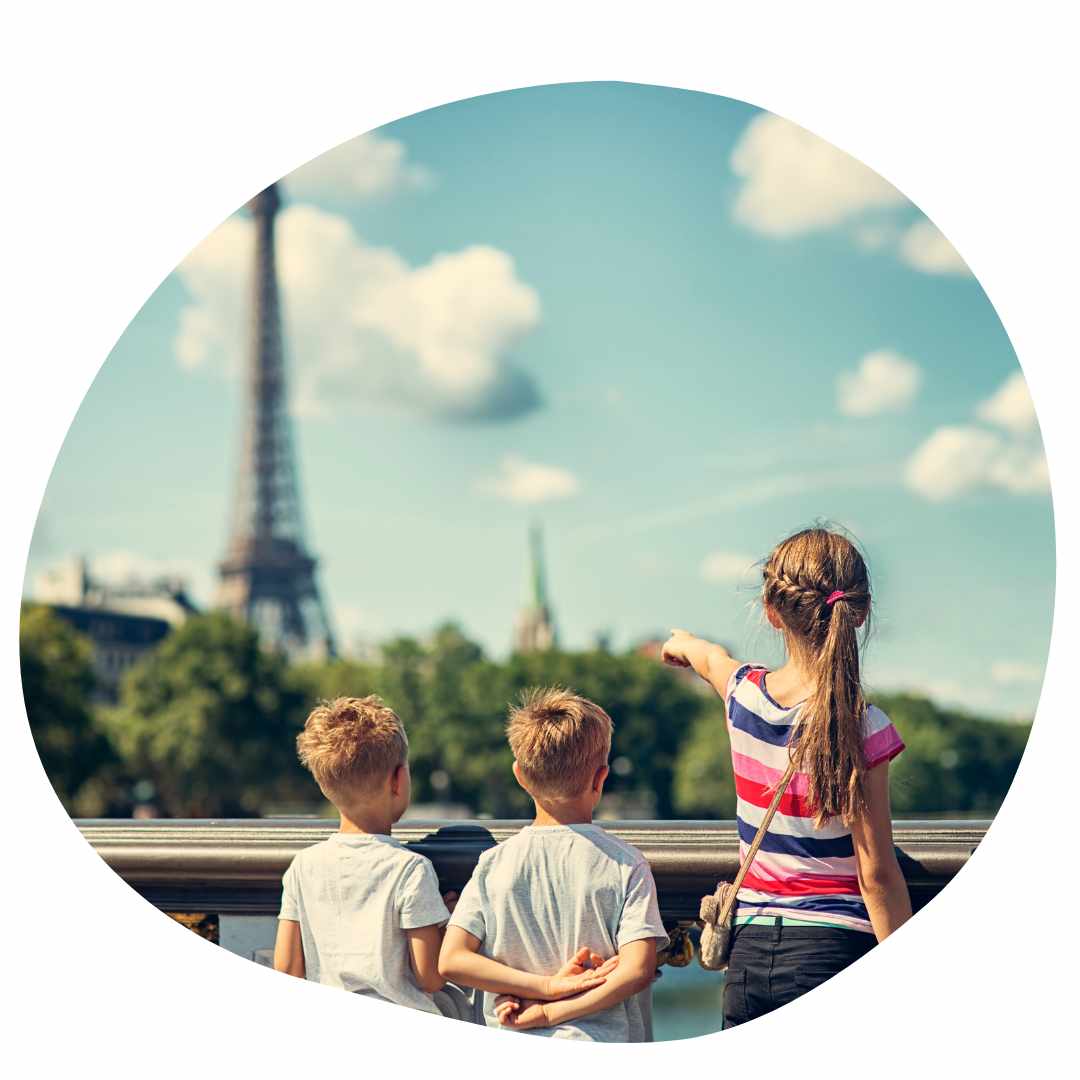 Our Top France Destinations to Visit With Kids
This guide will give you an insight into all that you need to know if you're planning on visiting France with your kids. We know that travelling with young children and/or toddlers can be hectic…we've been there! That is why we want to make your holiday planning as easy as possible.
If you're set on travelling to France and you've reached the packing stage, make sure to check our Travel Gear section on our website where you can find all the essentials for your holidays.
Here's what you will find step-by-step info on:
These sections will take you to other articles on this site so, if you're interested to know more, we have got you covered so you can plan your perfect family vacation with ease.
When to go to France with Kids
The weather in France varies greatly depending on the destination, with temperatures ranging from North of France to the South of the island. When deciding on when to visit France with your kids, it's important to check the average temperature of the destination you're interested in. This will help ensure you have a comfortable and enjoyable trip.
Brittany may be very damp in the southwest, especially in the winter, and is at its driest around May. The rainiest seasons around the Mediterranean are spring and fall, with hot, dry summers in between. The weather is moderate across the rest of France (including Paris), with warm summers and cold winters where the temperature rarely drops below zero. Snowfall is relatively infrequent, save for in the Alps and the Pyrenees.
In general, wintertime airfares to and from Europe are less expensive, and hotel rates may also be reduced. Since the majority of French people flee to the countryside in August, accommodations and travel are in high demand during this time. Most places, including Paris, are best visited between April and June and September and October.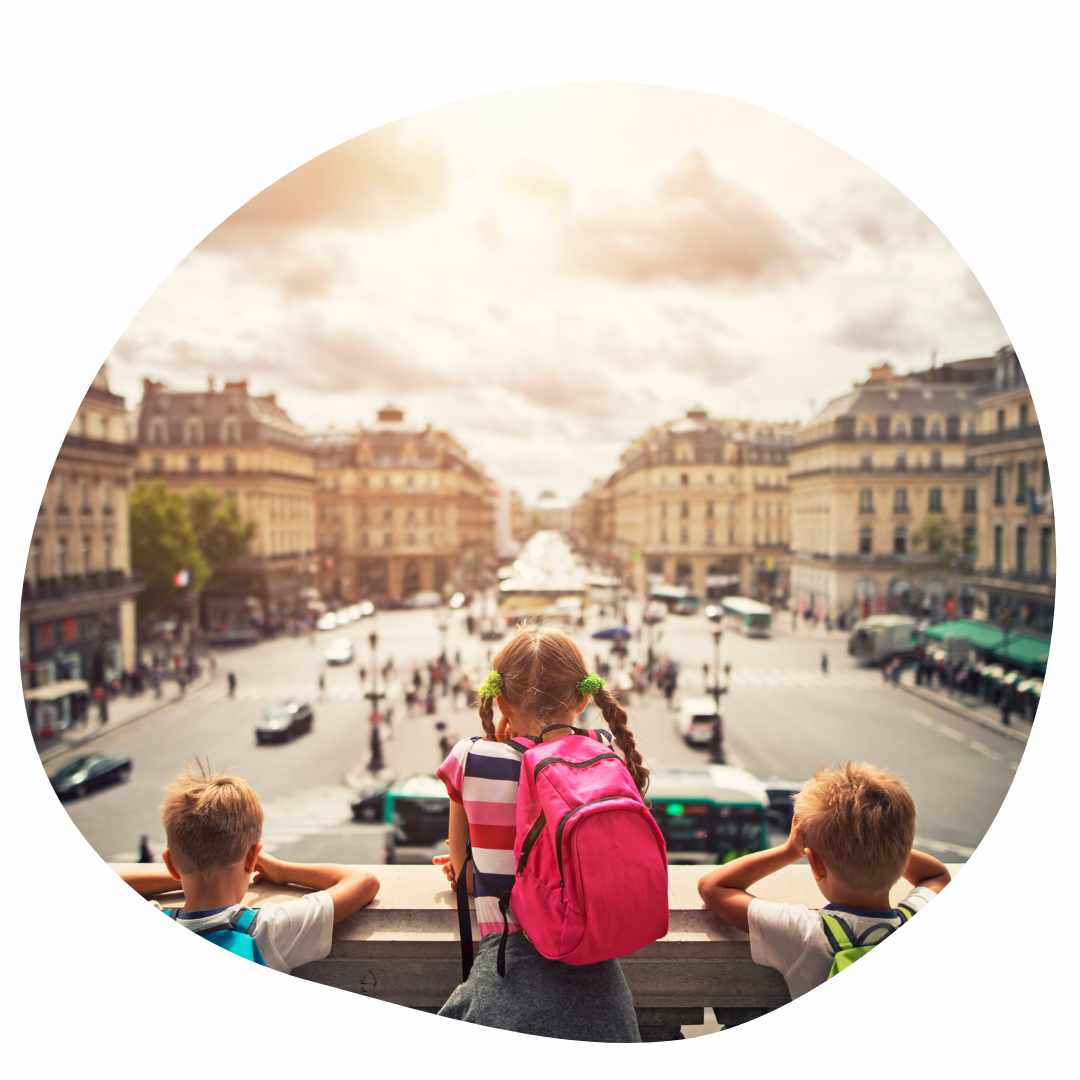 France Destinations for Families
We want to make your life easier when travelling with kids. Instead of browsing and going through different websites to eventually find what you're looking for, we want to give you all the information in one simple travel guide. These guides, including this one based in France, are meant to give you the full package and provide you with everything that you need to know when travelling with toddlers and kids.
Here are some of our top France destinations for family-friendly holidays: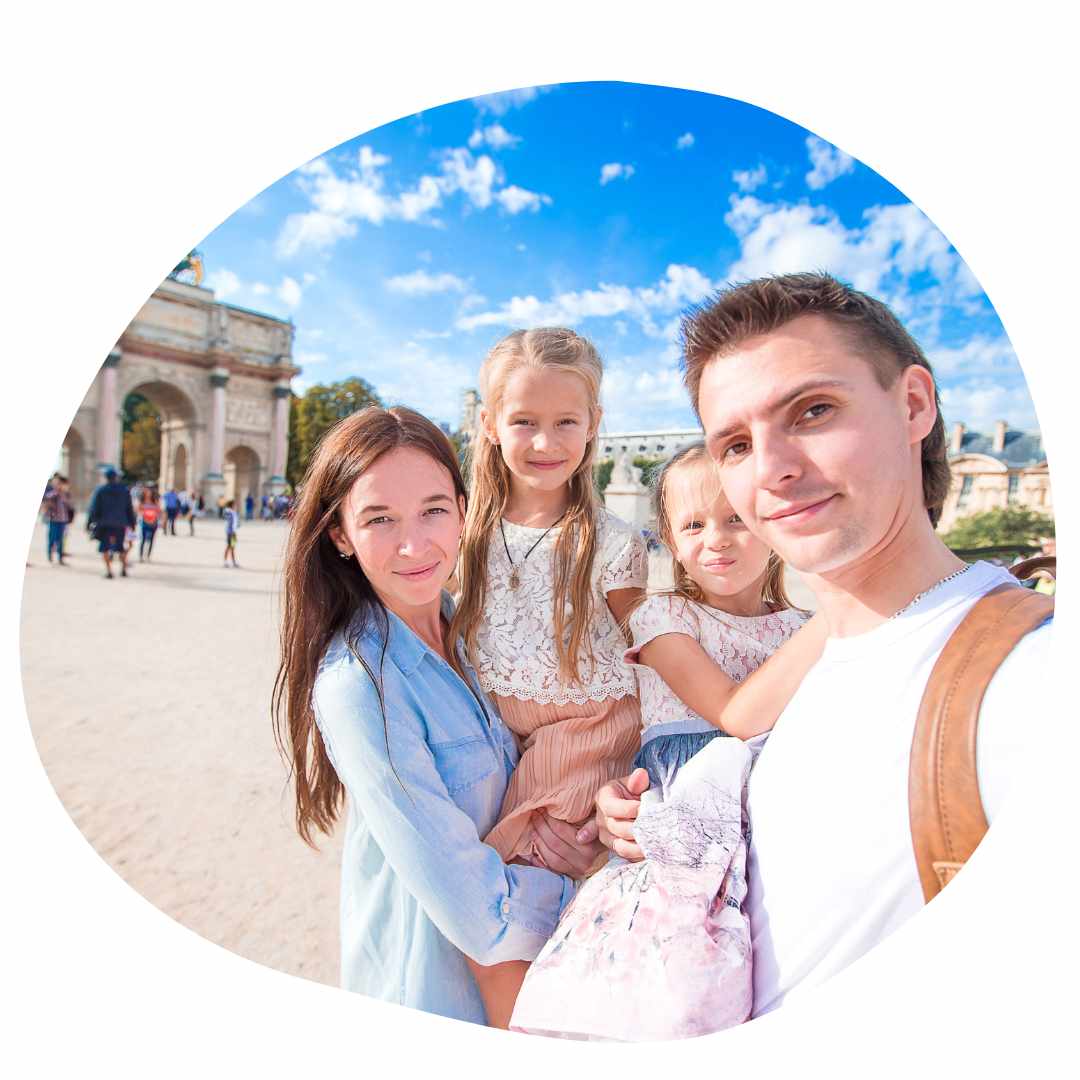 Exploring Cities in France with Kids
France is a country rich in history and it would be a pity if you skipped out on the beautiful art and history lessons while you're travelling to France with kids. There are so many things to do in France that can make history fun and entertaining for kids while you're busy getting a dose of knowledge yourself.
Paris is an obvious choice; a capital city that is not to be missed. With so much to see and do in Paris with kids, you can either choose to make it the only location of your trip or use it as a launching point to explore other regions of France.
Your kids won't get bored in Paris no matter how short or how long you decide to spend there; in fact, it might be one of the best cities in the world for families with kids to visit because there are so many fun things to do there!
The Eiffel Tower and the Pyramids at the Louvre are two must-see attractions in Paris that are guaranteed to pique your children's attention. The city also includes beautiful parks that are suitable for both toddlers and older children.
Toddlers will appreciate the Luxembourg Gardens, and teenagers will love Boi de Boulogne, where they can rent bikes for the day. Families who enjoy culture will love the city's fantastic children's museums, which include the Le Villette Science Museum and some of the top art museums in the world. Teenagers are also very drawn to the city's wonderful French food and shopping options, making it the ideal family vacation spot.
Another great city option when travelling with kids is Marseille. This city is situated on the Mediterranean Sea coast in the south of France. It is also the second-largest city in the nation. The city is fantastic in terms of its history, cuisine, and attractions. Furthermore, the weather makes it a fantastic vacation spot!
Visiting the city's old harbour is among the top things to do in Marseille. Many boats may be seen here, and there are many eateries as well. Basilique Notre-Dame de la Garde is yet another fantastic sight to see in Marseille. It's a terrific building with a beautiful view of the city that's also perfect for kids.
Beautiful national parks are also close to the city. These are excellent if you wish to explore the nearby beaches and natural areas. Additionally, a trip to Palais Longchamp is enjoyable where you can find a lovely park and fountains for the whole family to relax and enjoy.
Mountain Holidays with Kids
If you're looking for an escape from city life, then a mountain holiday is definitely for you. Mountain holidays are perfect for the summer months to escape the heat and visit some winter skiing resorts. Also, for families travelling with small children, summer holidays might be easier since you need to carry less travel gear with you wherever you go.
Courchevel is one of our favourite destinations as a mountain holiday in France with kids. It has been awarded the Famille Plus label since April 2010 and it promises a personalised welcome for families and activities that can be adapted for all ages.
The Three Valleys ski resort of Courchevel is well known for its expansive, well-groomed pistes that wind through picturesque Alpine woods. The resort is made up of a number of hillside settlements, and the further up you stay, the more likely it is that you will find ski-in/ski-out lodging. This is crucial if you don't want to have to haul around two or more pairs of skis and all the other gear needed for skiing with kids!
The recently constructed Aquamotion, a swimming and leisure complex featuring indoor and outdoor swimming pools, slides, river rapids, a kids' play area, and an indoor surf pool, can provide families with hours of entertainment in addition to the resort's world-class skiing. A spa room and an indoor climbing wall are also present. Family-friendly dining is prevalent, especially in Courchevel Moriond and La Tania. In addition to the municipal crèche in Courchevel Monriond, which looks after children while their parents are away, there are a number of private daycare providers and ski schools that may assist you with child care.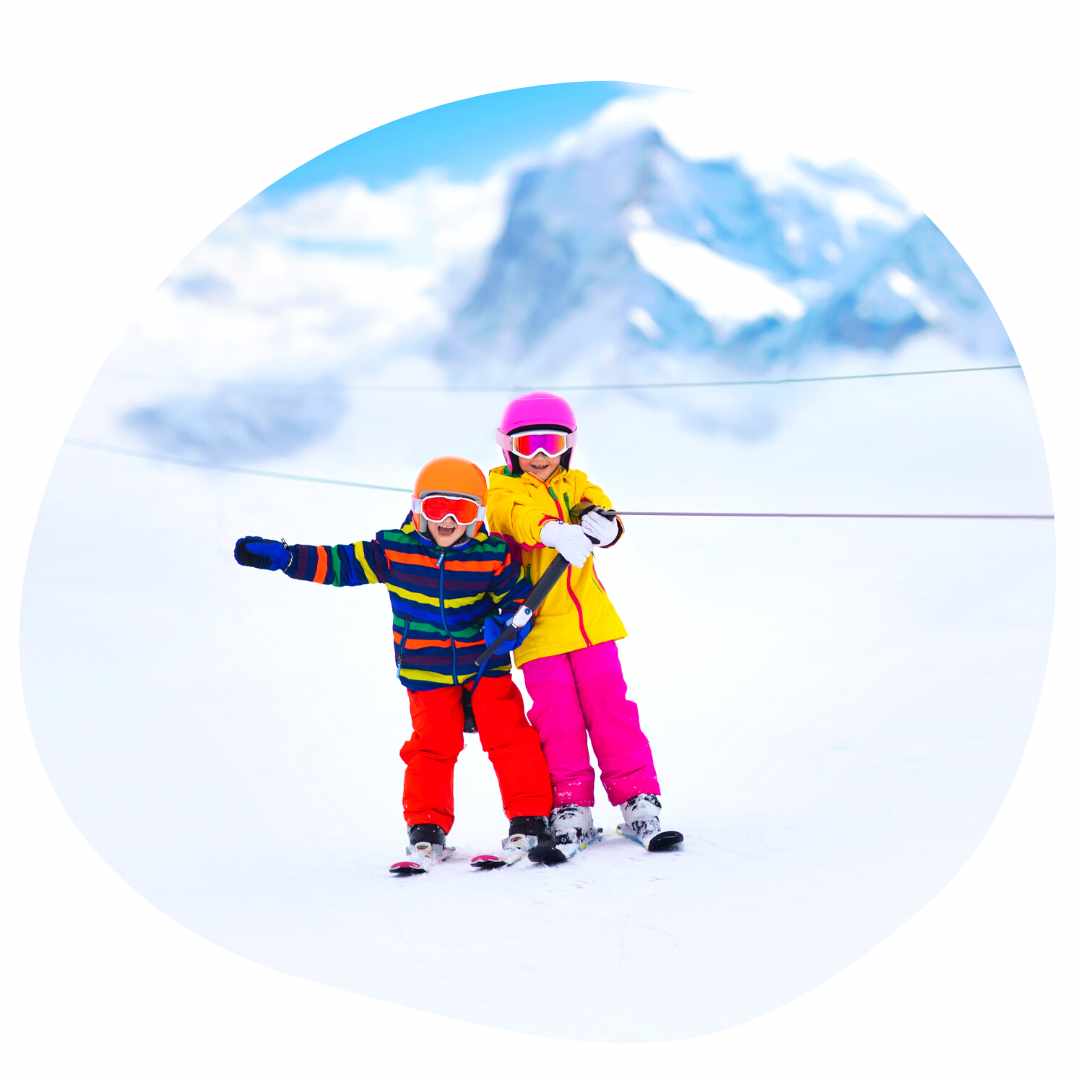 Seaside Holidays Destinations in France with Kids
In France, there are a ton of amazing family-friendly beaches just waiting to be discovered. There are several wonderful beaches for families where you may enjoy dazzling seas, quiet waterways, and smooth white sand. If you choose to veer off the beaten tourist path, you can discover quiet fishing villages, secret bays, or isolated sandbars.
Beautiful family-friendly beaches may be found all around the French coastline. On your next family vacation, explore the North, South, and West coasts of France. Our personal favourites are the beaches located close to Nice, a beautiful city in the South of France
With a length of about 10 kilometres, Nice's beach encircles the entire Baie Des Anges. There are various sections, each with a unique name. Some of the beaches have an entrance fee and offer extras like loungers, showers, or a children's playground, while others are free and open to everyone.
Any time of year is a terrific time to visit Nice and its beaches. Summertime highs are followed by mild wintertime lows. The shoulder seasons between March and May or between September and October are the ideal times to visit Nice. While avoiding the crowds and exorbitant expenses of peak season, you can take advantage of the pleasant weather and go swimming in the sea during this time.
Other beaches in Nice include Blue Beach, Le Voilier Beach and Ruhl Plage.
Whether you and your family are nature lovers, city people, or favour the beach and sand, you will definitely find something to do and see in France. Travelling to France with kids does not have to be nerve-wracking but planning ahead is crucial. We hope that this tried-and-tested guide will help you make the most out of your holiday.
You and your kids deserve to explore France in the best way possible! Au Revoir!