Visiting Greece with Kids
Welcome to Greece, a stunning country located in southeastern Europe, surrounded by the Aegean, Ionian, and Mediterranean Seas. Greece is home to a wealth of history, culture, and natural beauty, making it an ideal destination for families with children of all ages. Along with its accompanying islands, Greece offers a diverse range of activities and experiences that will keep everyone in the family entertained.
Booking with Kids has chosen Greece as one of the top family-friendly destinations, and it's easy to see why. With its warm climate, safe and welcoming environment, and range of activities suitable for all ages, Greece is a perfect choice for your next family holiday.
Getting to Greece with your kids is easy, with direct flights available from many major cities across Europe and beyond. Athens International Airport is the main hub for international flights, and there are also several regional airports throughout the country. Once you arrive, you'll be greeted with friendly locals, stunning scenery, and a whole host of activities to choose from.
Greece offers a wide variety of destinations to suit all interests, from the ancient ruins of Athens to the stunning beaches of Crete and the majestic landscapes of the Peloponnese. Whether you're looking for city breaks, nature escapes, or seaside holidays, Greece has it all.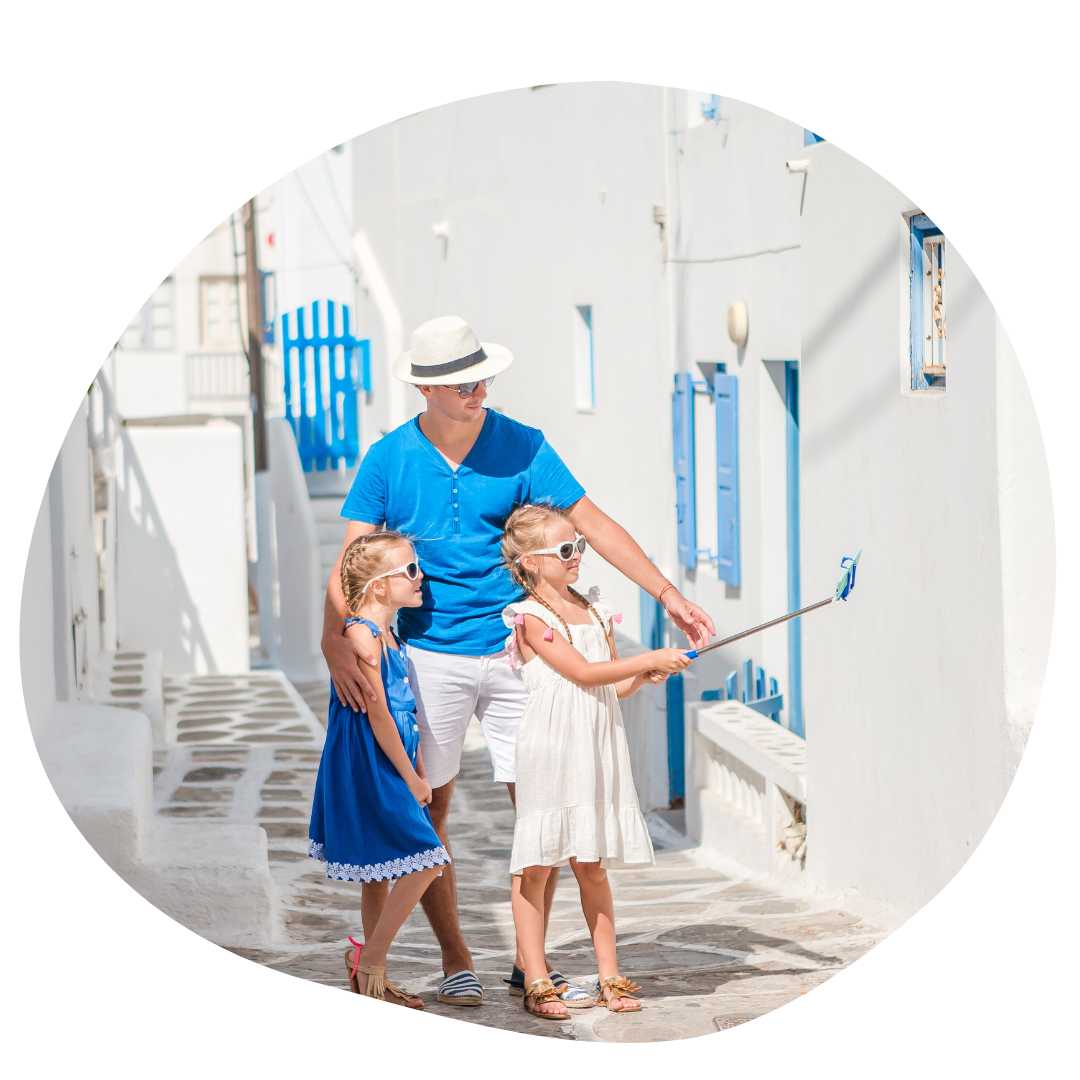 Our Top Destinations in Greece to Visit With Kids
To make your trip planning easier, Booking with Kids has created comprehensive guides to some of the best destinations in Greece. These guides include everything from top attractions to kid-friendly activities and accommodation options, making it easy to plan your perfect family holiday. Check out these family-friendly travel guides, full of useful information including travelling to Greece with kids.
This guide is all about travelling to Greece with kids because we believe that when you are planning a family trip to Greece you will need a place to start and a well-laid-out guide that you can use to refer to and consult when needed. In fact, make sure that you keep this guide handy on your phone so that you can come back to it, even when you get to your destination!
Here's what you will find step-by-step info on:
These sections will take you to other articles on this site so, if you're interested to know more, we have got you covered so you can plan your perfect family vacation with ease.
If you're in the stage of packing and ready to go to Greece, check out our Travel Gear page where you can easily find all the essentials that you need to take on your holiday!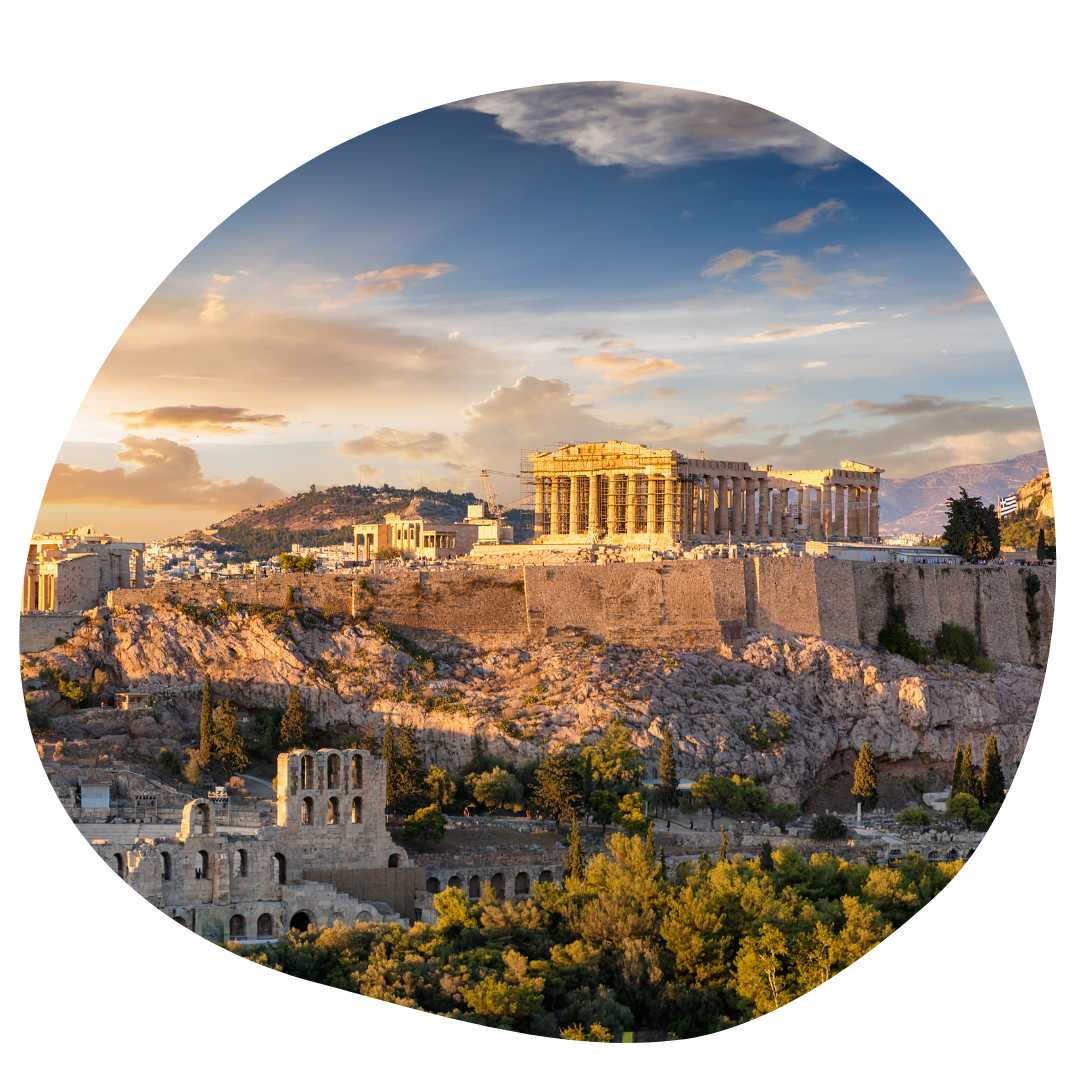 When to go to Greece with Kids
The weather in Greece is generally warm and sunny, with a Mediterranean climate that's perfect for outdoor activities and sightseeing. However, the weather can vary depending on the time of year and the location within Greece.
The best time to visit Greece with kids is during the summer months, from June to August, when the weather is at its warmest and sunniest. Temperatures can reach up to 30 degrees Celsius, making it perfect for beach trips and water sports. However, it's important to note that during peak season, the popular islands and beaches can become crowded, and prices may be higher.
If you're looking for a quieter and more affordable time to visit Greece with your kids, consider travelling during the shoulder seasons of April to June or September to November. During these months, the weather is still pleasant, with fewer crowds and lower prices.
It's also worth noting that the weather varies on different islands in Greece. For example, the Cyclades islands in the Aegean Sea can be very windy during the summer months, while the Ionian islands in the west tend to have a milder climate. It's important to research the specific island or region you're planning to visit to ensure you pack the appropriate clothing and gear for your kids.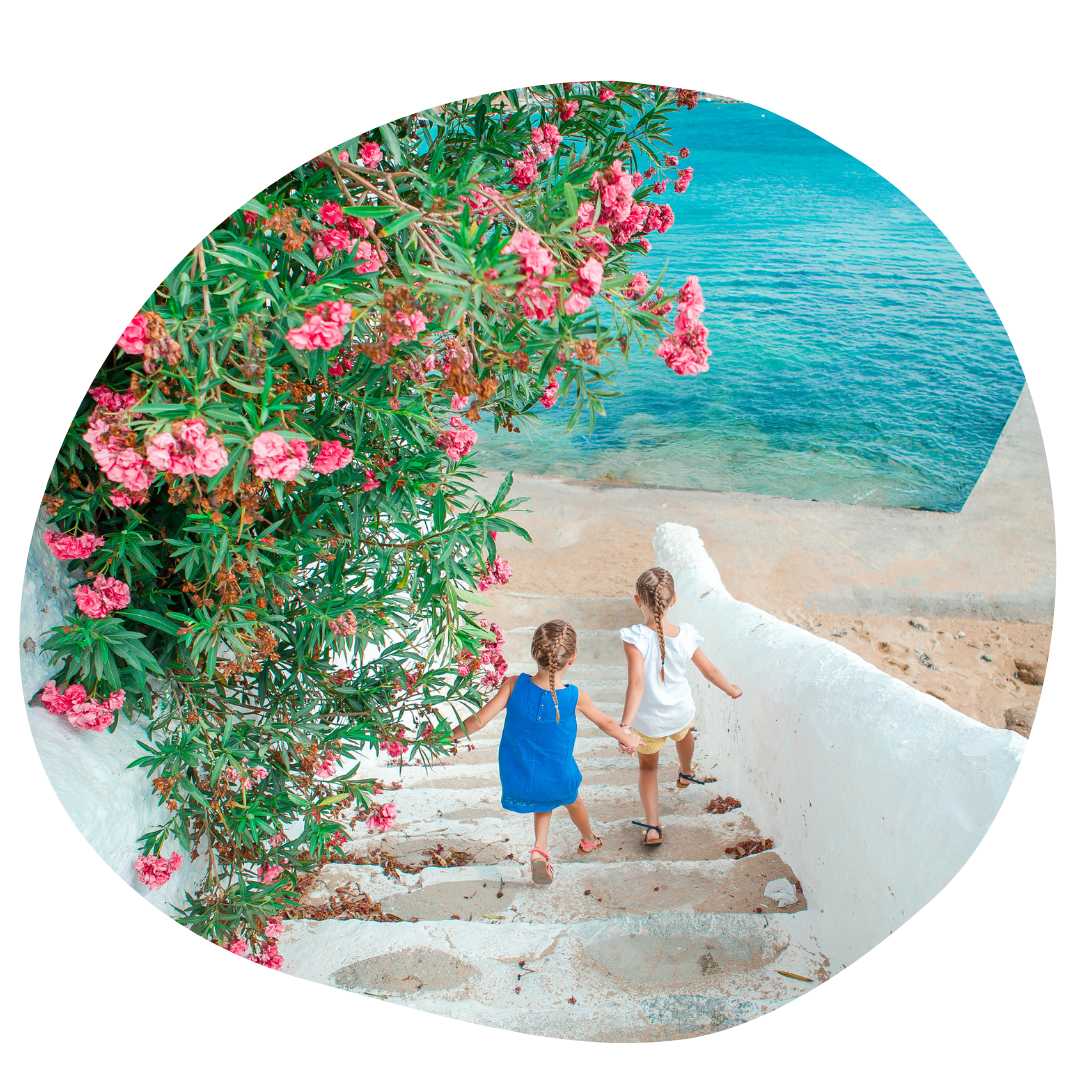 Greek Destinations for Families
At Booking with Kids, we understand that travelling with kids can be challenging. That's why we've created family-friendly travel guides to make your stay in Greece as easy and enjoyable as possible. Our guides cover everything from top attractions to kid-friendly activities and accommodation options.
Here are some of our top Greek destinations for family-friendly holidays:
However, there are other family-friendly cities and islands, such as Thessaloniki, Rhodes, and Crete. These destinations offer a range of activities and experiences suitable for kids of all ages, including beaches, museums, parks, and outdoor adventures.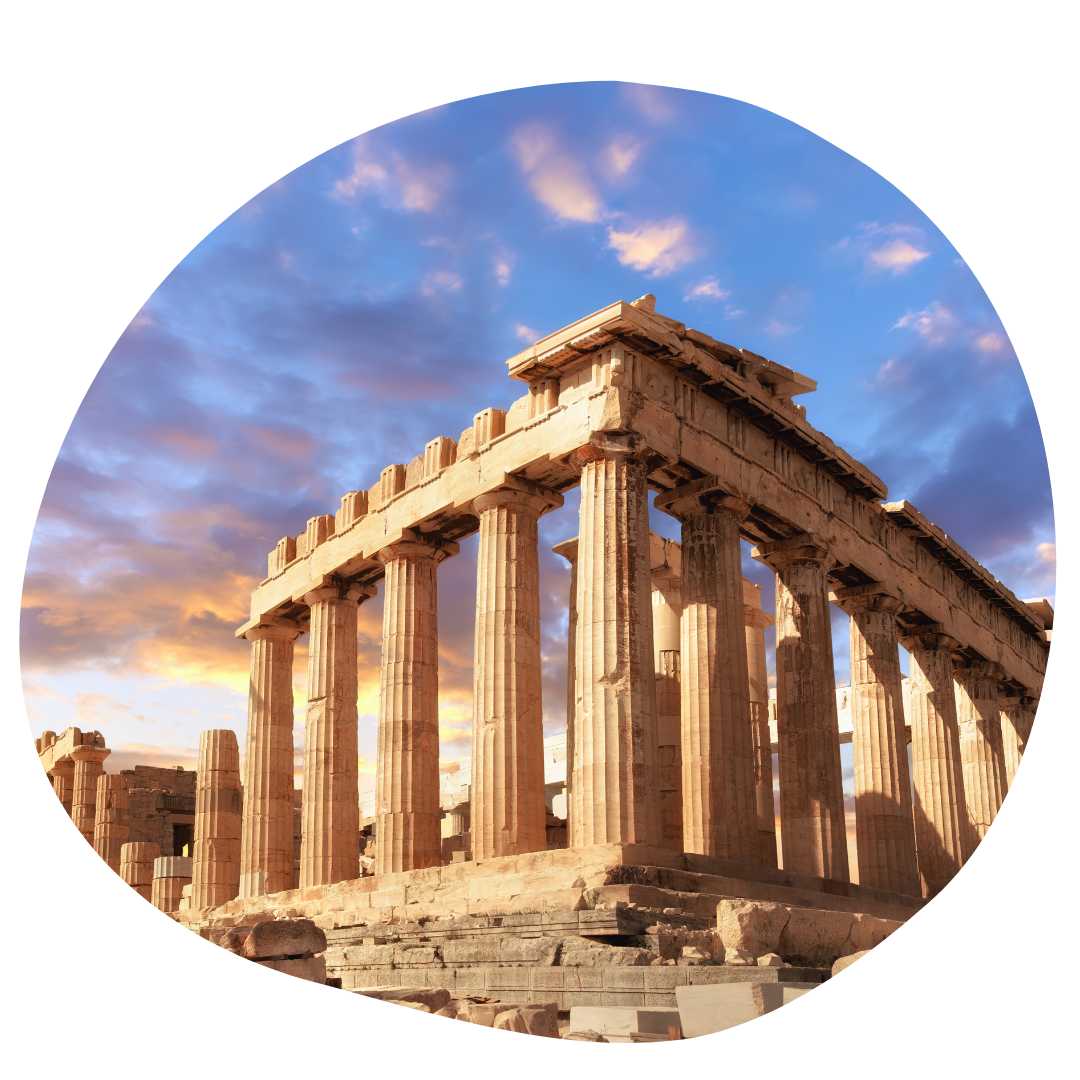 Exploring Cities in Greece with Kids
From Athens to Rhodes, Meteora to Nafplio, there are plenty of destinations and activities to keep the whole family entertained.
Athens is the capital of Greece and a must-visit destination for families. There are so many things to do and see in this ancient city, from exploring the Acropolis and the Parthenon to visiting the National Archaeological Museum. The Acropolis Museum is also a great place to take the kids, with interactive exhibits and activities that make learning about Greek history fun and engaging.
For families looking for outdoor activities, the National Gardens in Athens are a great option. The gardens are located in the heart of the city and offer a peaceful respite from the busy streets. There's also a small zoo in the gardens that kids will love, as well as a playground and plenty of picnic spots.
Corfu is another family-friendly destination in Greece, with a range of activities and experiences to suit kids of all ages. The island is known for its stunning beaches, crystal-clear waters, and beautiful scenery. One of the best beaches for families is Agios Gordios, which has shallow waters and plenty of space to run around and play.
Corfu Old Town is also a great place to explore with kids, with its winding streets, historic buildings, and charming cafes and shops. The town is a UNESCO World Heritage site and is filled with interesting history and architecture. Kids will love exploring the narrow streets and discovering hidden courtyards and squares.
For families looking for outdoor activities, Corfu has plenty to offer. There are numerous hiking trails on the island, as well as kayaking and paddleboarding options. Kids will love exploring the island's caves and grottos, such as the Blue Cave and the Cave of Nymphs.
Nafplio is a family-friendly Greek city that is perfect for families seeking a holiday that combines history, culture, and beach fun. Located on the Peloponnese peninsula, Nafplio boasts a charming old town with narrow streets, Venetian buildings, and lively squares. Families can explore the city's historic sites, such as the Palamidi fortress and the Bourtzi castle, or simply relax on the nearby beaches of Tolo and Karathona. The town also offers a range of family-friendly restaurants and cafes, serving up delicious Greek cuisine that is sure to please all tastes.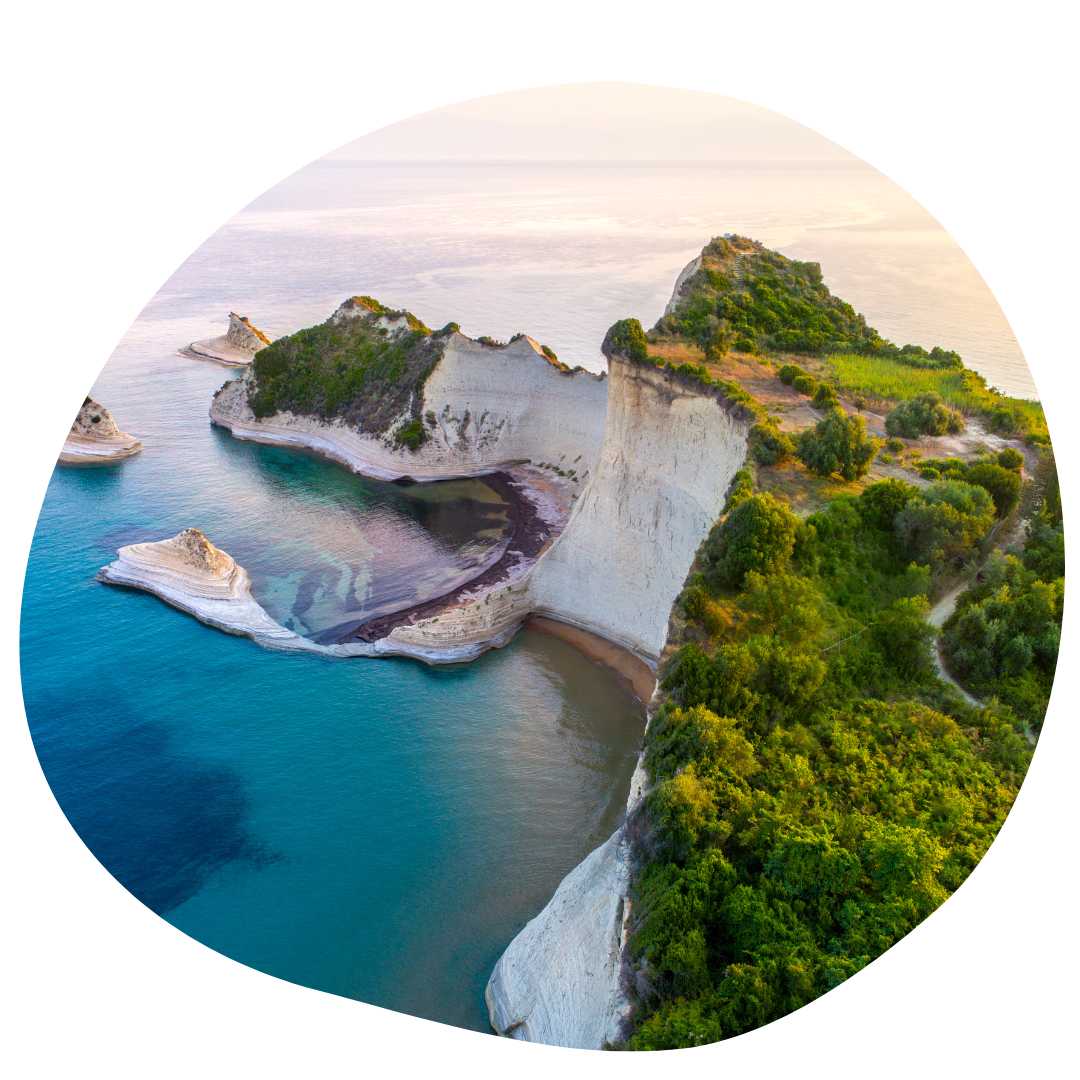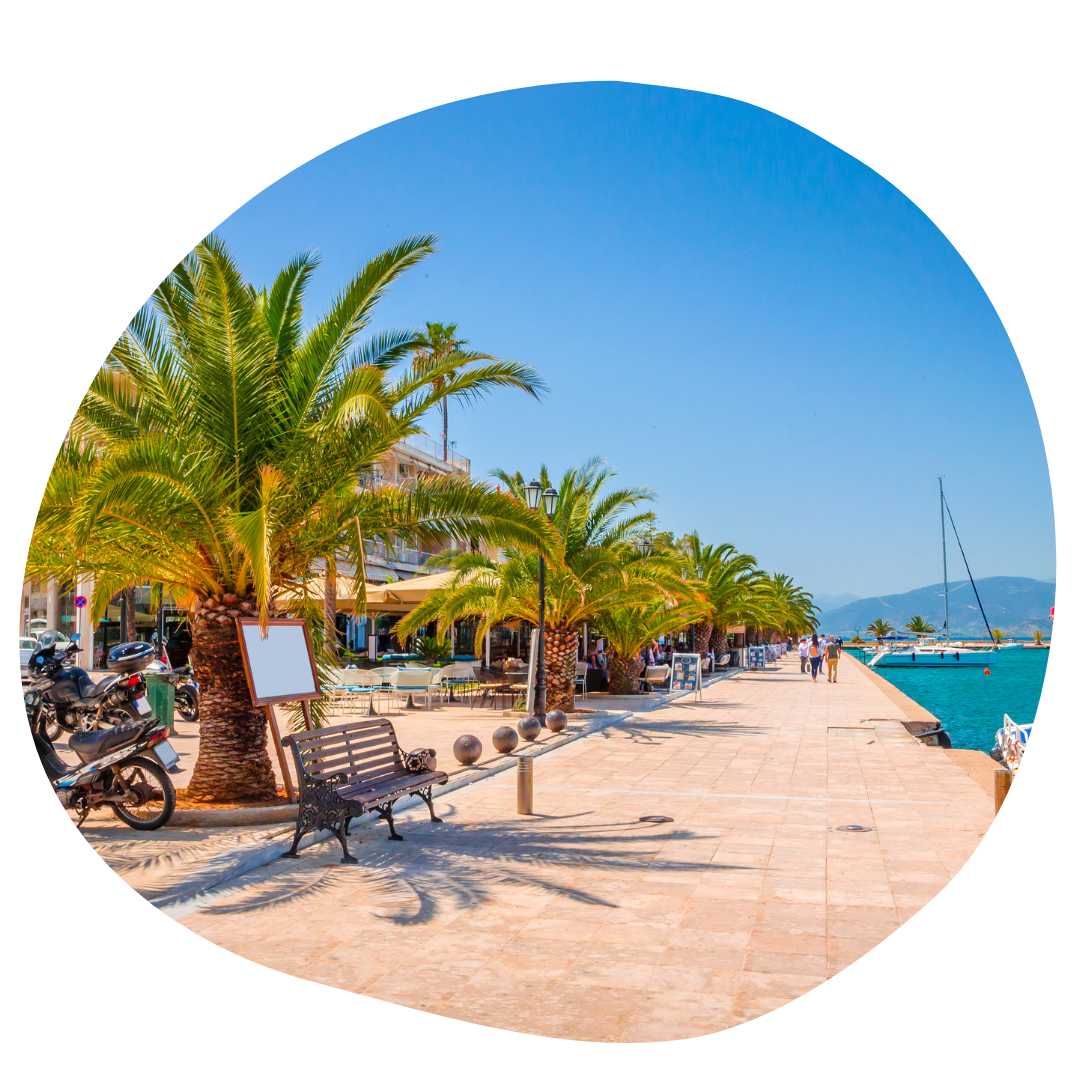 Seaside Holidays with Kids
Greece is famous for its picturesque coastline, turquoise waters, and breath taking beaches, making it a perfect destination for families looking for a seaside holiday. With over 13,000 km of coastline, Greece has a vast array of seaside destinations to choose from, including famous islands such as Santorini and Mykonos.
Santorini, is known for its iconic white-washed buildings and breathtaking caldera views. Families can explore the island's numerous beaches, such as the black sand beach of Perissa or the red sand beach of Akrotiri. The island is also home to several family-friendly water parks, such as the Santorini Water Park, with its range of slides and pools.
Another must-visit destination is the island of Mykonos, famous for its vibrant party scene and cosmopolitan atmosphere. Families can enjoy the stunning beaches, such as the family-friendly Agios Stefanos beach or the quiet and secluded Fokos beach. The island also boasts a range of water sports, from jet skiing to parasailing, as well as several family-friendly restaurants and cafes.
Greece has some of the best family-friendly beaches in the world. Most of the beaches have crystal-clear waters, soft sand, and a gradual drop-off, making it safe for kids to swim. The following are some of the best family-friendly beaches in Greece.
One of the most popular beaches in Greece is the Navagio Beach, also known as the Shipwreck Beach. The beach is located on the island of Zakynthos and is famous for its crystal-clear turquoise waters and the shipwreck that lies on the shore. Although the beach can be crowded during peak season, it's definitely worth the visit.
Another great beach is the Elafonisi Beach located on the island of Crete. The beach has pink sand and shallow water, which is perfect for families with young children. The beach is protected by the Natura 2000 program, making it an ideal place for nature lovers.
The island of Naxos is home to one of the longest beaches in Greece, Plaka Beach. The beach is over 4 km long and has fine white sand, making it perfect for kids to play. The sea is shallow and crystal clear, and there are plenty of sunbeds and umbrellas to rent.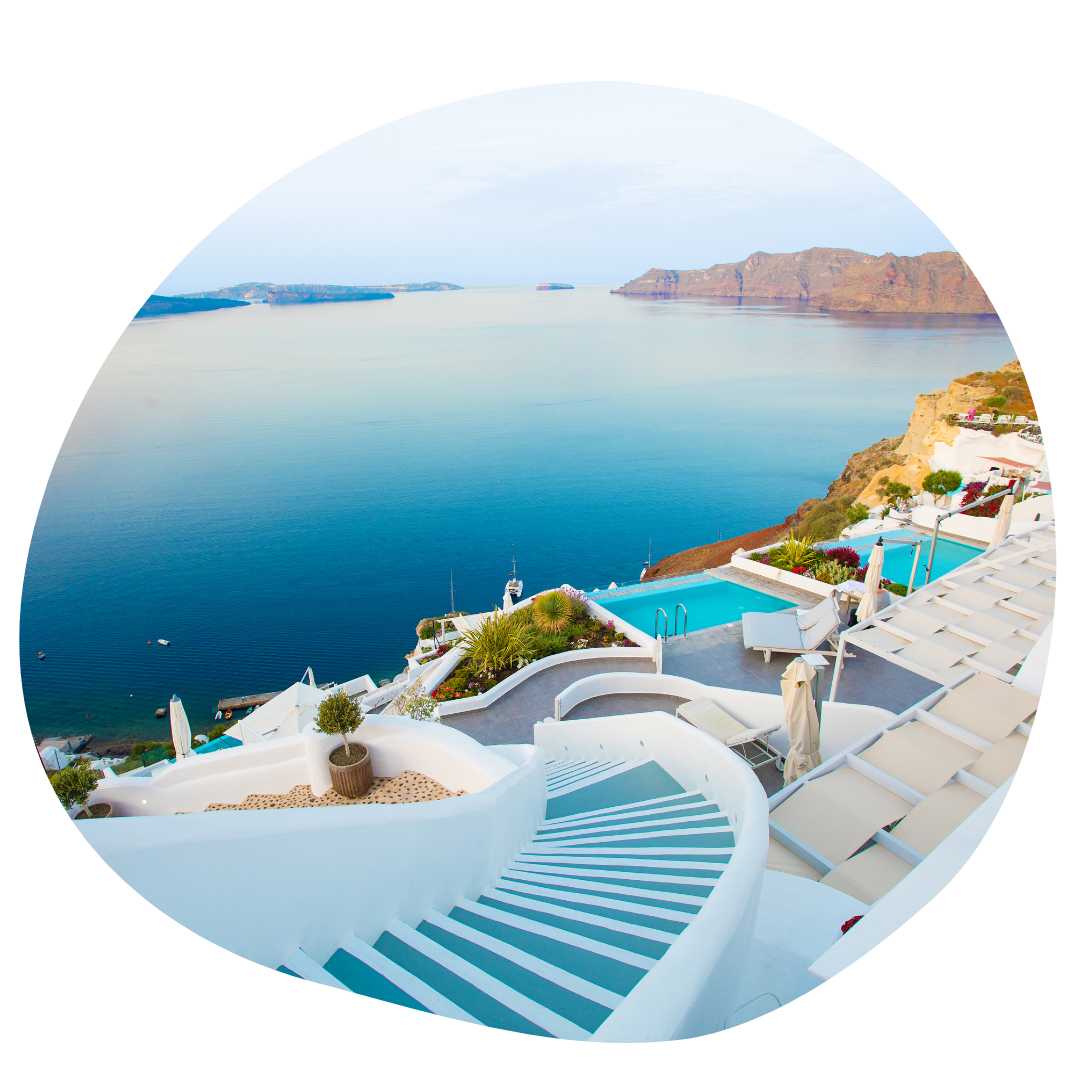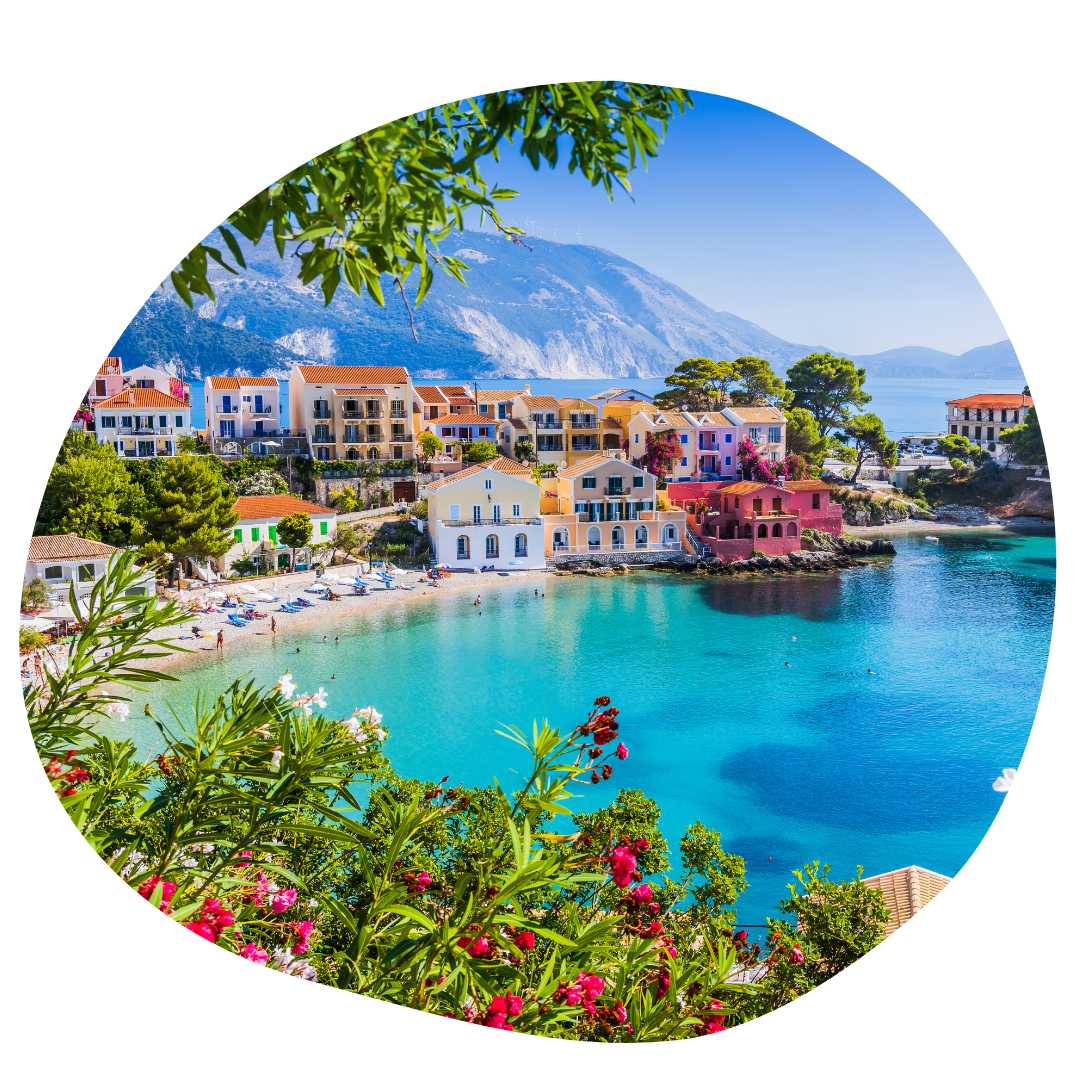 Mountain Holidays with Kids
Greece may be famous for its beautiful beaches and historic cities, but it's also home to some stunning mountain regions that are perfect for families looking for an outdoor adventure. Whether you're a nature lover or just want to escape the hustle and bustle of the city, a mountain holiday in Greece is a great choice. Here are three of the best mountain regions in Greece to visit with kids:
Zagori Mountain: Located in the northwestern region of Greece. The Zagori Mountain range is a breathtaking destination that offers a range of outdoor activities for families. The region is known for its stunning landscapes, with deep gorges, rushing rivers, and snow-capped peaks. Families can go hiking along the many trails that criss-cross the mountains or explore the traditional villages that dot the landscape. The region is also home to some natural hot springs that are perfect for a relaxing soak after a long day of hiking. Zagori is renowned for its ancient stone bridges, the Voidomatis River, and a plethora of exciting activities such as horse riding, leisurely hiking, and kayaking. Additionally, it boasts Byzantine chapels and exceptional cuisine.
Karpenissi Mountain: Located in central Greece. The Karpenissi Mountain range is a popular destination for families looking for a summer holiday filled with outdoor activities. The region is known for its skiing in the winter months, but it's also a great place for hiking, mountain biking, and white-water rafting in the summer. There are also attractions for children at theme parks, and family-friendly guest houses have been constructed on secure land adjacent to the Karpenissiotis River.
Taygetos Mountain: Located in the southern Peloponnese region of Greece. The Taygetos Mountain range is a hidden gem that's perfect for families looking for a peaceful and relaxing mountain holiday. Taygetos is a convenient destination, celebrated for its pyramid-shaped summit, stunning paths, and its close proximity to Athens, as well as the Mani beaches.
For families travelling with younger kids, a summer holiday in the mountains may be easier than a winter holiday. The weather is warmer, and there are plenty of outdoor activities that kids of all ages can enjoy. Families can go hiking, swimming in natural pools, or explore the many traditional villages that are scattered throughout the mountains. The fresh air and peaceful surroundings are also a great way to recharge and unwind from the stresses of everyday life.
Booking with Kids is here to make your holiday planning easier, with guides for different destinations and travel gear recommendations. Book your next family holiday with us and enjoy a tantrum-free holiday experience.