Italy is a terrific family-friendly vacation spot and is well-known for its delicious cuisine, ancient history, and breathtaking scenery. Travelling to Italy as a family is a recipe for a fantastic vacation. Fun and making lifelong memories are guaranteed!
Here at Booking with Kids, we consider Italy as one of our top family-friendly destinations. It is easy to reach by airplane, with numerous flights travelling to Italy at all hours of the day, and also most destinations are well connected by train which means that transportation is as easy as it gets, especially when you're carrying hundred-and-one things with you including pushchairs!
Visit kid-friendly museums in the biggest and smallest towns around Italy or spend some time in nature in gardens or the countryside. Enjoy the warm beaches or seek out medieval castles for a few history lessons. Swim in lakes with stunning clarity or observe artisans creating beautiful items by hand. All of this and more…you and your kids will have the best time in Italy!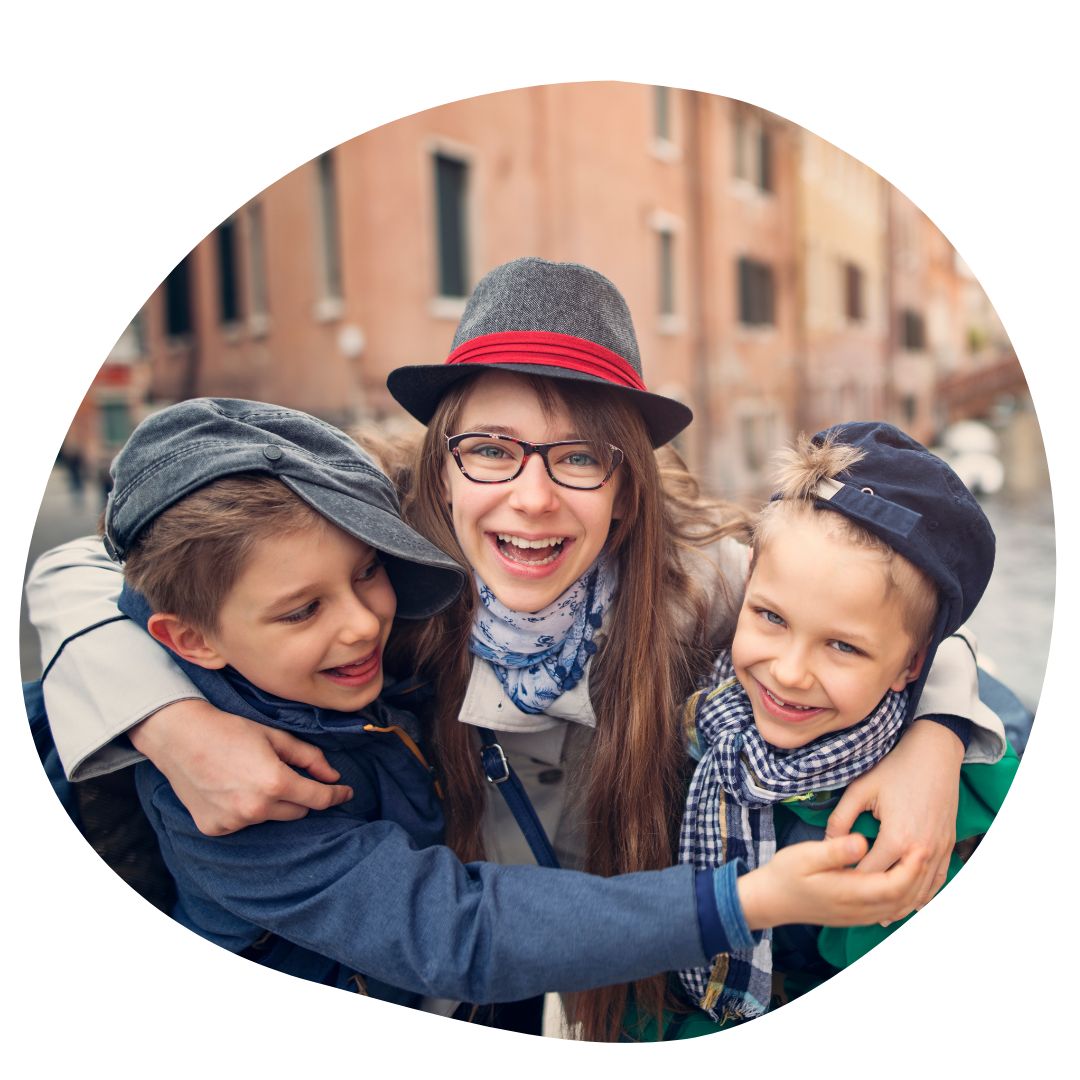 Our Top Italy Destinations to Visit With Kids
This guide is all about travelling to Italy with kids because we believe that when you are planning a family trip to Italy you will need a place to start and a well-laid-out guide that you can use to refer to and consult when needed. In fact, make sure that you keep this guide handy on your phone so that you can come back to it, even when you get to your destination!
Here's what you will find step-by-step info on:
These sections will take you to other articles on this site so, if you're interested to know more, we have got you covered so you can plan your perfect family vacation with ease.
If you're in the stage of packing and ready to go to Bella Italia, check out our Travel Gear page where you can easily find all the essentials that you need to take on your holiday!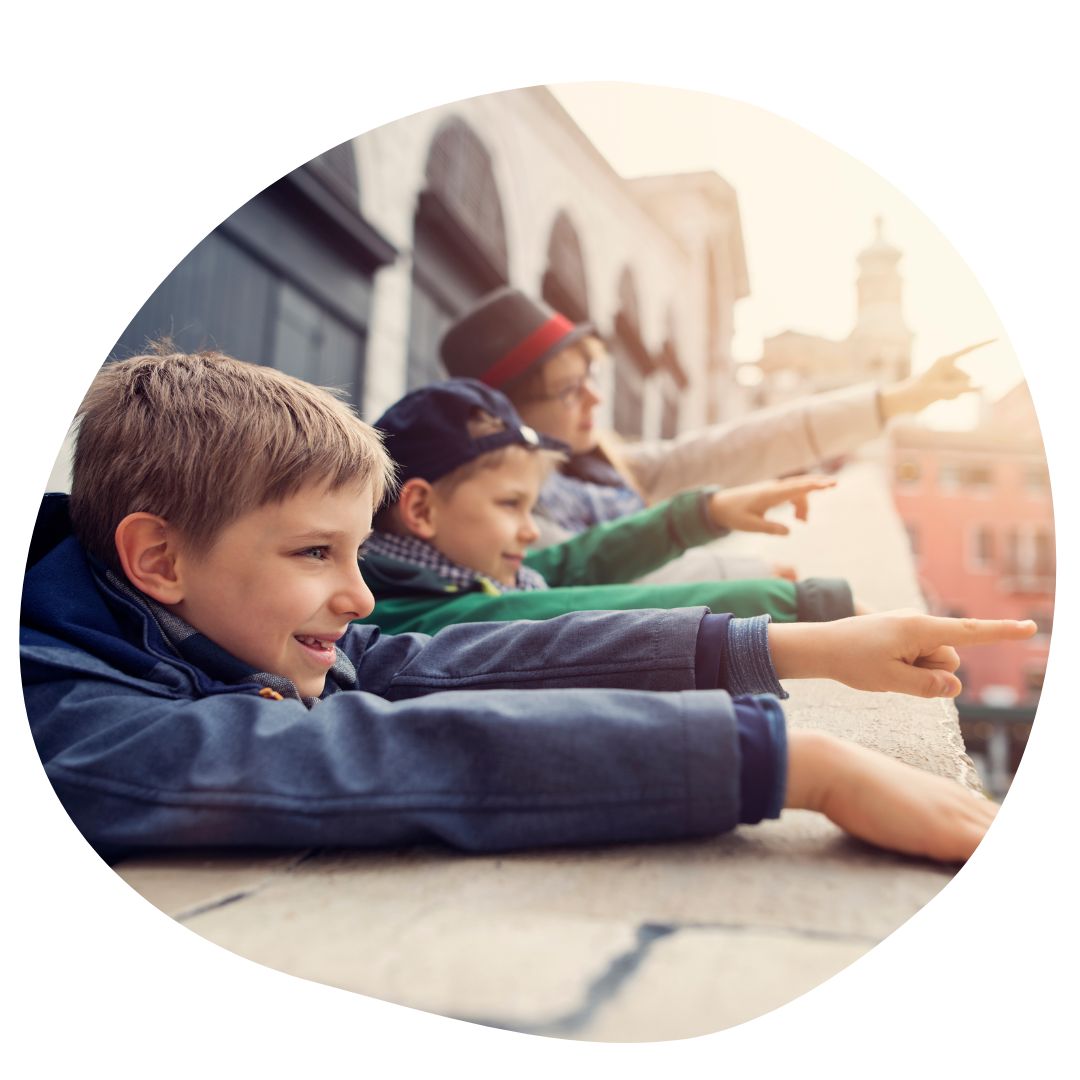 When to go to Italy with Kids
Italy is a lovely place to travel with children, all year long. The time you choose to go, however, largely depends on what you want to see and do while you are there.
If you want to visit the stunning Italian beaches, the summers are ideal because they are fantastic for being near the coast. However, in larger cities, it might occasionally be uncomfortable for younger children. Winters can be chilly in Italy. You can experience rain, wind, or even snow, which could be advantageous or not ideal, depending on your plans.
Keep in mind that the summer months of June through August are the busiest in Italy. This means that since it's peak time, you might experience expensive lodging if you visit Italy in the summer. These months are also very hot, and in August, Italians typically escape the main cities for beach vacations. As a result, some attractions can be closed during this period. This is particularly evident around the mid-Summer festival on August 15th.
It is often better to travel to Italy with children during the shoulder season, which is either April-May or September-October, which are the Italian Spring/Autumn months unless you plan to spend your entire stay at the beach. Most days are pleasant and sunny, but not unbearably hot, and there isn't much rain.
Summer is also ideal for family beach vacations because you can always cool off in the sea.
Italy Destinations for Families
We're invested in making your life easier with these travelling guides. We know what it's like to scour the internet and not find exactly what you're for in one place. These guides are meant to be the full package, providing you with all that you need to know when travelling with kids to a particular destination, in this case, travelling to Italy.
Here are some of our top Italy destinations for family-friendly holidays: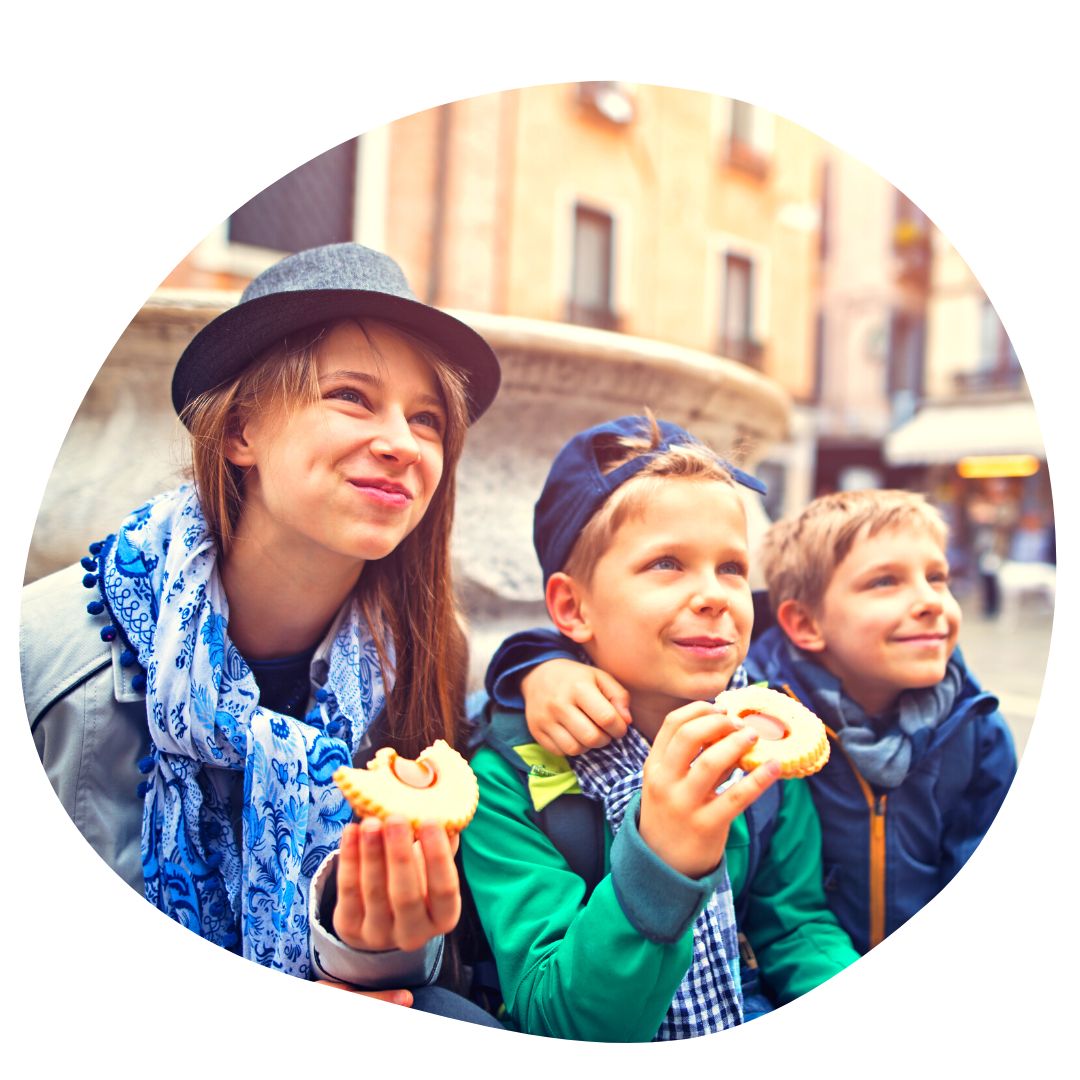 Exploring Cities in Italy with Kids
Cities in Italy are like an endless trove of riches. Even after days or weeks of exploration, there will still be countless treasures and surprises for you and your children to find and enjoy. Given everything there is to see and do, it's simple to become overwhelmed and miss some of the real highlights.
Joining a guided tour is one of the finest methods to learn everything there is to know about a certain Italian city or aspect of it. As an alternative, you could hire a guide on your own.
Apart from instilling a sense of fascination with culture in your kids, exploring Italian cities is great for you, as parents, if you love history and art. Kick off your holiday by exploring Rome, Italy's capital city. Visit the renowned Colosseum, challenge your kids at the Mouth of Truth, stroll the stunning Spanish Steps or have a picnic and take a rickshaw ride around the lovely Villa Borghese.
The city of Florence is absolutely stunning and a must-see for any traveller. When compared to Milan or Rome, Florence is fairly small, making it simple for families with young children to navigate the city on foot. There are lots of family-friendly eateries and cafes, and Florence is an excellent starting point for exploring other neighbouring towns. Visit the Uffizi Gallery, climb the famed Duomo, cross the "Ponte del Veio" (bridge), or just let the kids run around one of the piazzas and ride the vintage carousel. If you're feeling adventurous, take a walk up to the Piazzale Michaelangelo after sunset for a glimpse of the entire city or enroll in a pizza-making lesson.
Other cities like Bologna, Venice, Pisa, and others, are some of the other locations that you can visit with kids.
Mountain Holidays with Kids
Nature lovers, we didn't forget about you! If you're looking for an escape from the city, planning a mountain holiday with your kids will do the trick. Luckily for you, the mountains are never too far away when you're travelling to Italy.
If you want to escape the heat during the summer months, the mountains are perfect. However, a mountain holiday is also ideal if you're looking for ski activities for you and your kids during the winter months. If you're travelling with toddlers, planning your mountain holidays during the summer might be easier to navigate since you need to carry less stuff with you!
One of Italy's top destinations for those who enjoy hiking and outdoor activities is the Dolomites, a stunning mountain range in the country's northeast. They are the idyllic mountains of your dreams since they are a region of exceptional natural beauty that has been added to the UNESCO list of World Heritage Sites.
There are numerous hiking trails that are appropriate for all ages that lead to these high, stunning and frequently accessible summits. There are many fun things to do for kids, like hiking, water parks, open fields, crazy golf, and fantastic skiing slopes in the winter. The villages are lovely and immaculate, almost making you feel like you're in a fairytale.
Another similar mountainous destination is Courmayeur, located in the Italian Alps, near the borders of France and Switzerland. Amazing Mont Blanc vistas may be seen from there. During any time of year, you may enjoy a variety of alpine activities like skiing, hiking, and taking in the mountain views with a dash of mountaineering history. With all of its snow-capped mountains, Courmayeur is a well-liked ski destination in the winter.
There are so many things to do in Courmayeur, whether you want to remain in the town center or higher up in the snow-covered mountains. The town itself is charming, and the restaurants are quaint and serve delicious food.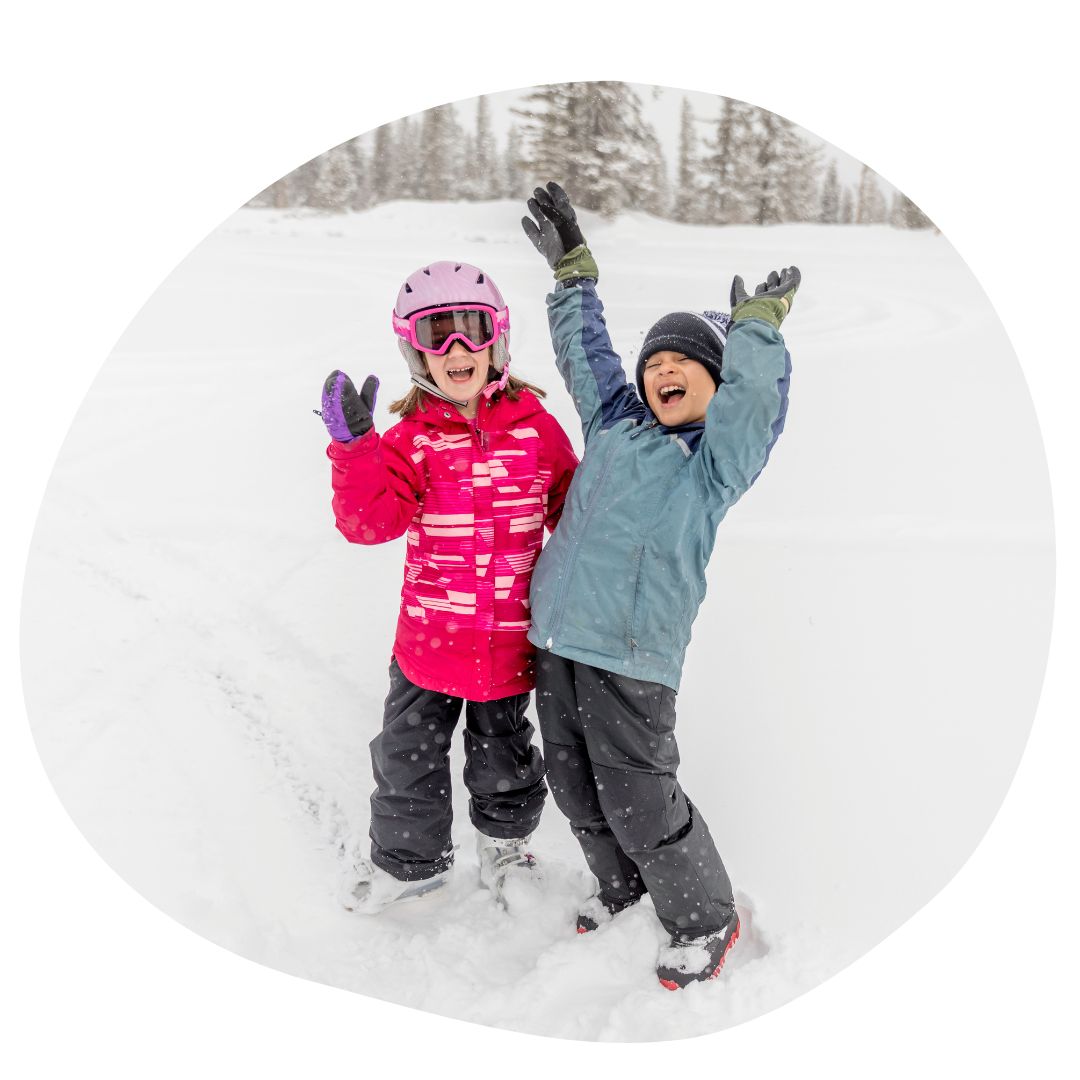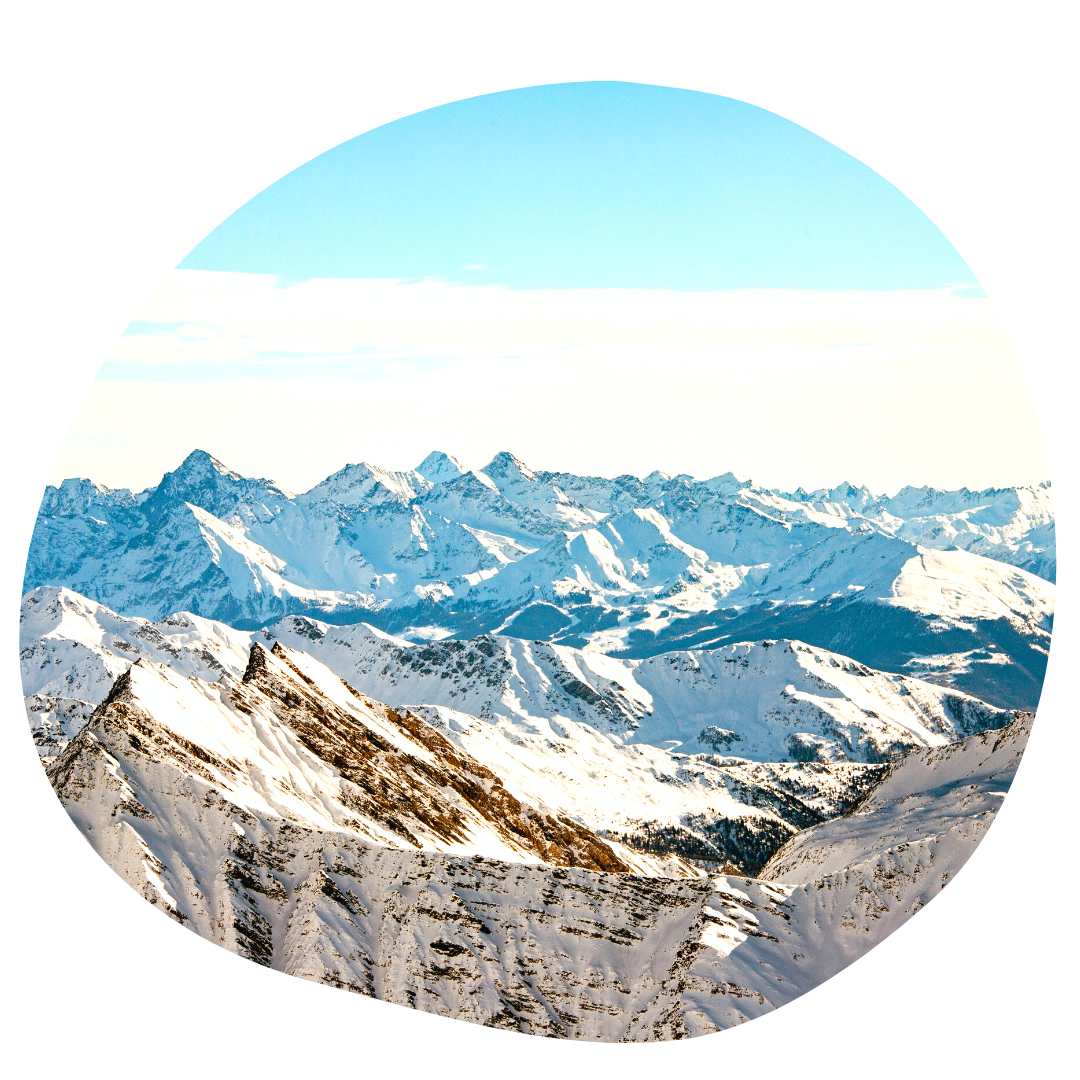 Seaside Holidays Destinations in Italy with Kids
Planning a seaside holiday with your kids is ideal in the summer months, especially if your kids love the beach, the sand, and other sea-related activities. There are a lot of seaside destinations to choose from in Italy and, most of them, all have nearby airports which make travelling a breeze.
Sicily, located in the South of Italy is one of the top seaside destinations on our list. If you want a holiday that combines sightseeing, time at the beach, culture, and tasting amazing food, Sicily is one of the greatest places to travel to in Italy with kids. Sicily is a highly family-friendly destination, and there are many excellent kid-friendly beaches ideal for swimming and building sandcastles. The presence of Mount Etna, an active volcano, will delight older children, and the entire family will enjoy the island's numerous charming villages and historical attractions.
Sardinia is the ideal beach resort for families searching for a vacation in Italy. It is an island paradise with wonderful family resorts and lodging alternatives for families with children of all ages. It is home to gorgeous white beaches and shallow, clear seas ideal for toddlers and snorkelling.
Another top seaside holiday destination is, undoubtedly, Cinque Terre. It is one of the most well-known regions in all of Italy and it is noted for its vibrant communities built atop cliffs that drop down into the sea. It may not be the first location that comes to mind when considering family-friendly destinations in Italy, but it is a great location, even if you're travelling with small children.
Cinque Terre is a chain of five villages connected by footpaths and, as of recently, a first-rate train service. It is a fantastic place to travel to in Italy with kids since it combines lovely and romantic settings that parents will like with enjoyable activities like (small) beaches and lovely playgrounds.
Italy is a wonderful place with lots to offer families with young children who want to have fun, unwind, and learn about art, history, and nature. If you want terrific adventures in a welcoming setting for families, this is a great location to go. We're hoping that all of this first-hand, tried-and-tested advice will make organising your family's trip to Italy easy and pleasurable.
Have fun taking your kids on an Italian adventure!