Visiting Norway with Kids
Welcome to the land of fjords, Northern Lights and endless adventure – Norway! This beautiful country has become increasingly popular as a family-friendly destination, and for good reason. Here at Booking with Kids, we have picked Norway as one of the top destinations for families. Not only is it easy to reach, but Norway also boasts a huge range of different places to visit, from stunning nature to vibrant cities and everything in between.
Whether you prefer to fly, take a ferry or drive, there are plenty of options for getting to Norway with your little ones. Many airlines offer direct flights from major cities in the UK, and the airports are well-equipped for families with young children. Alternatively, you can take a ferry from the UK to Norway, which can be a fun and unique way to travel with kids. If you prefer to drive, there are several routes you can take, including the scenic route from Oslo to Bergen, which offers stunning views of Norway's fjords and mountains.
One of the best things about Norway as a family destination is the wide range of activities and places to visit. Nature lovers will be in heaven with Norway's breathtaking scenery, which includes majestic fjords, glaciers, waterfalls and national parks. Cities like Oslo, Bergen and Trondheim offer a vibrant mix of culture, history and modern amenities, with plenty of family-friendly attractions like museums, aquariums and parks. And of course, no visit to Norway would be complete without experiencing the magic of the Northern Lights, which can be seen from various locations throughout the country.
We have put together a range of guides to help you plan your perfect family holiday to Norway, whether you're looking for outdoor adventures or cultural experiences. Our guides include information on family-friendly accommodation, restaurants, attractions and activities, as well as practical tips for travelling with kids. You can also check out our travel gear, where we have listed all the essential items you'll need for your family holiday.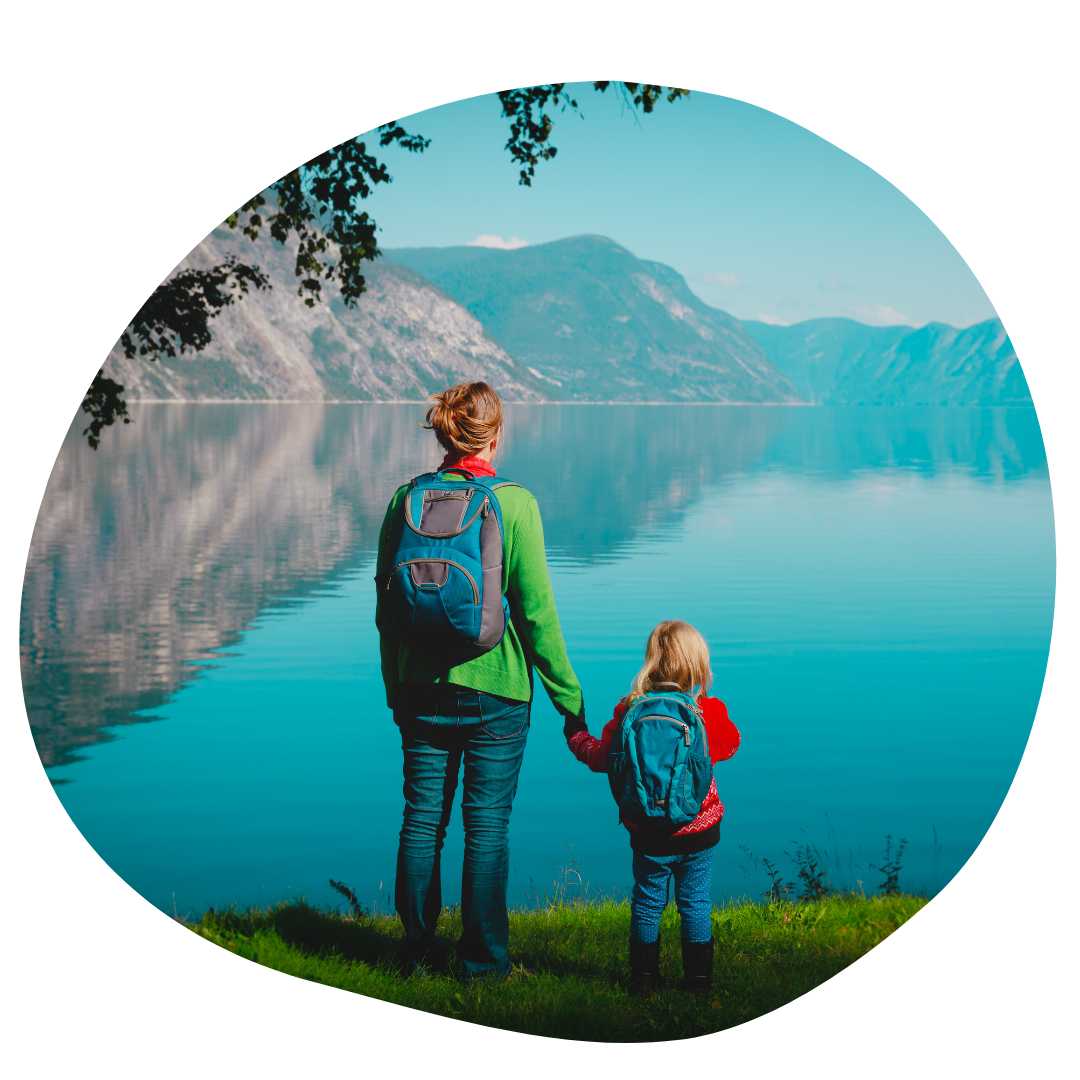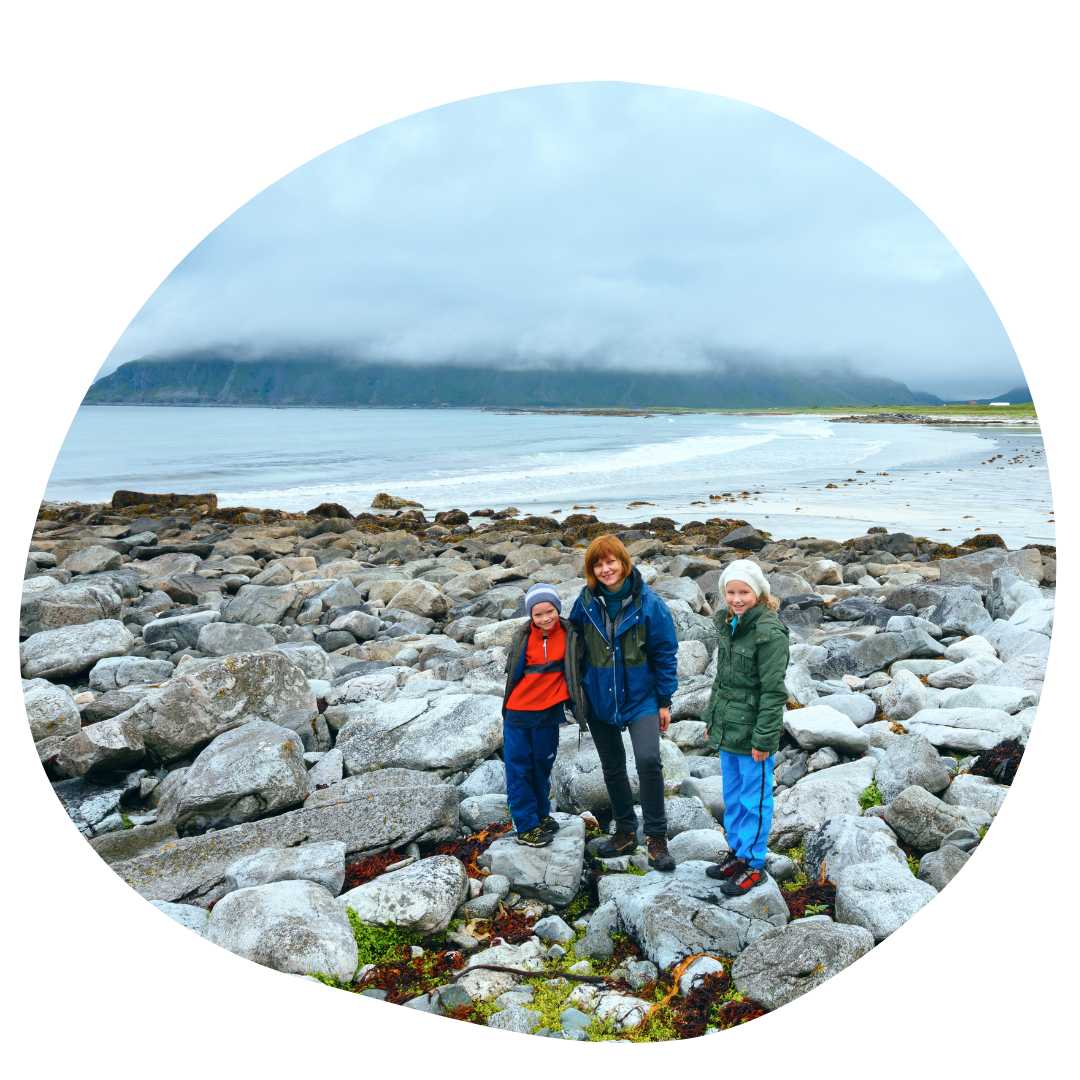 Our Top Destinations in Norway to Visit with Kids
Our goal with this guide is to provide you with a comprehensive resource for planning your family trip to Norway. We understand that travelling with kids can be overwhelming, and it can be challenging to decide where to start and what to do. That's why we have created a well-organized guide that you can easily refer to and rely on during your trip. Keep this guide easily accessible on your phone so that you can access it anytime and anywhere, even after you've arrived at your destination.
Here's what you will find step-by-step info on:
These sections will take you to other articles on this site so, if you're interested to know more, we have got you covered so you can plan your perfect family vacation with ease.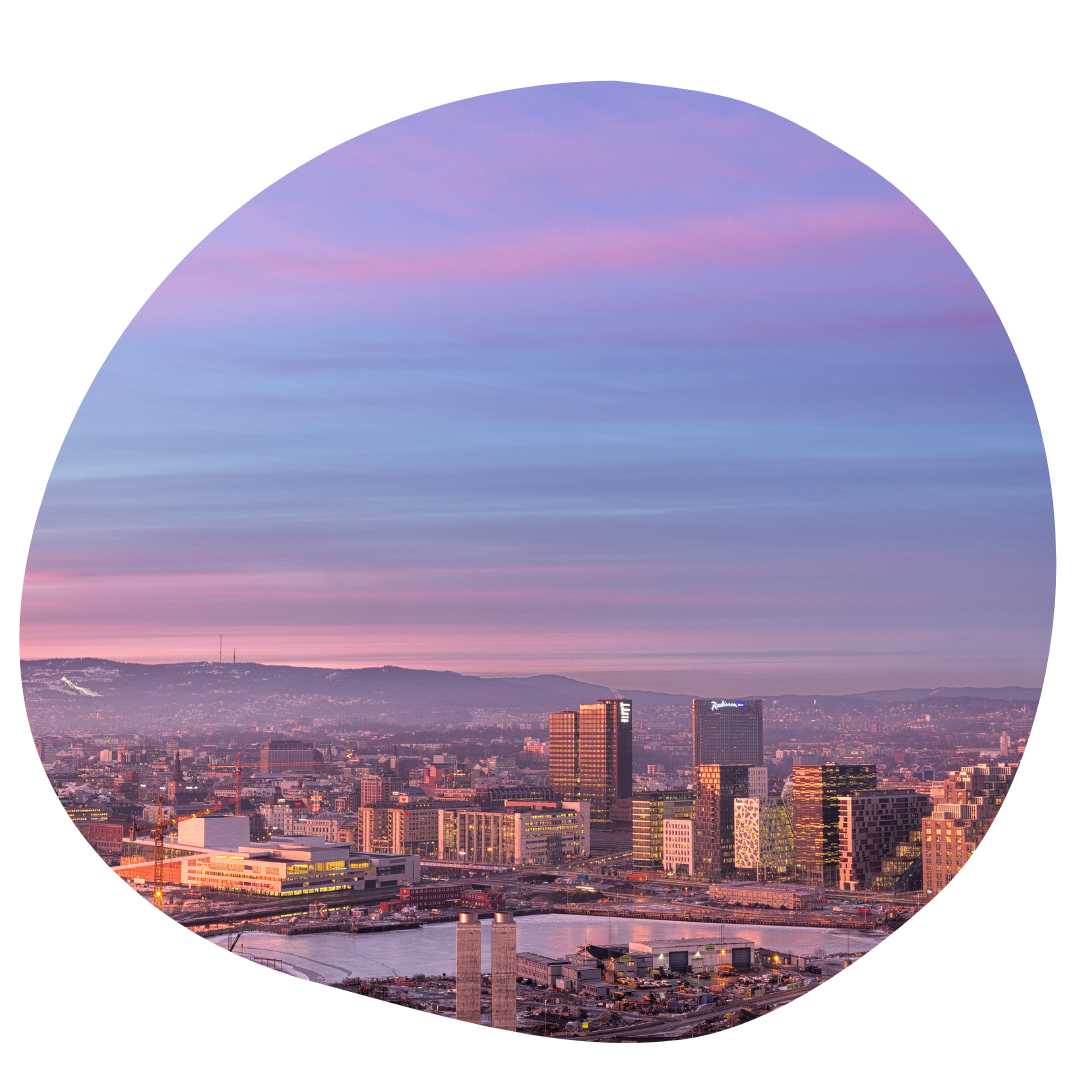 When to go to Norway with Kids
The best time to visit Norway with kids largely depends on what you want to do and see. Summer in Norway (from June to August) is the peak tourist season and a great time to explore Norway's cities, coastal towns and fjords. The weather is mild and pleasant, with average temperatures ranging from 15°C to 20°C. Summer also offers long daylight hours, making it easier to fit more activities into your day. If you're planning to go hiking or exploring the national parks, summer is the perfect time to do it. However, keep in mind that this is also the busiest time of the year, so prices for accommodation and attractions may be higher.
If you want to experience Norway's winter wonderland, the best time to visit is from December to February. This is when you can see the magical Northern Lights and enjoy winter sports like skiing, sledding and ice skating. The temperature can drop below freezing, but with proper clothing, it can be a fun and exciting time for the whole family. Spring (March to May) and autumn (September to November) are also great times to visit Norway, with fewer crowds and cooler temperatures. Just be prepared for some rain and wind, especially on the west coast.
Destinations for Families in Norway
We have created family-friendly travel guides for some of the best destinations to visit in Norway with kids.
Here are some of the top family-friendly destinations in Norway:
Norway has plenty of family-friendly destinations to choose from, each with its own unique charm and attractions. Bergen, known as the gateway to the fjords, offers a picturesque setting and plenty of opportunities for outdoor adventures, such as hiking and kayaking. Oslo, the capital, boasts world-class museums, parks and attractions, including the famous Viking Ship Museum. Trondheim, a historic city located in central Norway, offers a blend of culture and nature, with attractions like the Nidaros Cathedral and nearby mountains for hiking and skiing. For those seeking a more remote and exotic destination, the Faroe Islands, located between Norway and Iceland, offer stunning landscapes and a rich cultural heritage.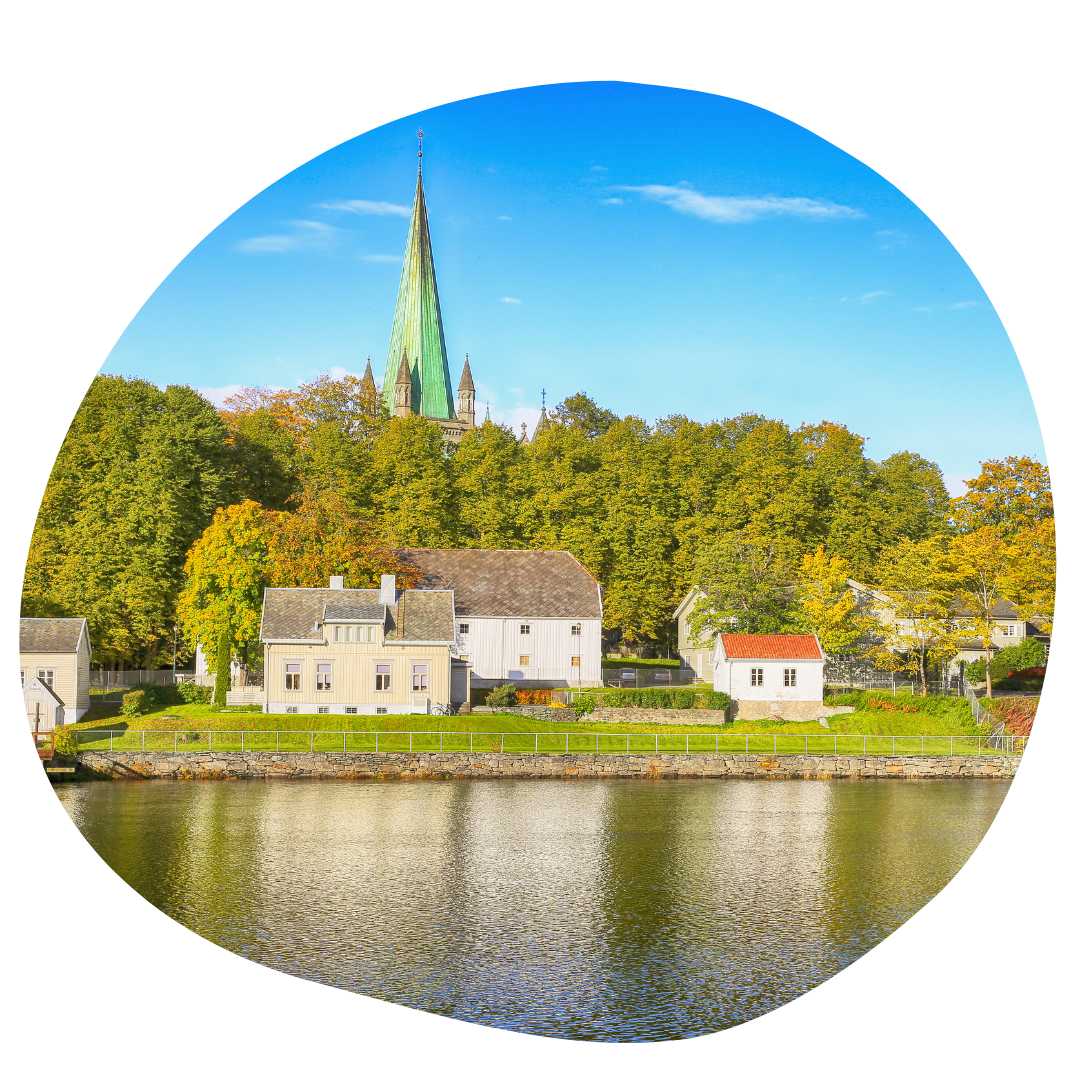 Exploring Norwegian Cities with Kids
Visiting Norwegian cities with kids can be a fantastic experience. Norway's cities, such as Oslo, Bergen, and Trondheim, offer a unique blend of history, culture, and modernity, making them perfect destinations for families looking for a variety of activities. Families can explore museums, take guided tours, visit amusement parks, or simply stroll through the city's streets and parks. With a focus on sustainable and family-friendly travel, Norwegian cities also offer plenty of options for parents travelling with kids, including public transport, child-friendly restaurants, and accommodations.
The capital city of Oslo, offers a range of activities and attractions for families. The Viking Ship Museum is a popular choice, where you can see well-preserved Viking ships and artefacts. The iconic Holmenkollen Ski Jump is also worth a visit, where you can take a panoramic elevator to the top for stunning views of the city. For a more interactive experience, the Norwegian Museum of Science and Technology offers hands-on exhibits and activities for kids of all ages.
At Booking with Kids, we've created a guide to Oslo with kids , so you can make the most of your family vacation.
Exploring the cities of Norway with kids is a fantastic way to experience the country's unique culture and history. In Bergen, families can stroll through the colourful Bryggen Wharf, a UNESCO World Heritage Site, and visit the Hanseatic Museum to learn about the city's maritime history. For a fun and educational experience, the Bergen Aquarium is a must-visit, where kids can see a variety of marine life, including penguins, seals and fish.
At Booking with Kids, we've created a guide to Bergen with kids, so you can plan the perfect family vacation.
Trondheim, located in central Norway, has plenty of family-friendly attractions as well. The Nidaros Cathedral, the largest medieval building in Scandinavia, is a stunning piece of architecture and history. Families can also take a ride on the historic Trondheim Tramway, which offers a scenic tour of the city. For outdoor activities, nearby Bymarka Nature Reserve offers hiking, biking and skiing opportunities.
If you're looking for more inspiration, check out Trondheim with kids.
Exploring the Norwegian Islands with Kids
The Faroe Islands offer breathtaking natural landscapes, with green hills, rocky cliffs, and the sparkling sea. Families can explore the islands by hiking or cycling along the many trails or take a boat tour to see the dramatic cliffs and waterfalls up close.
One of the most popular attractions on the Faroe Islands is the Vestmanna Bird Cliffs, where you can see thousands of birds, including puffins and guillemots, nesting on the cliffs. Kids will love watching the birds swoop and dive in the sky, while parents can appreciate the stunning views of the surrounding coastline. Check out the full travel guide to The Faroe Islands with kids.
For a more interactive experience, families can visit the Nordic House, a cultural centre that showcases the art, literature and history of the Nordic countries. Families can also visit the small villages and towns on the islands, such as Tórshavn, the capital, and experience the local culture and cuisine.
Mountain Holidays in Norway
Norway has a range of mountain destinations to choose from, each with its unique character and attractions. One of the most popular mountain destinations in Norway is the charming town of Geilo, located between the Hardangervidda and Hallingskarvet national parks. Families can enjoy skiing, snowboarding, and other winter sports during the colder months, while hiking, cycling, and rafting are popular summer activities. The town also has a range of family-friendly accommodations, from hotels to cabins and camping sites.
Another great mountain destination is the Lofoten Islands, located above the Arctic Circle. The islands offer stunning scenery, with towering peaks, deep fjords, and white sandy beaches. Families can go hiking, fishing, kayaking, or take a whale watching tour. The islands also have a range of family-friendly accommodations, including traditional fisherman's cabins, or "rorbuer," and campsites.
For a truly unique experience, families can visit the Jotunheimen National Park, home to Norway's highest mountain, Galdhøpiggen. The park offers spectacular views, glaciers, and high mountain peaks, as well as a range of outdoor activities, such as hiking, fishing, and cycling. The park also has a range of accommodations, from mountain lodges to camping sites.
Ready to book your next family vacation? Visit Booking with Kids and start planning your tantrum-free holiday today!