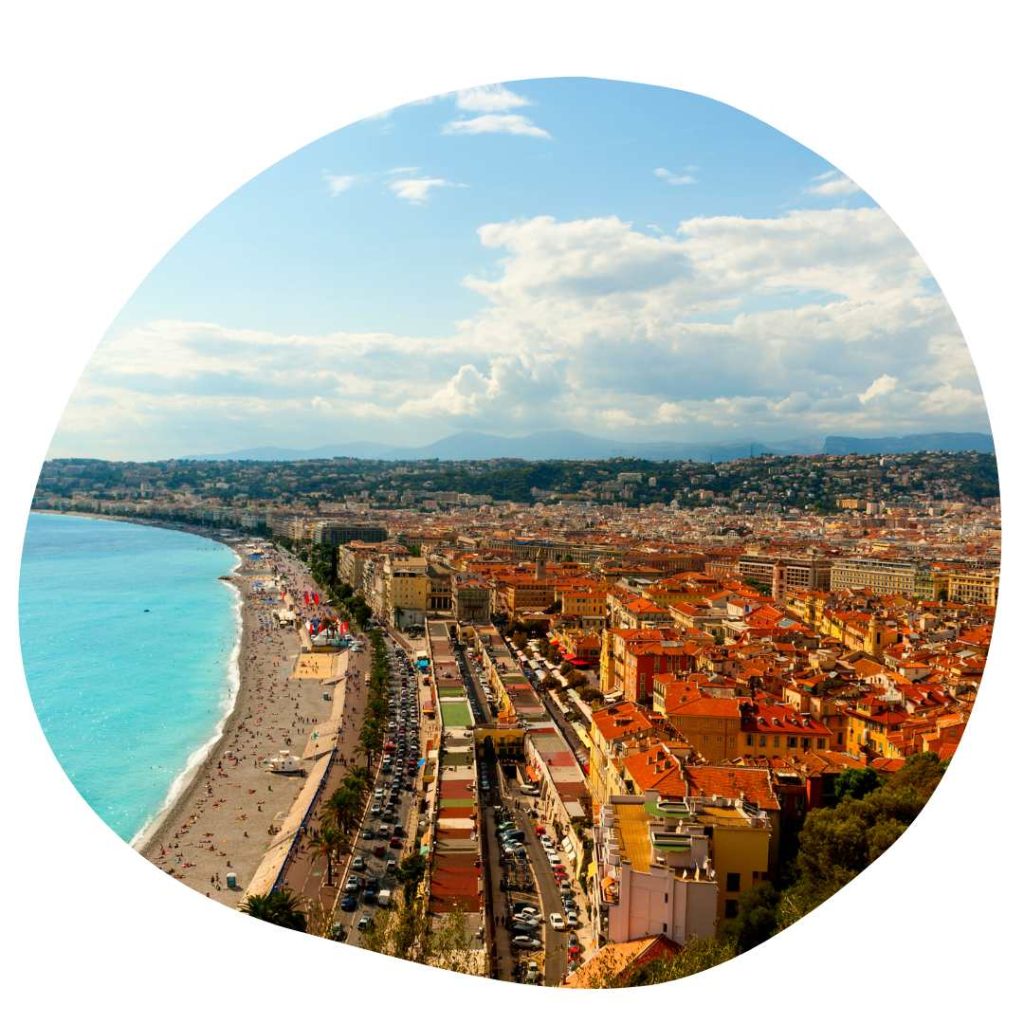 Nice, is located on the French Riviera in the southeast of France. It is a beautiful and kid-friendly city that offers a variety of activities for families. With its sunny weather, stunning beaches, a beautiful promenade, and plenty of parks and gardens, there's something for everyone to enjoy. The city has a Mediterranean climate, with warm, dry summers and mild and damp winters. You can visit most of the Cote d'Azur from Nice by using the public transport there. In Nice, you'll get to try some of the most delicious food, enjoy the sun, beaches and much more. Booking With Kids has picked the best activities to do in Nice with kids.
The best activities to do with kids in Nice
Go to the beach
First among the best activities for kids in Nice is the beach. The pebble beach in Nice is a great place for kids to play, even when it's too cold to swim. You can also find private beaches where you can rent umbrellas and sunbeds in the summer. Some private beaches in Nice also have a small playground for kids.The Blue Beach and Quai des Etats-Unis are popular choices among families. Families also love the Ruhl beach and Les Canailles. Ruhl beach has a private swimming pool and a lifeguard. A great sandy beach that is ideal for kids aged 6-12 years, is Li Rateta beach. At this beach, there is also a swimming pool offering water sports, trampolines, Frisbee play and other games.
Visit the Old Town
Another great activity for kids is visiting the narrow and beautiful streets of the old town in Nice. The old town is full of old buildings, that are simply perfect for parents and kids to explore. At the old town, you will find various shops like restaurants, cafes, bakeries, local stores and food markets. Kids love this one. You can also enjoy amazing traditional ice-cream at Fenocchio.
Walk or stroll along the Promenade des Anglais
When in Nice, you can't miss taking a stroll along the Promenade des Anglais. The Promenade des Anglais is where Nice comes to life.There are also various blue chairs to stop and rest on, and the Art Deco pergolas along the promenade also offer plenty of shade .You can also opt to rent bicycles or scooters for the kids and ride along the promenade. The Roller Station also rents skateboards for older kids and scooters. You can also rent a bike through bikesbooking.com, however, kids need to be at least six years. Child seats are also available at no additional cost.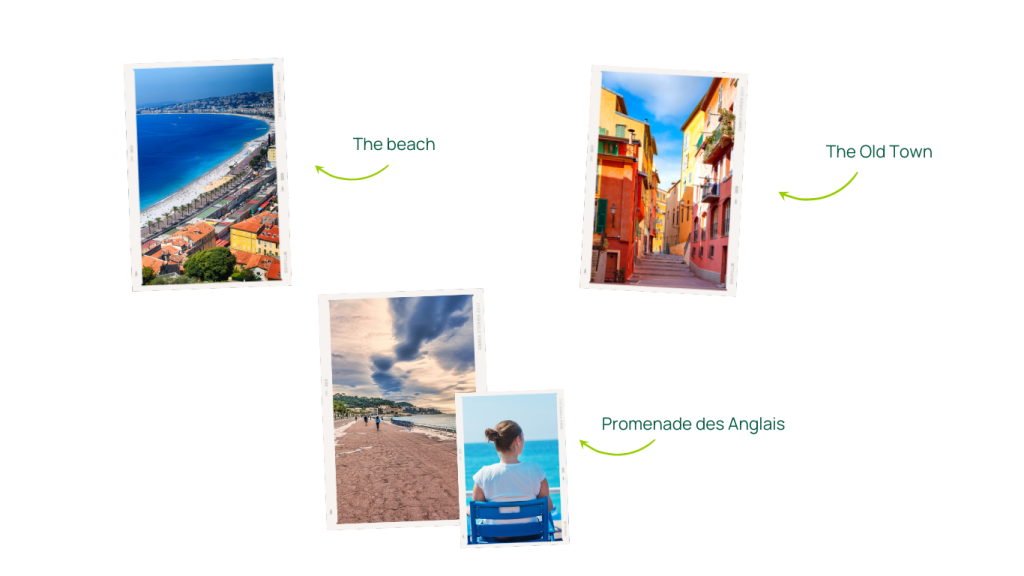 Enjoy the Promenade du Paillon
Just off the seaside, you will find Promenade du Paillon. This is another great place for a quiet stroll. This park runs from the National Theatre to Place Masséna. Promenade du Paillon is a grassy pedestrian boulevard full of lovely plants and flowers, with a play area for kids. The kids play area consists of dinosaur statues and boats for kids to climb on. This park is a great place for families to have a picnic, play in the grass, or cool down in the summer months with the floor fountains. For the hotter days, the mist plateau allows you to cool off. This water vapour is pretty cool as it refract the sunlight into rainbow colours. If you're visiting Promenade du Paillon, the opening hours are from 7am to 11pm.
Visit Park Phoenix
The well-known Park Phoenix is a central ecological park located on the Promenade des Anglais. Park Phoenix should be on top of your list when visiting Nice with kids. It is home to over 150 species of mammals, birds, reptiles, and amphibians. At Park Phoenix you will also find a petting zoom an orchid garden, an aquarium, a lake, and a birdhouse amongst other things. This makes it a great destination for kids who love animals. As a plus, there are also play areas for kids and exhibits for children to help them learn in a fun and innovative way.
Have a Trip to Monaco and Visit the Oceanographic Museum
Monaco is a short trip away from Nice and it is home to the Oceanographic Museum. As the name implies, this is a museum of marine sciences home to an aquarium and a museum. The Oceanographic Museum is also known as the Jacques Costeau Museum, which was taken care of by Jacques Costeau from the 1950s to the 1980s. In the museum, you will discover fossils, diving gear, archived documents and marine mammal skeletons. The aquarium is a tropical one with different coloured species, sharks, piranhas, clownfish, bizarre seas horses and so many more.
Go to Colline du Château
The Colline du Château, located in eastern Nice, is a hill that offers a stunning view of the Baie des Anges. From the top you can also admire beautiful views of the Promenade des Anglais and the Mediterranean sea. The Colline du Château is also illuminated at night, providing a more enchanting atmosphere. You will discover the reconstructed remains of the old fortress, ancient ruins, a waterfall and a playground in the middle of the park. This castle hill is yet another top activity for you and your kids when in Nice.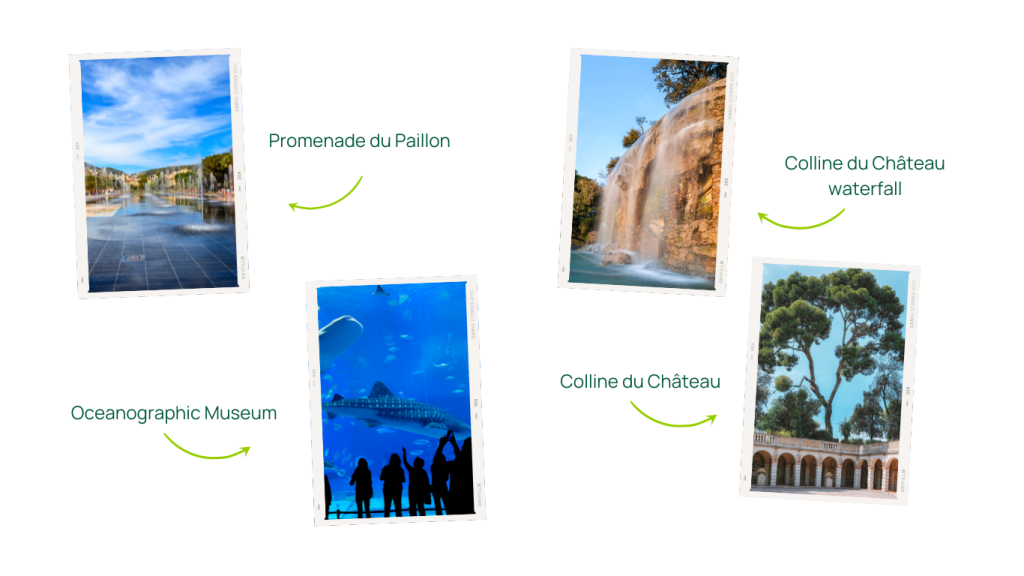 Have we made you want to travel with these best activities to do in Nice with Kids? If so, head to our dedicated family travel guide to travel to Nice with kids with more ideas of where to go, where to eat and where to stay.
Head to our Booking with Kids for more tips, support and family friendly travel guides. Check out our most loved Travel Gear from brands we trust.