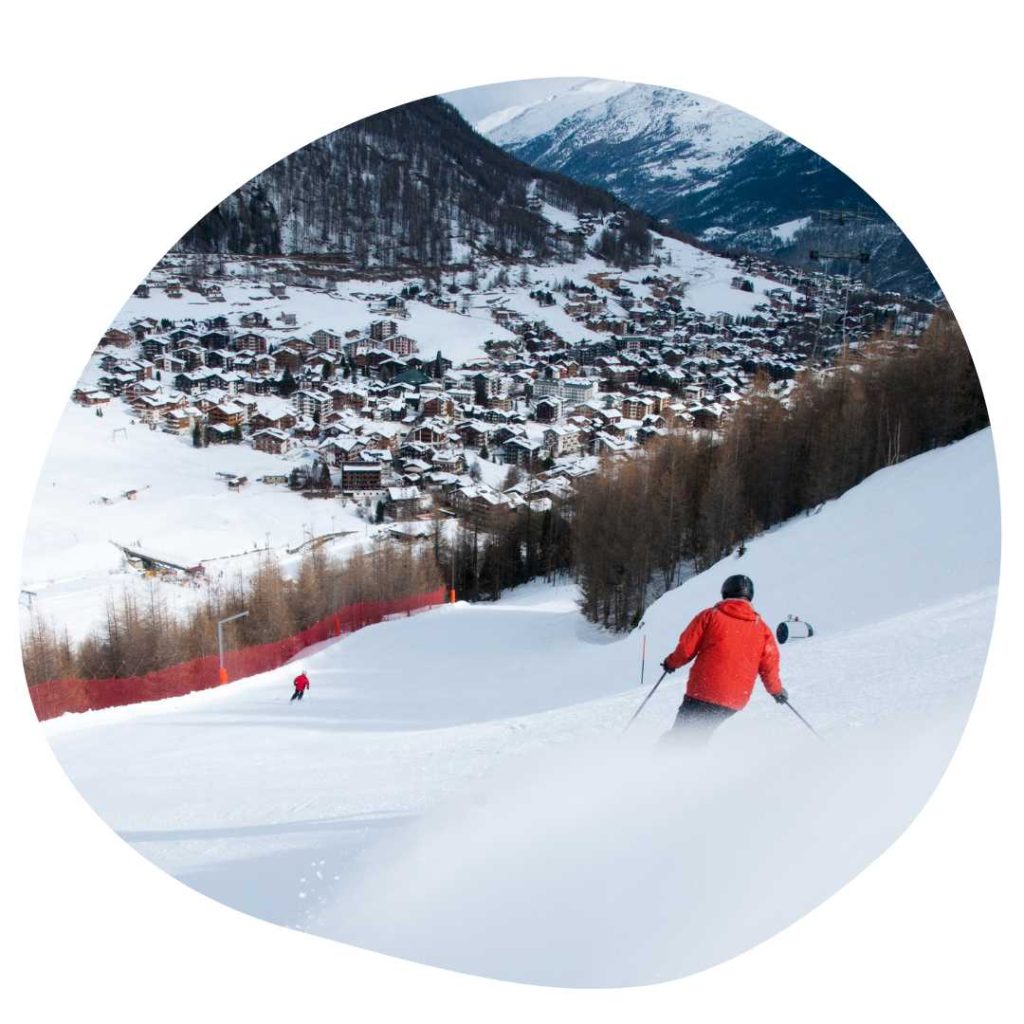 Saas-Fee is a beautiful destination located in the middle of the Swiss Alps, in Switzerland. Saas-Fee is surrounded by beautiful greenery, and high mountains. It's the perfect getaway to dive deep into nature. However, in Saas-Fee there is also a more animated atmosphere off-piste with bars and restaurants that are ready to welcome you and your family and provide you with plenty of entertainment. Saas-Fee is is a safe place making it more perfect for a family holiday with various activities to take up.
During winter, Saas-Fee becomes a popular skiing destination even with families. Here at Booking with Kids, we're listing the best Saas-Fee activities to do with a family. If you're visiting Saas-Fee in winter, then it's good to know that you will find skiing classes for children who are 2 years or older. Thus, families with young children can also enjoy skiing together. The Swiss Snow Kids Village at the ski school is perfect for kids. However, if you have younger children, it is easier to visit Saas-Fee during the summer months when there are a lot more activities that can be done as a family.
Summer activities in Saas-Fee
Summer in Saas-Fee is full of greenery, since it's all surrounded by nature. There are also various activities to take up that are ideal both for parents and children. Booking with Kids provides you with a list of activities that are specifically designed for families with young children. Among these summer activities you will find hiking with prams, the fairytale trail, feeding the marmots and visiting the Aqua Allain. Keep reading on to discover more about these fantastic activities for younger kids in Saas-Fee.
Hiking trials accessible with pushchairs/prams
Hiking with pushchairs/prams is a popular summer activity in Saas-Fee. There are a lot of trials that can be done with the pushchair and even with a sling, allowing the little ones to enjoy nature whilst hiking to more destinations. Some of the popular trails for families include:
Saas-Fee – Saas-Almagell – Saas-Grund – Saas-Balen – A 40 minute walk from along the woodland path from Saas-Fee to Saas-Almagell.
Saas-Fee – Hannig – Mälchbodu – Bärufalla (Fairytale Trail) – An hour hike, starting at the church in Sas-Fee, continuing to Hohnegg, and through the beautiful forest Mälchbodu where there is a picnic area.This path continues to Bärufalla, leading to Wildi area and back to Saas-Fee.
Dick Waldji, Saas-Fee – A 40 minute trail, starting at the church in Saas-Fee, climbing up to the Schäferstube restaurant. Then you take the path on the left, where you come across barbecue areas, a small children's train made out of wood, and water games. You can head back to the village via the same path or take the cable car valley station Felskinn.
Valley Walk – This trail takes you along the romantic Saaservispa villages. A great way to discover Saas Valley as a family. You can follow any of these trails:
Saas-Balen to Saas-Grund: 1 hour 15 minutes
Saas-Grund to Saas-Almagell: 1 hour
Find out the full list of hiking trails with prams in Saas-Fee.
Look out for marmots
Spotting marmots is another popular activity in Saas-Fee during the summer period. Marmots are awake from mid-April to October and can be found in the area of Spielboden or the Stafelwald. As you spot marmots, kids can feed them with peanuts or carrots. Something else that kids will love, is joining Eddie, the funny marmot, on the trail at Spielboden. Kids will learn exciting facts about marmots and meet them in person.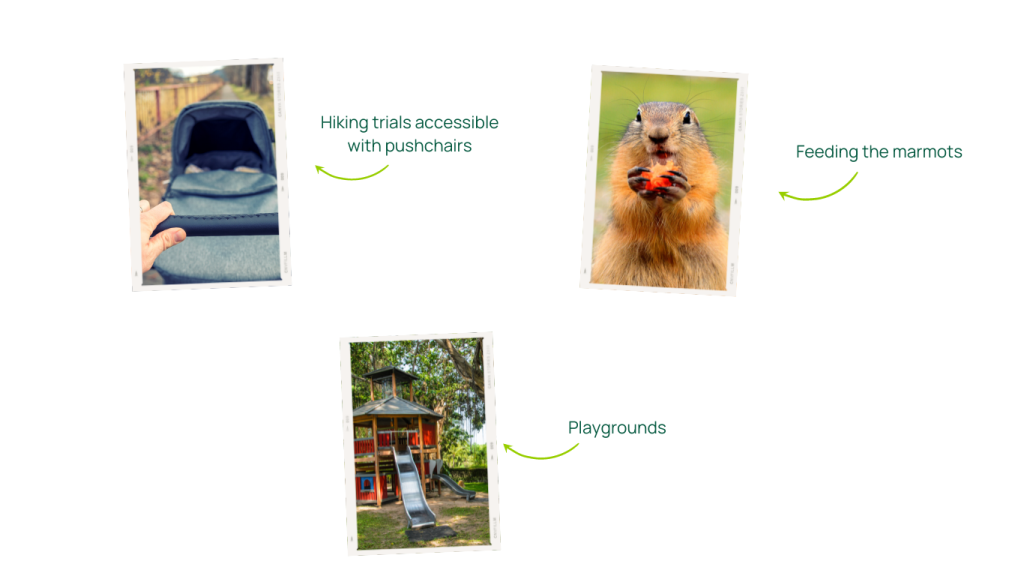 Playgrounds in nature
The four villages in Saas-Fee offer many playgrounds for children of all ages. Some of the popular nature playgrounds in Sass-Fee include:
Playground Hannig
Playground Saas-Almagell village
Playground Wolfsgrüeba
Let your kids run around, have fun and explore nature at these playgrounds. Discover all the playgrounds across Saas-Fee.
Visit Aqua Allain
Aqua Allain has both an indoor pool and outdoor pool that is perfect for families. You can spend a day relaxing and enjoying the pool with your family. The fabulous children's pool is a hit among kids with its water slide. Apart from the pool, Aqua Allain has a spa, a sauna and a steam bath. There is also a fitness centre that can be enjoyed by parents which offer a variety of massages.
Visit Mittelallalin and Ice Pavillon
The Mittelallalin and Ice Pavillon are two must-visit places in Saas-Fee. It is the highest point in Switzerland that is accessible via a cable car. The Mittelallalin overlooks glaciers and the highest points of the Swiss Alps. This trip will lead you to the largest ice grotto and the highest revolving restaurant in the world. However, there are a few things to consider before visiting these places, such as the temperature, being -5 degrees Celsius. Therefore, you would need to invest in the right gear (clothes and shoes) if you decide to go there.
This Mittelallalin is not suitable for pushchairs, so if you're visiting there with a baby use a sling instead. Since it is based on iced ground, and considering its the high altitude (above 3457m), precautions are taken for children below 2 years, and for pregnant women. If you intend on checking out this place, before doing so check the weather forecast as it is not worth going up there if the surroundings are covered by clouds. Discover more about the Mittelallalin.
At an altitude of 3,500m above see lies the Ice Pavillon which is a large glacier that you can visit. This large ice grotto is located at the Mittelallalin. The grotto is a place of true adventure with its ice sculptures, exhibits, and events taking place there. An avalanche simulation with lighting effects and shock waves vibrations is something that you can experience at the ice Pavillon.
Winter activities in Saas-Fee
During the winter period, Saas- Fee offers many wonderful snow activities for kids aged 5 years and over. For the little ones, there is Kian's Adventure Land. At Kian's Adeventure land you will find a tepee, and igloo with movies for kids, and a free snow tubing track for the whole family and children's Skidoos. There is also a wonderful carousel in a playground. Toddlers from the age of 2 can start skiing however, this depends from one child to another. Supervised bob sledding and playing in the snow are other activities for the little ones.
Activities for older children would include skiing and snow boarding, sledging including night sledging and embark on a fun experience at the Children Gorge. The Mini Gorge Alpine is a winter via ferrata for kids. This is an adventure in the snow-covered gorge between Saas-Fee and Saas-Grund. Children must be 8+ years to participate in this activity, under the guide of an expert mountain guide.
The most important thing to have when visiting Saas-Fee as a family in winter is adequate gear for these snow activities.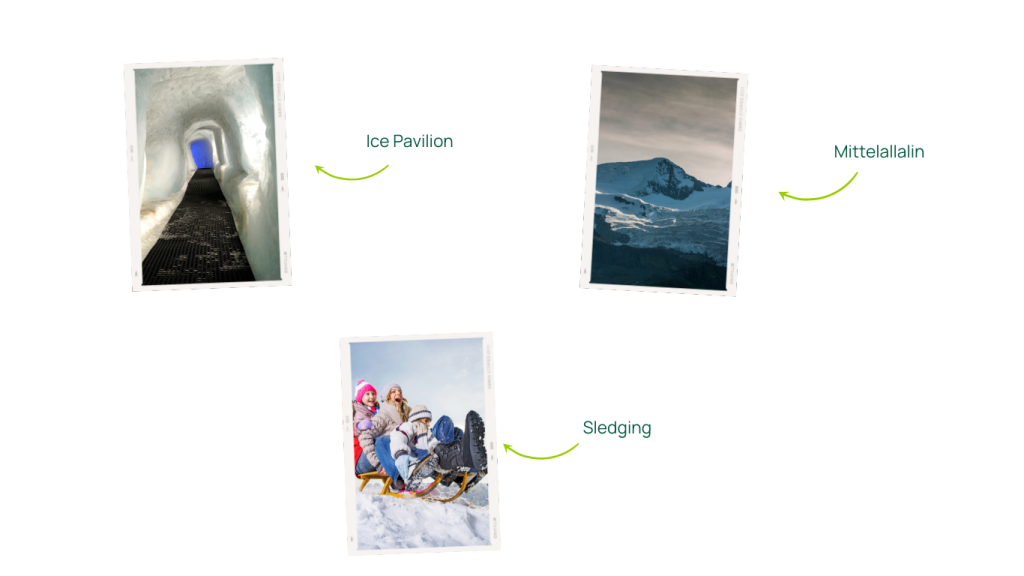 With a range of activities and experiences available in both summer and winter for families, Saas-Fee is a great destination for an unforgettable mountain adventure.
Head to our Booking with Kids for more tips, support and family friendly travel guides. Check out our most loved Travel Gear from brands we trust.