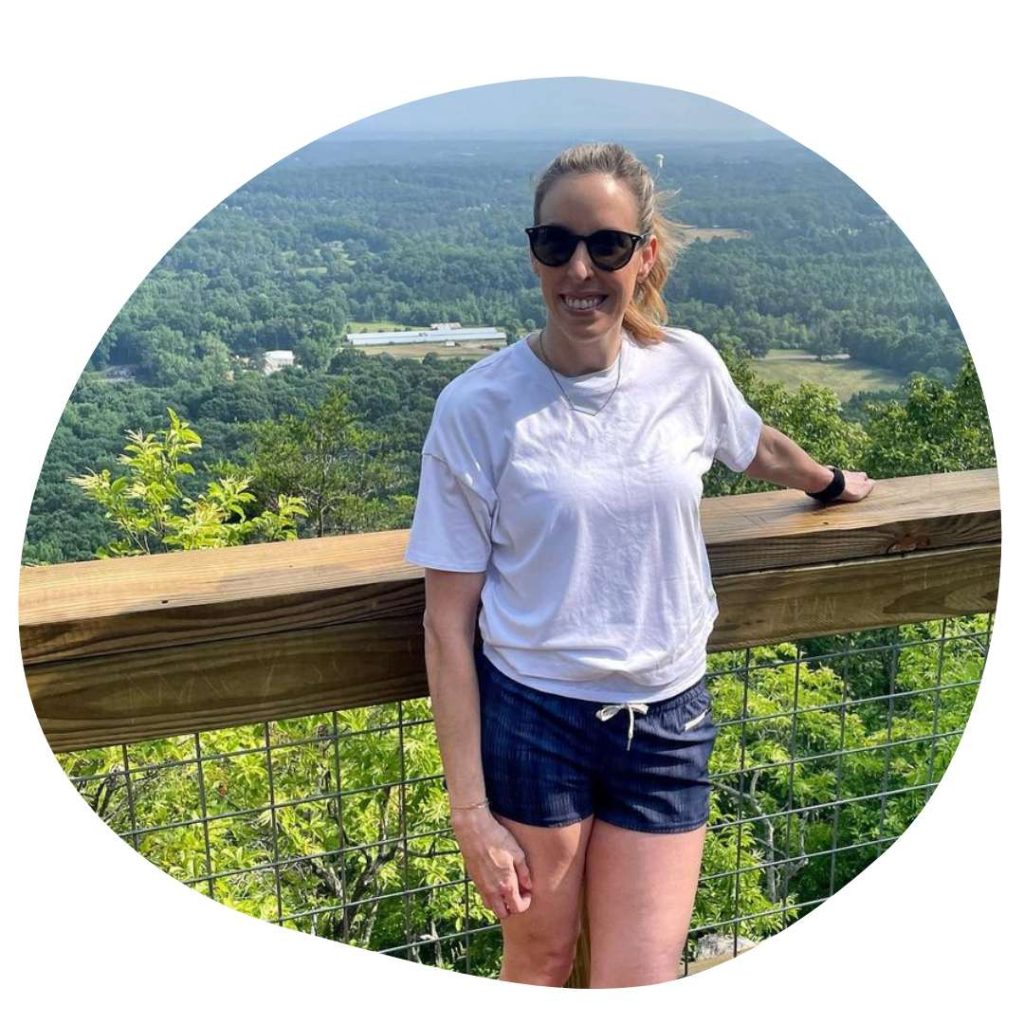 We had the pleasure of sitting down with Anna Kinley, an adventurous mother who takes her love for exploration to new heights by embarking on road trips with her kids. What sets Anna's travels apart is her dedication to discovering the natural wonders of Georgia. From scenic landscapes to breathtaking state parks, she immerses her family in the beauty that surrounds them. Anna Kinley documents her incredible journeys on her @annasadventuresnga Instagram account, providing a glimpse into the joy and excitement that travel brings to her and her children's lives. Join us as we delve into Anna's experiences and gain insight into her unique approach to family travel.
1. How many kids do you have and how old are they?
I have three children. Ellie is 11, Liam is 10 and Max is 2.
2. When and where was the last time you travelled with them?
We took a day trip this past Wednesday, on my day off work, to one of our local state parks here in Georgia, Tallulah Gorge State Park.
3. What was the experience like?
The experience was absolutely amazing! My goal this summer is to keep the older two off of their screens, so we sang in the car, played 20 questions and eye spy. We had a fantastic time at the Gorge. We put the littlest in the jogging stroller and did one of the loops and saw all the pretty views from up above. Grandma then took him to the Tallulah Gorge Interpretive Center where he saw the taxidermy because he loves animals.
My older two kids and I hiked down to the suspension bridge, and down to the floor of the Gorge. The look on their face was priceless because they had never seen anything so beautiful. It was a whole new experience for the three of us. We then had lunch in a neighbouring small town, downtown Clayton, Georgia, shopped around and got treats before driving home. It was a whole lot of great quality time together and a day trip we won't be forgetting any time soon.
4. Where do you plan to go next?
Travelling with kids is a lot of refereeing the backseat while operating a vehicle, haha. But seriously, for the most part, we take turns choosing songs and hopefully on the way home, the little one will take a nap. In general, I prepare for the trip the night before by always packing an extra change of clothes, more water than we could ever think of drinking, diapers, wipes and sippys for the baby. Taking a little one anywhere, especially local state parks, can require some adjustments.
I have to pack the jogging stroller and research ahead to where we are going when that location is conducive to the little one. I try to plan most things so that we can include him, but there are a couple of trips we want to take where we may have to leave him with his grandmother so that we can experience all that there is to offer. So, travelling with three kids with the age ranges I have, requires a lot of pre-planning and preparation.
5. What are you kids favourite travel snacks?
Now that they are older, we typically stop along the way at a planned location so we can try something local like baked goods and sometimes ice-cream! For the little one, I take goldfish crackers or a pirate booty snack. And we always tend to pack large water bottles and a small cooler for afternoon milk for the little one.
6. Whats it like travelling with kids in general? Have you adapted anything on your trips to suit them?
On trips with the little one, we always pack his big plastic jar of small toy animals. This is his favourite thing to do and will keep him occupied even in the most boring situations. They are constantly in my car. As a special treat for him for long car rides or long days, we take him to the ball field. I typically also pack a few other toy animals (that are among his favourite!) and a few soft books for him to look at. What I NEVER do is hand him a screen to watch.
7. Do you prefer to travel by train, plane or boat?
We typically drive wherever we go. I've travelled very few times by plane with the older two. That has always been a special treat because we try to do most of our trips on a budget.
8. What's your ideal family vacation?
My ideal family vacation is a cabin in the North Georgia Mountains in a town like Hiawassee or Helen, located on the river or a creek where the kids can go down and play outside in the water. We would do local hikes and check out the towns and maybe find a few activities like tubing on the river, checking out the local ice-cream shops or finding a nearby waterfall.
9. Any travel tips you swear by?
Travel tips I swear by include preparing for the trip and packing the car the night before so there is no stress the morning we leave. I also like to have an itinerary and do a lot of research ahead of time to find the best attractions that they will all love and make the best use of our time. I also make the kids give me all screens the moment we get in the car so we can talk to each other and interact and play games with one another or sing to the radio. I like to ask them what they are most excited about at the beginning of the day, talk about where we are going and what we're to expect and then talk about their favourite part of the trip on our way back home. These conversations can last for a long time!
10. Travel gadgets or essential you recommend?
As with regards to the things I take with us on trips, I swear by the BOB jogging stroller. That thing has been EVERYWHERE and is always reliable. I usually take a backpack and if we are doing something outdoors, I pack stainless steel water bottles. We usually rotate between using Hydroflasks and Owala bottles. I pack a first aid kit and my tripod with a clicker for photos of all of us. Furthermore, I usually take a hard cooler for snacks, milk and back up water. Occasionally I also take Body Armor sports drinks. I always wear my Patagonia Atom sling back because I can keep my phone in the front and easily pull it out for pictures.
11. Do you have basics you always put in your medicine kit?
In my medicine kit, I always keep paracetamol, pain killers, allergy and itch relief medicine and band aids. I keep a prescribed Albuterol inhaler and Epi-pens with us because of diagnosed asthma and allergies. Other than that, gauze, sting relief, and wipes are packed to in the event of insect stings/bites. Hydrocortisone cream is there too.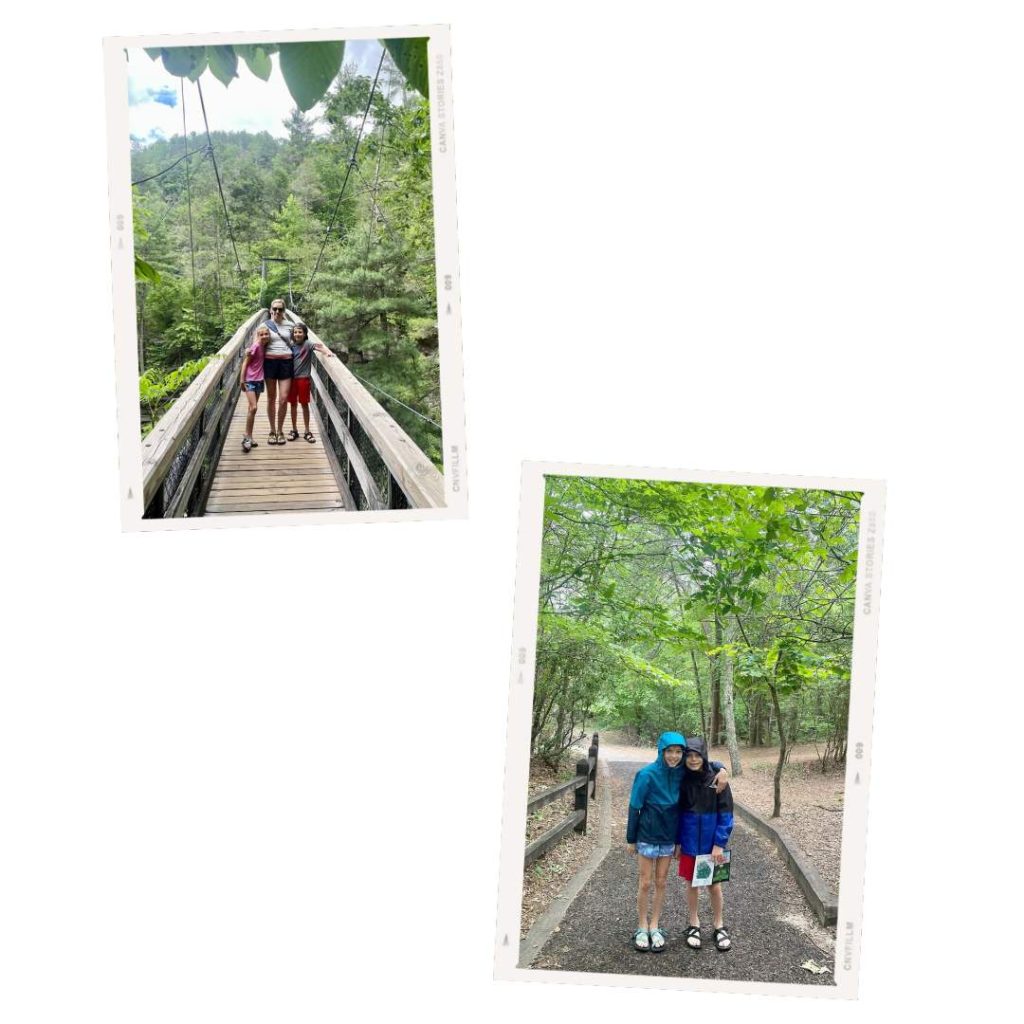 Shop this trip by Anna Kinley
Destination: Tallulah Gorge State Park, Georgia
Travel Gadgets/Essentials: BOB jogging stroller, Hydroflask, Owala Bottles, Body Armor sports drinks, Patagonia Atom sling
Essentials in medicine kit: Pain killers, allergy and itch relief,band aids, gauze, sting relief, wipes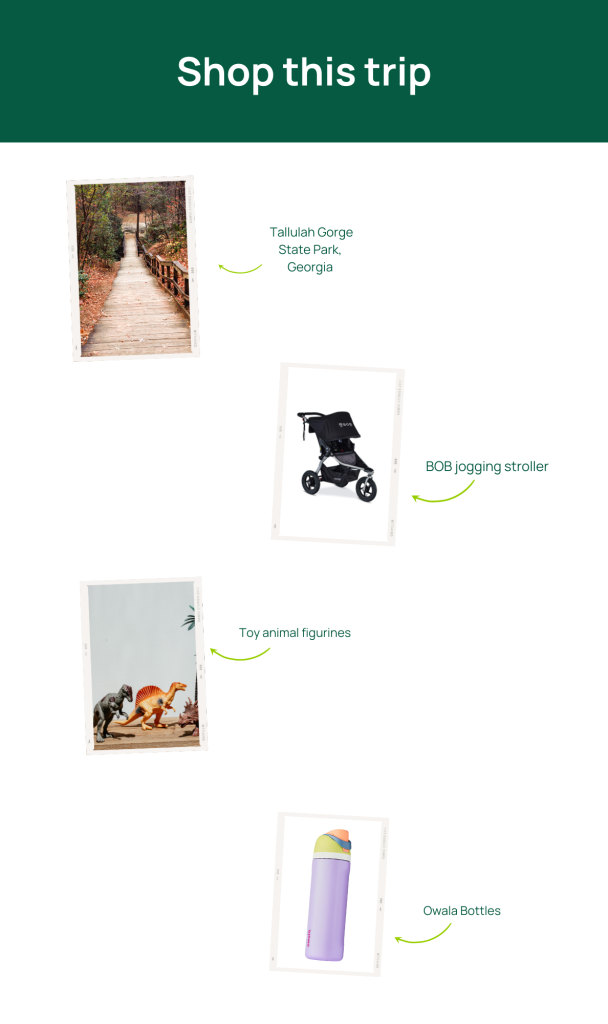 We would like to thank Anna Kinley for sharing her fascinating travel experiences with us. Her dedication to fostering quality time and creating life-long memories with her children is truly inspiring. By choosing road trips as their preferred method of travel, Anna Kinley ensures that her family can explore the country's natural wonders at their own pace, immersing themselves in the beauty of their surroundings. #
We encourage everyone to follow Anna Kinley's adventures on her Instagram account @annasadventuresnga, where her captivating photographs and insightful captions capture the essence of their remarkable journeys. Thank you, Anna, for reminding us of the joy and wonder that can be found in exploring our world with our loved ones.
If you want more inspirational places to visit, check out the family friendly travel destinations.
Head to our booking with kids for more tips, support and family friendly travel guides. Check out our most loved travel gear from brands we trust.