The beautiful city located in Northern Greece has a variety of activities that are perfect for children of all ages. From museums and science centers to theme parks and beaches, Thessaloniki has something for everyone. Here are some of the best things to do in Thessaloniki with children:
Activities for young children in Thessaloniki
The Children's Library – Located in Ano Poli, the Children's Library is the perfect place to take young children for some quiet reading time, or if you're looking for an indoor activity.
The Central Library – The Central Library has a special area for children, complete with books, toys, and games.
NOESIS– Thessaloniki Science Center and Technology Museum – Take part in an interactive journey of the world of Physics and make everyday life experiments at Technopark, watch an astronomy show at the Planetarium and more.
Waterland – Waterland is an exciting and thrilling theme park that is open in summer. Children will love the water slides, pools, and other water attractions.
Magic Park – Magic Park is a great place for children and adults to enjoy games and rides. At Magic Park you will find dozens of ways to get your adrenaline pumping on rides such as the roller coaster, the Ghost Train, CrazyDance, and many more.
Dinosaur Park – An impressive world comes alive in the Park of the Dinosaurs. In an area of about 10 acres, representations – in real dimensions – illuminate the history of prehistoric animals that lived millions of years ago, offering a unique entertainment and learning experience for all!
Walk along the Thessaloniki Waterfront – Thessaloniki has a beautiful seafront promenade that stretches for several kilometres. Take a leisurely stroll along the waterfront, and your children will love the fresh sea air and the stunning views of the sea. There are plenty of cafés and restaurants along the promenade, so you can stop for a coffee or a bite to eat while you take in the scenery.
Kid-Friendly Beaches – There are plenty of kid-friendly beaches in Thessaloniki, including Agia Triada, Angelohori, Asprovalta, and Potamos. Most of these beaches have shallow water zones and are sandy, making them perfect for young children to play in.
The Thessaloniki Zoo – It's home to over 1,200 animals from 300 different species, making it a great place to take your kids for a day out. Your children will love seeing the animals up close, and there are plenty of opportunities for them to learn about the different species. There's also a playground and a petting zoo, so your kids can have some hands-on fun.
Activities for children over 5 in Thessaloniki
Indoor Paintball – Children will love the thrill of indoor paintball.
Go Kart Center – Guide your kids to the new pedal go kart track and let them taste their first driving experiences.
NOESIS– Thessaloniki Science Center and Technology Museum – Children can make everyday life experiments at Technopark, watch an astronomy show at the Planetarium, a large format film or 3D movie in the Cosmotheater or do a ride show at the motion Simulator.
Waterland – If you're visiting Thessaloniki in the summer months, be sure to take your children to the Waterland Waterpark. This huge waterpark has slides, pools, and plenty of fun water activities that your kids will love. There's also a lazy river and a wave pool, so you can relax while your children play.
Thessaloniki Waterfront – Older children can go skateboarding or rollerblading at the skate park near the Thessaloniki Concert Hall. There are also many cafés, snack bars, and restaurants along the way. If you want to go on a bicycle ride, you can rent a family bicycle next to Makedonia Palace hotel or rent bicycles by the hour outside the port.
The monuments of Thessaloniki – Take a trip to the Galerius Palace Complex, the Roman Forum (Agora), the Rotunda, and the Heptapyrgion fortress.
The White Tower – The White Tower, also known as the Lefkos Pyrgos, is a famous landmark of Thessaloniki. This historical monument has been standing tall for over 500 years and has a fascinating history. The tower has been used as a fortification, a prison, and even as a place of execution. Today, it houses a museum that tells the story of Thessaloniki's past. Children love exploring the tower and learning about the city's rich history.
Thessaloniki Museums – From archaeological treasures to Byzantine heritage and contemporary art in photographic clicks, the Olympic Games, and the Orient Express, there are more than 30 museums in Thessaloniki.
The Archaeological Museum – The museum has an impressive collection of artefacts from ancient Greece, including pottery, jewellery, and sculptures. There are also interactive exhibits that allow children to learn more about the history of Thessaloniki in a fun and engaging way.
The Children's Museum – The museum has interactive exhibits and workshops that allow your children to learn through play. Children will love exploring the exhibits and participating in the workshops, and you'll love seeing them learn while having fun.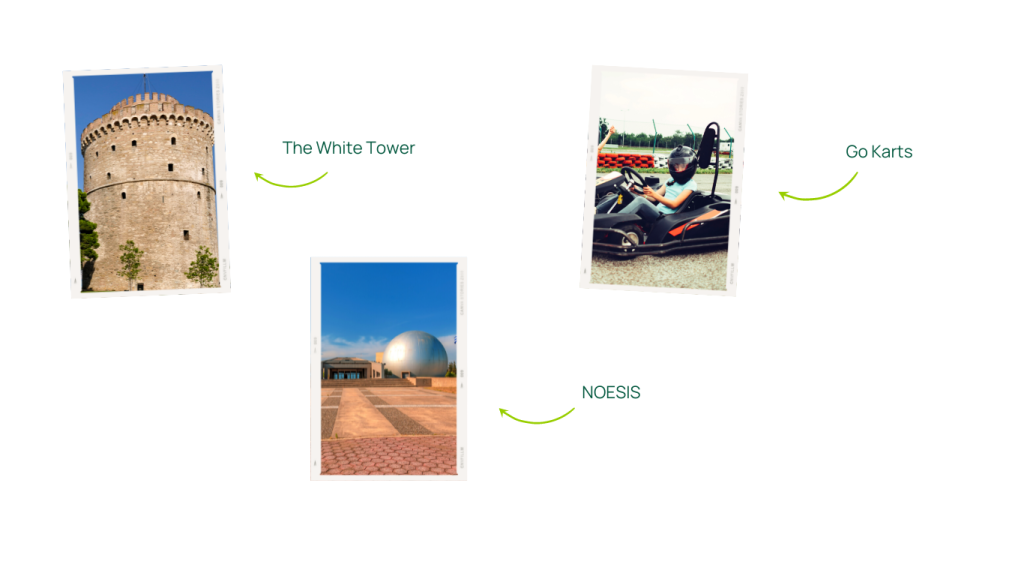 Thessaloniki is a great destination for families with children of all ages. The above list has mentioned some of the best things to do in Thessaloniki with children. From science museums and water parks to historical landmarks and kid-friendly beaches, there is something for all the family to enjoy. With so much to do and see, Thessaloniki is the perfect place for a fun and educational family vacation. So pack your bags, grab the kids, and get ready for an unforgettable adventure in Greece's second-largest city!
Find out more about visiting Thessaloniki with children in our free guide.
Head to Booking with Kids for more tips, support and family friendly travel guides. Check out our most loved travel gear from brands we trust.