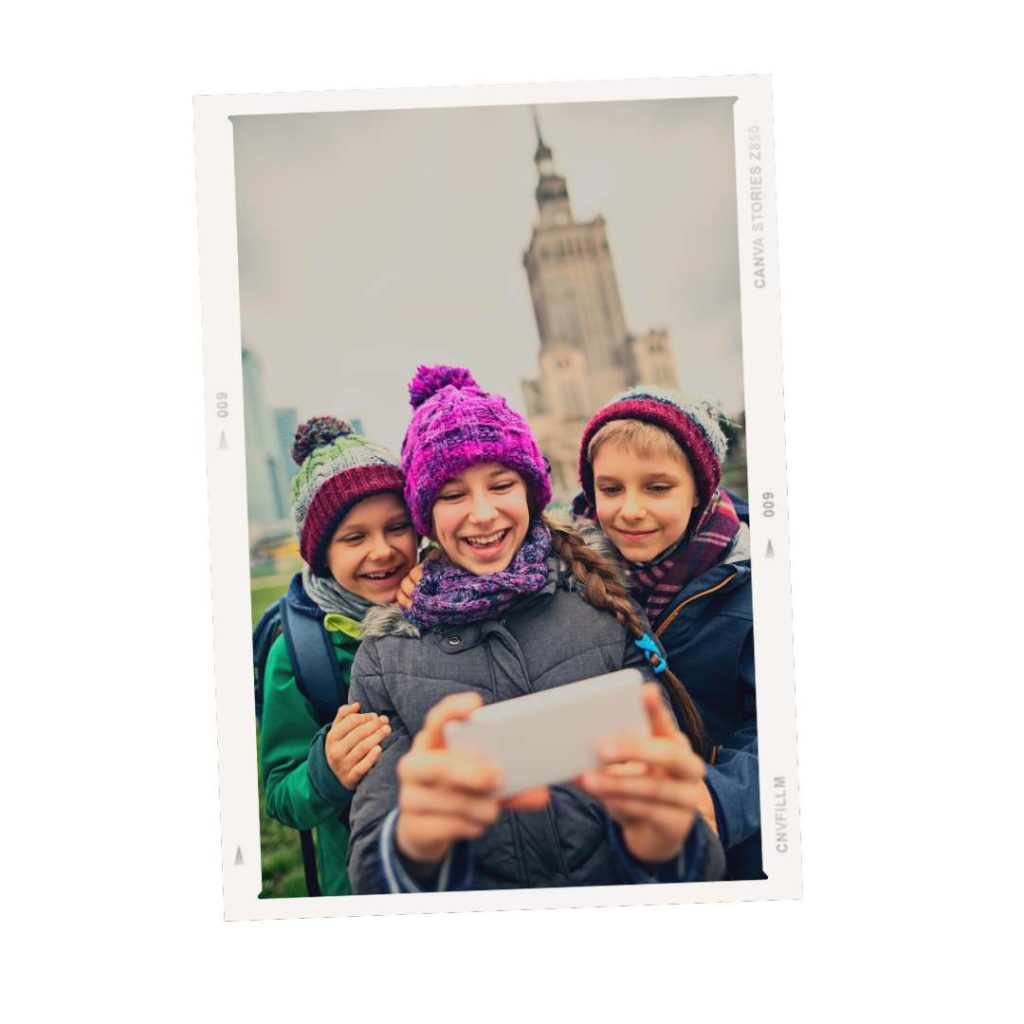 Warsaw offers a multitude of exciting and educational activities for families with children of all ages. From interactive museums to thrilling playrooms and panoramic views of the city, Warsaw ensures that young visitors are engaged, entertained, and enriched.
Whether you're exploring with children under 5 years or those over 5, there are plenty of attractions to discover. Keep reading on to find all about the top things to do in Warsaw with children.
Activities for Children Under 5 Years
Copernicus Science Centre – A visit to the Copernicus Science Centre is a must for young explorers. This science museum offers interactive exhibits and shows that encourage curiosity and experimentation. For the youngest visitors, the Buzzz! exhibition provides a separate space where they can engage in unhampered play and discovery.
Museum of Dollhouses – Step into the enchanting world of miniature houses and toys at this unique museum. With over a hundred exhibits from various countries and eras, children can marvel at the intricate details and let their imagination soar.
POLIN Museum King Matt Room – The King Matt Room at the POLIN Museum is a playroom where children can scribble, make music, play board games, and explore the world of Jewish tradition. The interactive space offers books, films, foam blocks, and more, providing an engaging and educational experience.
Station Museum– Take a journey back in time at the Station Museum, which showcases old trains and carriages, including an authentic artillery wagon from World War II. Children can learn about the history of railways while exploring these fascinating exhibits.
Children's Museum – This museum offers a wonderful opportunity for kids to learn about different countries and cultures through exhibits and interactive activities. Engaging displays and hands-on experiences make it an enriching adventure for young minds.
Museum of Evolution – Delve into the world of prehistoric animals at the Museum of Evolution. Children can marvel at the skeletons and remains of ancient creatures, gaining a deeper understanding of the Earth's natural history.
Smart Kids Planet – Located in the Norblin Factory, Smart Kids Planet offers a fun and educational experience for children. With nine themed areas, kids can enjoy activities such as delivering parcels, grocery shopping, and playing football with obstacles, fostering creativity and learning through play.
Warsaw Zoological Garden – The Warsaw Zoo is a perfect destination for families seeking relaxation and a close encounter with wildlife. With over many animals including those with a rich history surviving through war times, the zoo offers a memorable experience for the whole family.
Playrooms – Warsaw boasts several playrooms where children can have a great time. Sensorysie, Hultajka, MiniMali, fikołki, and Klockownia are just a few options that provide safe and enjoyable spaces for kids to play, socialize, and unleash their energy.
Vantage Points – For a breathtaking view of Warsaw, visit specially constructed vantage points such as the 30th floor of the Palace of Culture and Science, the tower of the Warsaw Rising Museum, or one of the city's man-made hills. These elevated spots offer a panoramic perspective that will leave children in awe of the city's beauty.
Candy Factory – A visit to the Candy Factory is a sweet treat for children. Witness the traditional production of over 80 flavors and various shapes of sweets, and even create your own lollipop to take home as a delicious treat.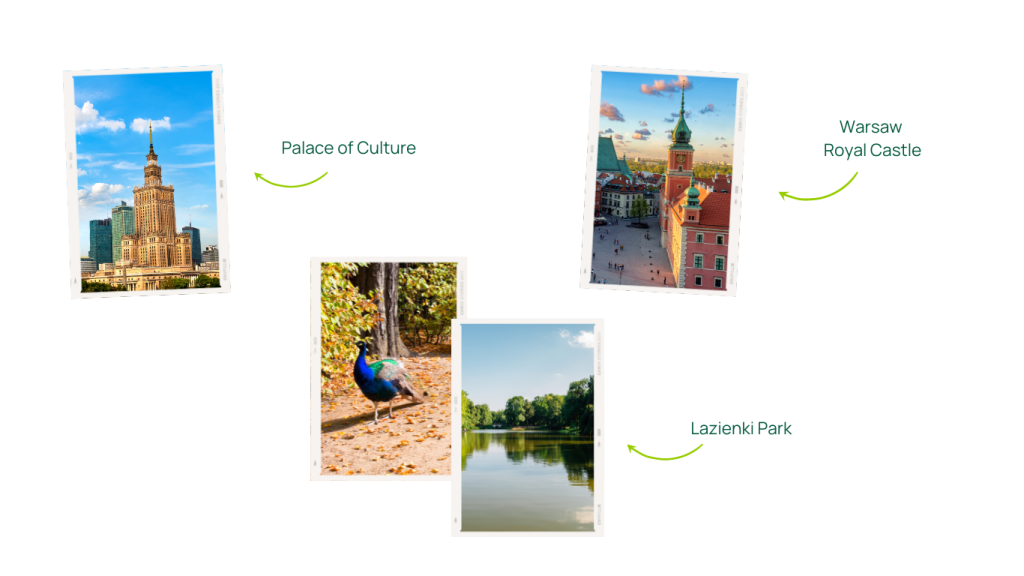 Activities for Children Over 5 Years
Copernicus Science Centre – Older children can immerse themselves in the world of scientific exploration at the Copernicus Science Centre. With a wide range of interactive exhibits, they can experiment, discover, and uncover the secrets of nature.
Museum of Dollhouses – Witness the craftsmanship and history behind miniature houses from around the world. This museum offers an intriguing glimpse into different cultures and eras, providing a unique learning experience.
NBP Money Centre – Delve into the world of finance and money at the NBP Money Centre. Through multimedia presentations, children can gain insights into the intricacies of economics and its impact on our daily lives.
Warsaw Rising Museum – The Warsaw Rising Museum takes visitors on a historical journey through the exhibits, including teddy bears, rag dolls, and model aircraft from World War II. It offers a compelling way to explore history through the eyes of children.
Station Museum – Marvel at the impressive collection of passenger, military, and coal-fired locomotives from a bygone era at the Station Museum. This captivating attraction showcases the evolution of rail transportation.
Children's Museum – With an emphasis on learning about different cultures, the Children's Museum allows kids to create their own stories and engage with exhibits that promote understanding and respect for diversity.
Museum of Evolution – Step into the ancient world at the Museum of Evolution, where children can discover the fascinating creatures that roamed the Earth millions of years ago. Skeletons of prehistoric mammals and reptiles offer a glimpse into our planet's evolutionary history.
Geological Museum – Experience the wonders of the Earth's geological treasures at the Geological Museum. From prehistoric fossils to dazzling minerals and crystals, this museum showcases the beauty and scientific significance of these natural marvels.
Photoplasticon – Travel back in time with the 3D photos from over a century ago at the Photoplasticon. This unique experience allows children to see the world through the lens of the past, providing a captivating glimpse into history.
Neon Museum – Explore the Neon Museum, located in the trendy post-industrial space of Soho Factory. This one-of-a-kind museum showcases over 200 neon lights, and captivating stories, giving children a glimpse into the vibrant world of neon art.
The Museum of Life under Communism in Poland – Offering an immersive experience, this museum provides insights into everyday life in Poland during the communist era. Children can explore and understand the historical context through engaging exhibits.
Vantage Points – Enjoy the awe-inspiring views of Warsaw from specially constructed vantage points, providing a memorable perspective on the city's landscape and architecture.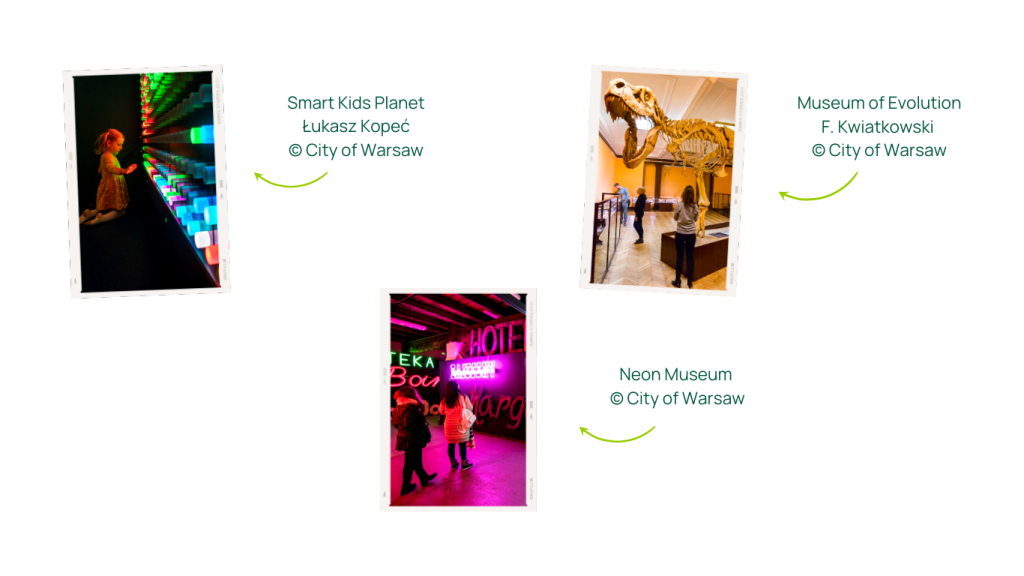 These suggestions are just a taste of the many attractions and activities available in Warsaw for children of different age groups.
Find out more about visiting Warsaw with children in our free guide.
Head to Booking with Kids for more tips, support and family friendly travel guides. Check out our most loved travel gear from brands we trust.