Embrace the thrill of winter with your loved ones in the most enchanting family skiing destinations for Winter 2023/2024. In this article, you'll discover the finest family skiing for Winter 2023/2024, each offering their own unique blend of snowy wonder, charm, tranquility, and magic. These remarkable locations offer not only exhilarating skiing adventures but also host family-friendly attractions and experiences. Discover your perfect family skiing holiday.
#1 Courchevel, France: A Winter Wonderland for Families
Courchevel stands as a beacon of luxury in the French Alps, but it's not just a playground for the elite; it's also an excellent destination for family skiing in Winter 2023/2024. Nestled within the stunning Trois Vallées, Courchevel offers an exceptional ski experience for all generations.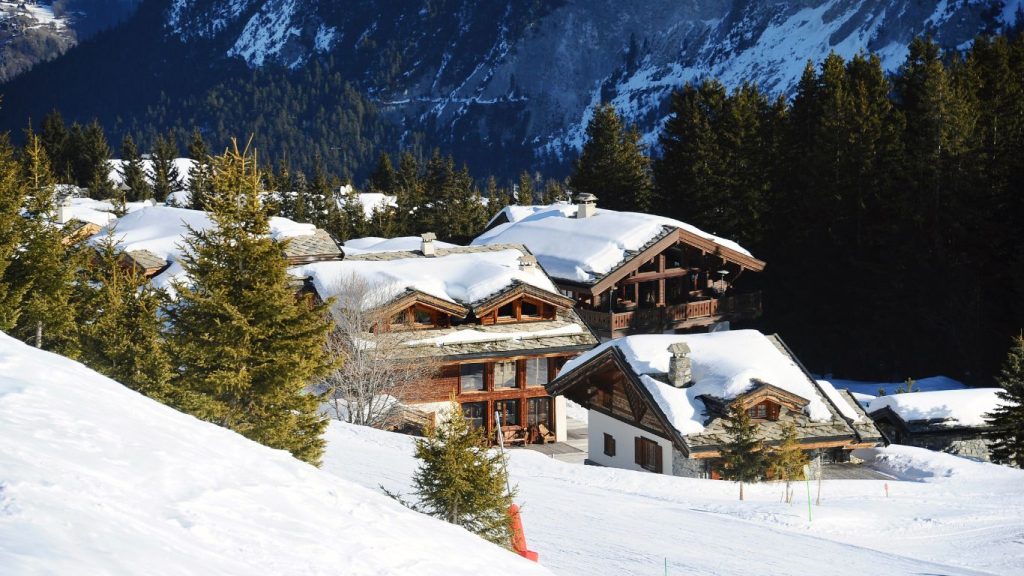 Family-Friendly Atmosphere in Courchevel
One of the primary reasons Courchevel is an ideal family destination is its welcoming atmosphere. The resort caters to families with a wide range of amenities and services, ensuring that parents and children alike have a memorable experience. From childcare facilities to ski schools designed for young learners, Courchevel makes skiing with the family an absolute delight.
Exceptional Skiing Opportunities in Courchevel
Courchevel boasts an extensive network of ski slopes suitable for all skill sets. Whether you have beginners or seasoned pros in your family, you'll find a perfect slope for everyone. The gentle nursery slopes are ideal for children taking their first steps on skis, while more adventurous family members can explore challenging pistes higher up the mountain.
Après-Ski Entertainment in Courchevel
After a day on the slopes, Courchevel offers an array of après-ski activities for families to enjoy together. From cozy restaurants serving delicious Savoyard cuisine to ice skating rinks and snowshoeing, there's something for everyone to enjoy.
Get your free family-friendly travel guide to Courchevel.
#2 Courmayeur Mont Blanc, Italy: An Italian Charm in the Snow
Nestled in the Italian Alps, is another hidden gem for family skiing adventures in Winter 2023/2024. That's Courmayeur Mont Blanc. With its charming alpine village and breath-taking scenery, it's the perfect destination for those seeking a mix of culture and winter sports.
Courmayeur Mont Blanc: A Picturesque Alpine Village
Courmayeur's enchanting village, adorned with cobbled streets and traditional chalets, exudes a unique Italian charm. It's an excellent destination for families who appreciate a touch of culture alongside their skiing adventures. The village is pedestrian-friendly, making it safe and convenient for families with children.
Diverse Skiing Terrain in Courmayeur Mont Blanc
Skiing in Courmayeur is a treat for all ages and skill levels. The resort offers a variety of slopes, from gentle runs through the trees to challenging off-piste routes for the more adventurous. Courmayeur also provides excellent facilities for families, including ski schools and equipment rental services.
Delectable Italian Cuisine in Courmayeur Mont Blanc
No trip to Courmayeur is complete without indulging in the sumptuous Italian cuisine. Parents and children can relish delicious pasta dishes, wood-fired pizzas, and mouth-watering desserts at the resort's restaurants and pizzerias.
Get your free family-friendly travel guide to Courmayeur Mont Blanc.
#3 Saas-Fee, Switzerland: Swiss Serenity for Winter Fun
Saas-Fee, also known as Switzerland's "Pearl of the Alps," is a haven for families seeking a serene yet adventurous skiing experience in Winter 2023/2024. Located in a car-free village surrounded by majestic peaks, Saas-Fee offers a unique and tranquil winter wonderland.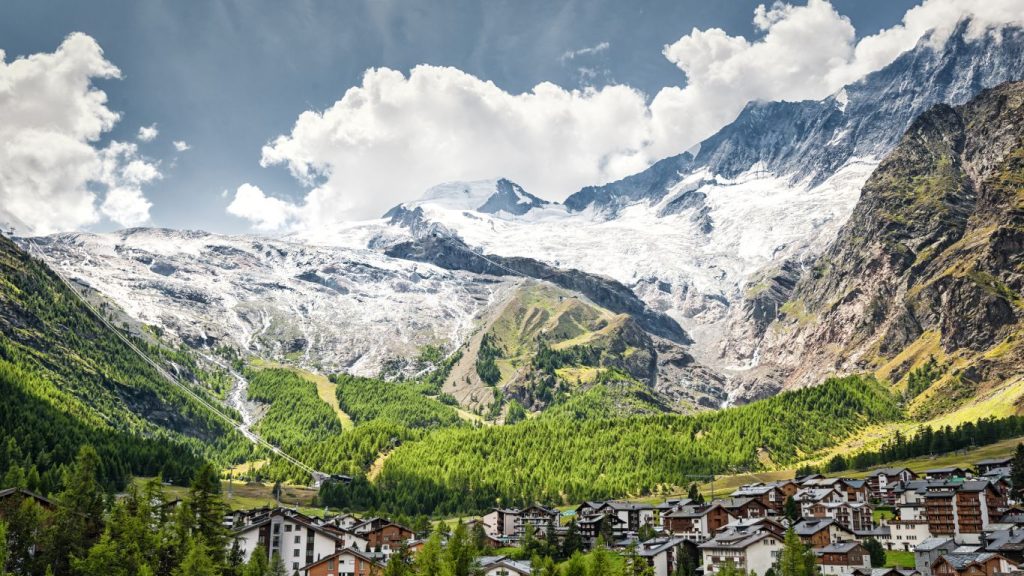 Car-Free Paradise in Saas-Fee
Saas-Fee's car-free policy ensures a safe and peaceful environment for families. Children can roam freely, and parents can enjoy the tranquil atmosphere. Electric taxis and horse-drawn carriages provide convenient transportation within the village.
Varied Skiing Terrain in Saas-Fee
Saas-Fee's ski area caters to skiers of all abilities, making it an excellent choice for families. The gentle slopes are perfect for beginners, while the more advanced can conquer challenging runs. Additionally, the resort offers snow parks and toboggan runs for extra family fun.
Stunning Glacier Experience in Saas-Fee
One of Saas-Fee's highlights is the chance to ski on the Allalin Glacier. Families can take a cable car to this icy wonderland and enjoy skiing with breath taking views of the surrounding peaks. It's a once-in-a-lifetime experience that will leave lasting memories.
Get your free family-friendly travel guide to Saas-Fee.
#4 Lapland, Finland: Magical Family Skiing Adventure
Lapland, located in the northernmost reaches of Finland, is not just Santa's home; it's also a magical destination for family skiing in Winter 2023/2024. Lapland's snowy landscapes and unique activities create a winter wonderland like no other.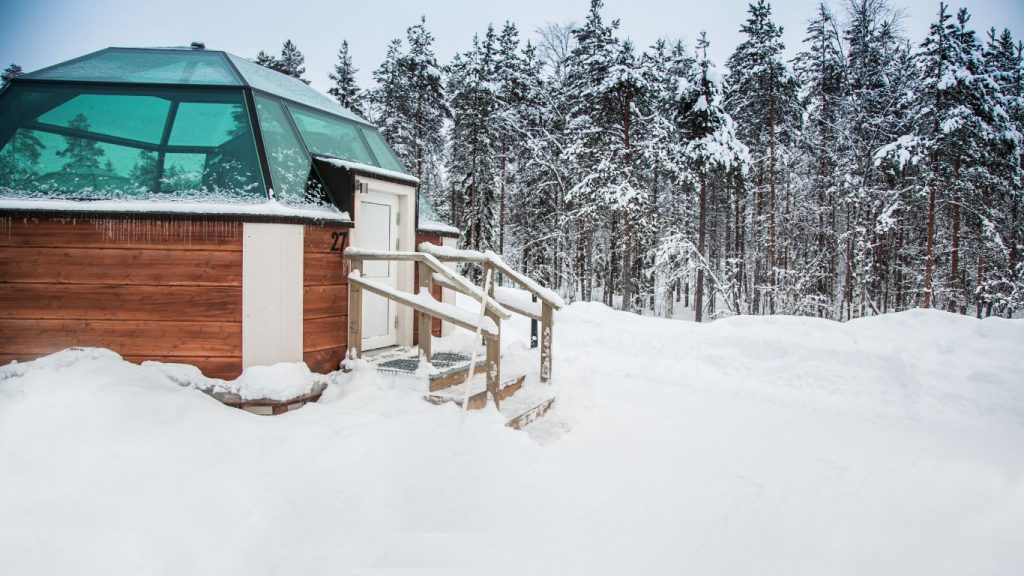 Winter Fairy Tale in Lapland
Lapland's winter scenery is straight out of a fairy tale, with snow-covered forests and frozen lakes as far as the eye can see. Families can embark on husky sledding adventures, witness the Northern Lights, and even meet Santa Claus himself.
Family-Oriented Activities in Lapland
Lapland offers a plethora of family-oriented activities, from ice fishing and snowshoeing to reindeer safaris. The region's unique culture and the chance to engage with indigenous Sámi people add an educational and cultural dimension to your family ski trip.
Cozy Cabins and Lodges in Lapland
Lapland provides cozy cabins and lodges that are perfect for families, allowing you to experience the authentic Arctic lifestyle. Imagine spending evenings by the fireplace, sipping hot chocolate, and gazing at the starry Arctic skies.
Get your free family-friendly travel guide to Lapland.
Free Family Skiing Travel Guide
To make your Winter 2023/2024 family skiing adventure even more convenient, visit our family skiing destinations page, featuring more information on family skiining and free guides to all the above mentioned skiing destinations. Download your travel guides today and hop on to a great family ski holiday.
Winter 2023/2024 promises unforgettable family skiing experiences in these remarkable destinations. Whether you choose the luxury of Courchevel, the Italian charm of Courmayeur Mont Blanc, the tranquillity of Saas-Fee, or the magic of Lapland, each offers a unique blend of adventure, culture, and family-friendly amenities. Download our free family travel guides to plan your dream winter getaway today.