Cēsis offers a wide range of exciting and educational experiences that are sure to keep your children engaged and entertained. From exploring medieval castles to discovering the secrets of space, there's something for every young adventurer in this charming Latvian town.
So, let's dive in and explore the best things to do in Cēsis with older children!
Take a step back in time and explore the impressive Cēsis Castle Complex. The Multimedia story of Cēsis castle will transport your children to another era, allowing them to relive important historical events through captivating multimedia presentations. This project is unique not only in Latvia but also in the entire Baltics, making it a truly extraordinary experience.
If your children love nature, this educational museum is a must-visit. With interactive elements, the museum offers a fresh perspective on natural wonders, presenting them from a medical viewpoint. It's not only an opportunity for your children to learn about the rich world of plants, but also a chance for them to test their existing knowledge.
Is your child curious about space and the universe? Then this centre is a must-visit. With interesting educational classes and interactive exhibits, your older children can learn about the secrets of space, spaceflight preparation, and what it takes to live beyond our planet.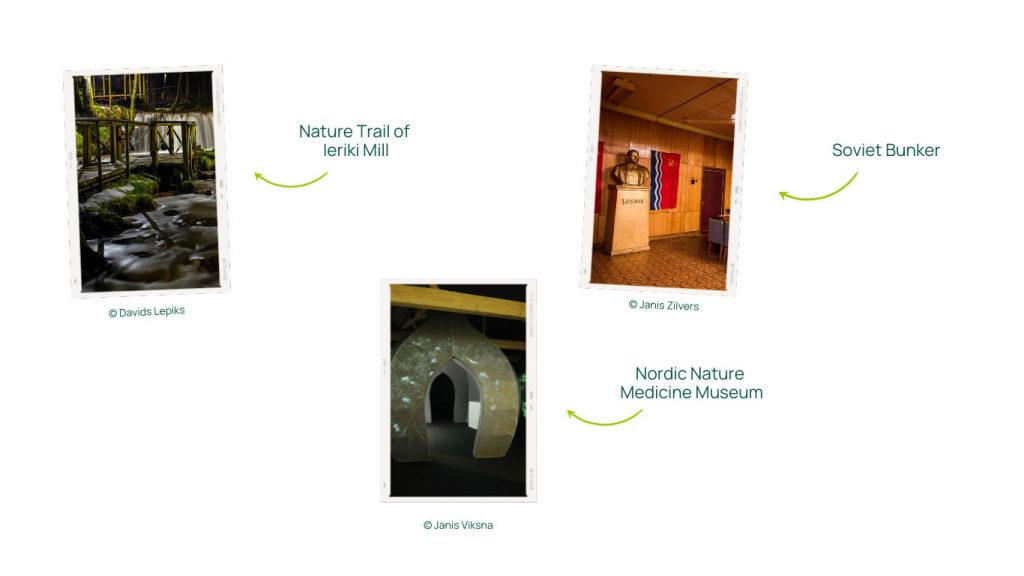 Even older children will enjoy meeting and interacting with camels at this delightful park.
Stroll around this beautiful nature reserve and unravel the mysterious legend of Svētavots spring. Your older kids will be captivated by the serene beauty of this natural wonder.
Active Recreation Park Karjers
For an adventurous day out, head to Karjers – an exotic recreational park offering water activities on the banks of the dolomite. During summer, children can try riding wakeboards, water skis, and SUP boards!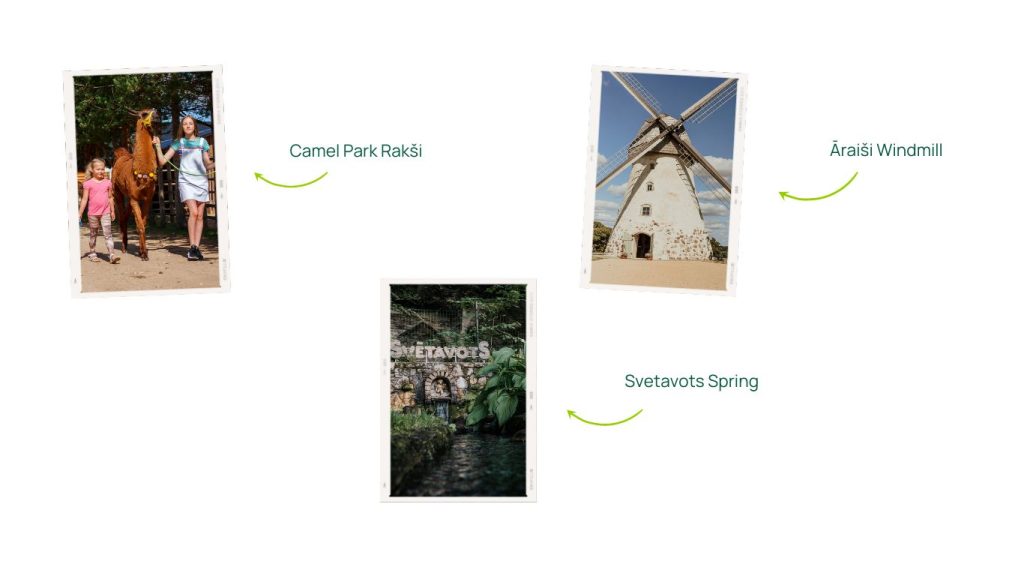 Nature Trail of Ieriķi Mill
This nature trail offers a delightful stroll for families with children. With plank-ways, small bridges, and a viewing platform by the river, it's a perfect spot for a scenic walk. Plus, during the end of October and early November, your kids can witness the thrilling sight of migrating salmons jumping over obstacles.
If your children are water enthusiasts, they'll love exploring the river Gauja through canoe rides during the summer.
For winter fun, hit the slopes at these ski resorts. Children can choose from a variety of tracks suited for different skill levels, making skiing and snowboarding a delight for all.
Activities Located in Cēsis Surroundings
Even older children will enjoy meeting and interacting with ponies at this delightful park.
Deer Garden Annas Dzirnavas
Enjoy a guided tour in the deer garden, where children can feed and interact with deer while capturing beautiful moments with them.
Embark on an underground adventure to the unique Vējiņi Underground Lakes. With large cavities and caves carved by underground springs, the experience will fill your children with a sense of thrill and awe.
You should definitely take an excursion to Āraiši windmill and the Archaeological park. Children will not only learn about the history of the windmill but also get a chance to grind grains using a hand mill, offering a glimpse into ancient milling techniques. This is a very cool activity, one not to miss!
Discover the health trail and the unique Sun clock at The Saule Park. Your older children can participate in a fascinating activity where the Sun clock only reveals the time if they become part of it. With 150 trees planted in the park, it also features the largest analemmatic sundial in Latvia.
Let your children experience the thrill of running with huskies during summer in the Cēsis surroundings. In winter, you can also experience dog sledding for a snowy adventure.
URDA Park is all about the environment and recycling. Your children will appreciate the interactive exhibits and the opportunity to explore sustainability and eco-friendly practices.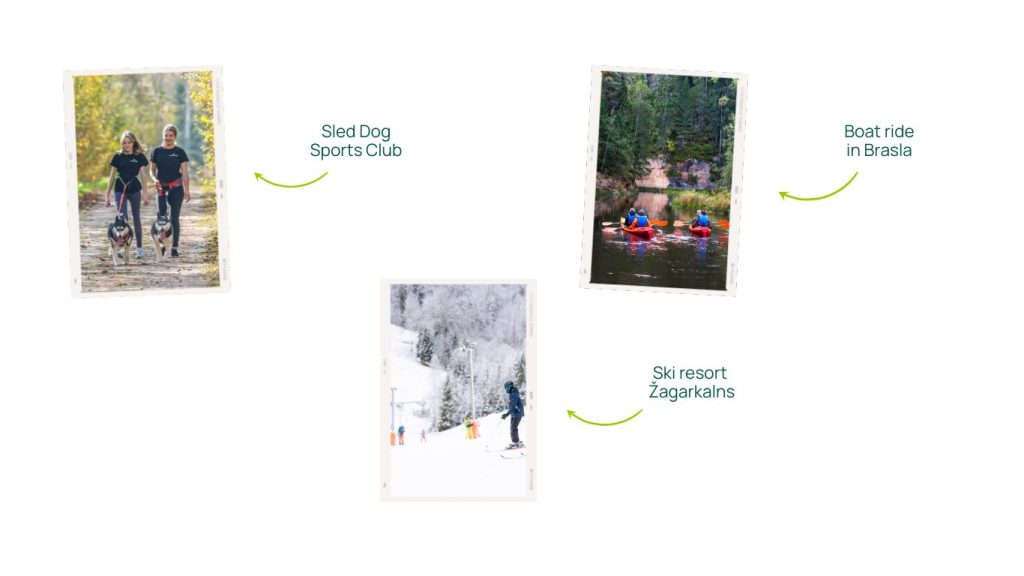 Activities Located in Līgatne (30km away from Cēsis)
Zeit Café in Līgatne
Add a touch of celebration to your trip at Zeit Café. Explore the nearby Tīklu Parks (Net Park) for exciting swinging and climbing activities.
Līgatne Ceramics Workshop
Nurture your children's creative side at the ceramics workshop. They can make clay jewellery, dishes, and even paint mugs. This is also a great souvenir to take back home.
Līgatne Nature Trails
At a short distance from Cēsis, Līgatne Nature Trails offer a chance to spot Latvia's wild animals, including stags, roe deer, wild boar, bears, foxes, lynx, and two species of birds. The dense network of hiking trails and the paved cycling route turn into a cross-country skiing track during winter.
For a thrilling historical experience, visit the Soviet Secret Bunker, a secretive underground facility built for political and state authority elite during the 1980s. Children can also immerse themselves in the reality game Object X and become undercover agents on a special mission to save the country.
Cēsis is a treasure trove of exciting experiences for older children. From immersing in history at the Cēsis Castle Complex to exploring the wonders of nature at the Nordic Nature Medicine Museum, there's no shortage of adventure in this Latvian town. Whether your child loves animals, space, nature, or sports, Cēsis has something to offer. So, pack your bags, bring your sense of wonder, and embark on a memorable journey with your older children in Cēsis!
Discover more about visiting Cēsis with children by getting your free Cēsis family-friendly guide.
Head to booking with kids for more tips, support and family friendly travel guides. Check out our most loved travel gear from brands we trust.