Are you planning a family trip to Cēsis with young children? Look no further! Cēsis offers a wide range of exciting and kid-friendly activities that will surely keep your little ones entertained and happy. From meeting friendly animals to exploring nature trails and enjoying playful attractions, there's something for every young adventurer in this charming Latvian town. Join us as we explore the best things to do in Cēsis with young children, ensuring a memorable and delightful experience for the whole family!
If your children are animal lovers, they will be thrilled to visit this delightful parks where they can meet and interact with camels.
The Black Swans at May Park
Visit the black swans in the pond at May Park. May Park is also great for children to explore. There are cool children's attractions, outdoor tennis tables, a bicycle park, and even a skate park!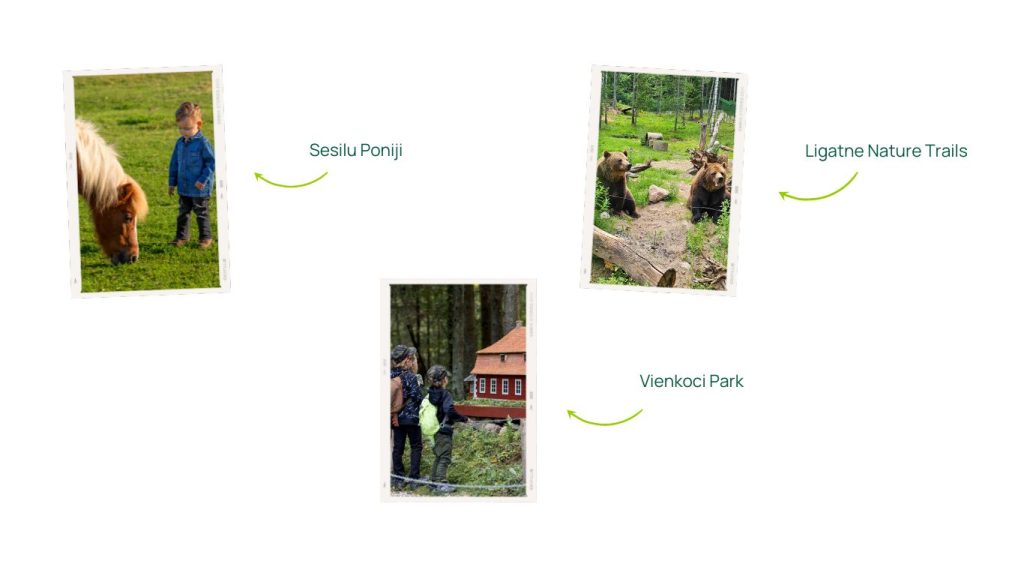 Take a leisurely walk along the Cīrulīši nature trail, surrounded by cliffs, caves, and the serene river Gauja. This trail is great as it's also suitable for strollers and bikes. Itt's a delightful outdoor experience for the whole family.
Rožu Laukums Fountain
If you're visiting during the summer, take your children to enjoy the fountain at Rožu Laukums. They can splash around and have a great time!
For an exciting bird's-eye view of Cēsis, climb up the tower of St. John's Church.
When your little ones need a break, head to the Cēsis central library. They have a special children's corner complete with age-appropriate literature and toys to keep them entertained.
Zeit Café in Līgatne
Visit the Zeit Café for a celebratory experience. Close to this café, you can enjoy swinging and climbing at the Tīklu Parks (Net Park). This is a real hit with the children.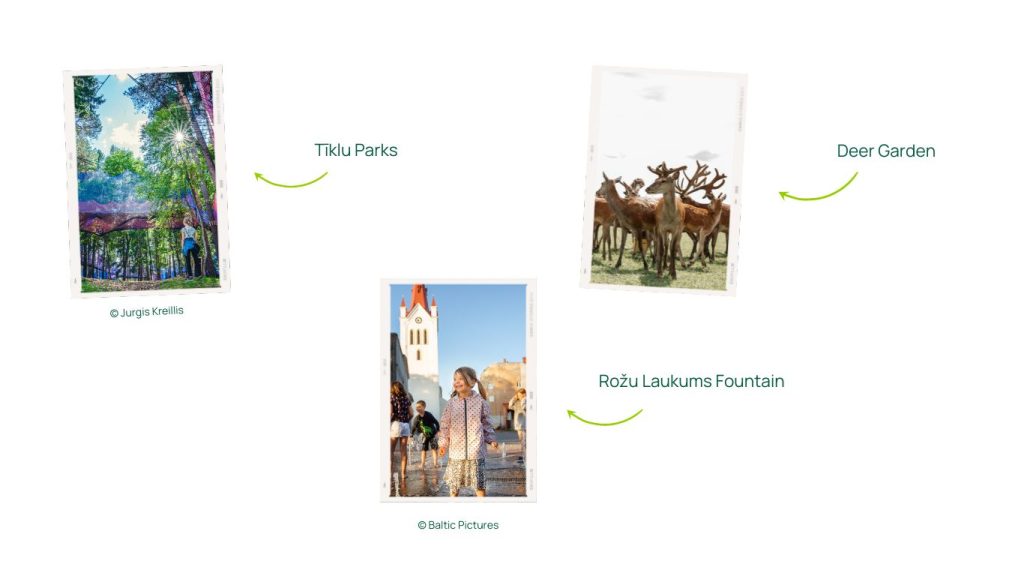 Activities Located in Cēsis Surroundings
This is the perfect opportunity for some hands-on learning about these fascinating creatures!
Rabbit Park Zaķīši
At this charming park, your children can meet some animals including rabbits, cows, goats, horses, and others. Children can even ride a horse, go fishing, or bounce around on the trampoline!
Deer Garden Annas Dzirnavas
This is a terrific guided tour. Children can feed the deer and take photos with them at the Deer Garden. There is also a collection of magnificent deer horns.
Activities Located in Līgatne (30km away from Cēsis)
Just a short distance from Cēsis, the Līgatne nature trails offer an opportunity to see Latvia's wild animals, including stags, bears, lynx, and more. The hiking trails and cycling routes are perfect for family adventures too.
Immerse yourselves in nature at Vienkoči Park, with its thematic objects, wooden sculptures, and models of historic manors. This park is perfect for relaxing family walks.
Cēsis is a fantastic destination for a family getaway with young children, and the Camel Park Rakši and Pony Park Sesīļu Poniji are two attractions that should not be missed. From meeting friendly camels to spending time with cute ponies, your little ones will have a blast! Plus, with additional attractions like the Rožu Laukums Fountain, May Park's Black Swans, and the Cīrulīši Nature Trail, Cēsis offers an array of engaging experiences for the whole family.
Discover more about visiting Cēsis with children by getting your free Cēsis family-friendly guide.
Head to booking with kids for more tips, support and family friendly travel guides. Check out our most loved travel gear from brands we trust.